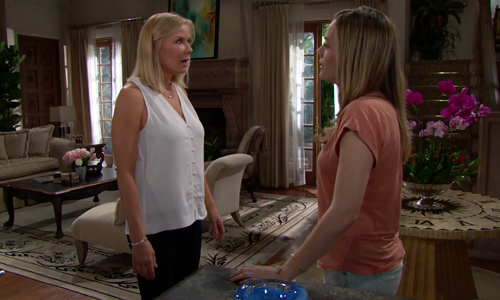 Brooke: Honey, you've got to stop thinking this way.
Hope: What way? Putting the children first, taking care of their needs?
Brooke: Breaking up your marriage isn't taking care of the kids.
Hope: How could you say that? I would be giving Kelly and Phoebe their father.
Brooke: Liam isn't Phoebe's father.
Hope: Well, it's as close to one as she can have. And if Steffy and Liam get back together, then…
Brooke: Liam is a fine father, as is. And he would be with the woman that he loves, the woman that he's married to — you.
Hope: But it could be so much more.
Brooke: Oh, honey.
Hope: Mom! It is better for the girls if Liam is there full-time, and it's — it's not just better for them. It's better for Douglas, too. You know, I — I would be more available if Liam went back to Steffy.
Brooke: And — and, what, you'd be in a loveless relationship with Thomas? That wouldn't be good for Douglas! Not at all. Honey, you can still be there for Douglas. You can be a mother figure. You don't have to sacrifice your marriage. Liam is the man that you are meant to be with, not Thomas.



Back to the Bold and Beautiful Best Lines Page