Connor Newman
Connor is the son of Chelsea and Adam Newman. As of 2019, he was eight years old. Connor has two half siblings. Johnny, Connor's older half brother, is the biological son of Chelsea and Billy Abbott. Chelsea relinquished her rights, and Victoria Newman has adopted Johnny. Christian, Connor's younger half brother, is the biological son of Adam Newman and Sage Newman. Adam has given up his rights, and Christian is now the legal son of Nick Newman. As of 2020, Connor knows Johnny and Christian as his cousins and is unaware that they are his biological half-siblings. Connor struggled with anxiety after he and his parents were taken hostage and after Adam left town. Connor began acting out in alarming ways, such as locking Christian in a dark garage, and leaping from the jungle gym and breaking his arm. Chelsea and Adam decided to temporarily move back in together to help their son recover. One thing lead to another, and Adam and Chelsea decided to resume their romance. Connor was thrilled that the three of them would be staying together.
Family: Grandfathers – Victor Newman (paternal), Jeffrey Bardwell (maternal), Grandmothers – Hope Adams (paternal) Anita Lawson (maternal) Nikki Newman (paternal, step), Siblings – Johnny Abbott (maternal, half) and Christian Newman (paternal, half), Aunts – Victoria Newman, Abby Newman, Uncles – Nicholas Newman, Cousins – Cassie Newman, Noah Newman, Summer Newman, Faith Newman, Christian Newman, Reed Hellstrom, Johnny Abbott, Katherine Abbott.
Back to the Y&R Character Description Page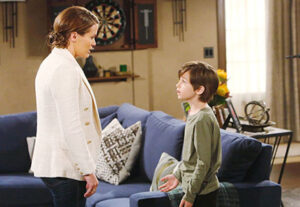 Follow Us!