TV Interview!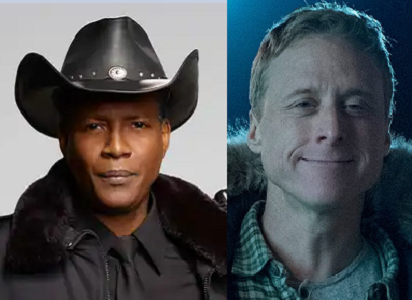 Interview with Corey Reynolds and Alan Tudyk of "Resident Alien" on Syfy by Suzanne 3/23/21
NBC/Universal had a wonderful virtual junket last week, where we were fortunate to interview many of their stars. This particular interview was supposed to just be with Corey Reynolds, but Alan Tudyk showed up as well (much to our delight). I didn't actually get to ask them any of my questions, but you can see the other reporters' questions and hear my exchange with them. It was pretty funny in parts.  This is a great show, and I'm so happy that they're going to have a second season.
Don't miss the season one finale Wednesday, March 31, 10/9c.
Here's the transcript of our interview, which doesn't include my own comments. Make sure you watch the video!
Question:   Good morning, Cory. Good morning, Alan, thank you so much for joining us. [I'm] a big fan of the show and such a big fan of you Alan. I don't know if anybody else could have ever played this character. Oh my god. Can talk a little bit about that. You've played a lot of weird characters, inhuman characters, but this one, even in your human form, from the first episode and the evolution and everything, it was just mind blowing to see that. What's your process and stuff like that, and how do you still humanize your characters while being so inhuman?
Alan:   Hmm. I think a few things, I guess. You know, you have to start with you, when you act in anything. That's the best way to go. Whatever you're doing, it all goes through the filter of you as a human, you as an actor. Then you add things on that are unlike you. Harry's an alien, and he's using this body as a sort of meat puppet. He's having to learn how to move this thing around from the inside. He's Jim Henson's hand, which was going to be the title, and I really think it should have been. So, I think that way, sort of as if he's an alien peering out through the eyes of this character. Like just immediately, if you start thinking yourself that way, that you're like something just sitting at the rim of the eyes looking out, it's creepy, and you end up becoming a little creepy when you put your head space there.
And it's just adding on all those little things that are given to you in the script. We've got great scripts, and because everything's a first for Harry, specifically for Harry, he doesn't know anything about being a human. That gives me a lot of leeway to go as far as I want to in many directions, because he's curious. He's curious, like a child, and can be surprised very easily. There're really very few things you can't accept about his behavior. He can do some really crazy stuff, and you can go, "Well, that makes sense." So, it's a it's a fun character in that there's a lot of leeway, a lot of leeway there.
Question:   Right. You want to kill the child, and I'm still like, "Sure, go ahead."
[laughter]
Question:   Which is what I'm saying. I was surprised in the writing and your performance in that sense. Like, how can you actually keep doing that and still root for this character, which I really think is a huge cheers to your performance and [the] writing for that matter. Absolutely. So, congratulations.
Cory, you are so damn hilarious from your first appearance. It's mind-blowing. I mean, not many people can just go ahead and be the Big Black and still, you know, not feel offensive or feel like –
Corey:   I feel offensive.
Question:   But I want to get to that. Initial[ly], it's a comedy, and you're a fantastic actor, but the show kind of taps into this guy's confidence in being surrounded by white and Native people, but they don't have the confidence and everything, keeping it so funny, but still kind of acknowledging [it]. So, can you talk a little bit about that? The race aspect of this issue where there's a fantastic character so confident in himself, but doesn't acknowledge – that seems ignorant of, like, you know, the race. I'm not sure.
Corey:   Yeah, you know, I had a question come up at our New York City Comic-Con a of couple years ago about that. I had one of the interviewers ask me, "Did Big Black have any concerns about being in a mountain town surrounded by all of those white folks?" I believe that was the question that was asked. I think my response was something along the lines of, "If he does, he hasn't mentioned it to me." [laughs] I think, obviously, there is a component of race there, and it's hard to ignore in the climate that we're in, but I think one thing we're going to come to discover about Sheriff Mike, about Big Black, is that – at least for me, and I'm not even really sure if I've discussed this as much with Chris, because, we've played around with the idea and talked about it, but we haven't really like delved into it. I think, for me, personally, Mike feels like the sheriff's department in his hands when it comes to that race component is the safest place for it to be, because despite his exterior, I believe that he sees police work as being 90% communication and 10% enforcement. I think that as long as he's in that driver's seat, when it comes to the sheriff's office, he knows that everyone in that town is going to be treated fairly. He knows that everyone in that town is going to be given equal credence, and no one's going to be mistreated based on their creed, based on what they look like, who they love, or how they pray. I think that his efforts to fit in, fueled by his insecurities of fitting in, have been what has really fueled his dynamic and downfall with Deputy Liv (Elizabeth Bowen). Mike is trying desperately to prove himself, and we're going to begin to discover more and more what that's rooted in and why he is that way.
…Hey, can I just add, one key thing about about Alan as well, when we talk about nobody else being able to play this role, like it's hard to do scene work with Alan, because he's so fucking funny and his embodiment of this character. If you watch the show, there're two things, two little moments, little itty bitty things when he first shows up at the crime scene. He's holding his hands in the position of his second pair of hands, and he's like, "This is awesome." Then, most recently, in the episode where his wife is played by Elvy, [she] is laying in bed with him, and he's laying there on his back with his hands. You know, that type of commitment to letting that character exist is kind of like always running in the background for him. So, you have the things that we're seeing in the foreground, but then there's also this undercurrent of Harry that's there that's always being played and suddenly found all over the place. It's just, he's great man. Seriously, l'm constantly blown away by Alan. He knows this though. I mean, he knows I am.
Alan:   Thank you very much.
Question:   Do you do the motion capture for the alien?
Publicist:   Sorry, guys, we have to we have to let someone else have a have a turn because we're gonna have to wrap it [up].
Question:   This is such a hybrid. You have the mystery of sci-fi. It's from a comic. Is there ever a point where you're in a scene and you're like, "What's the tone here? How do I approach this?" to get the most out of it, you know, to to make the scene really pop? Do you ever have an issue with that?
Question:   Alan?
Alan:   I don't. There are times we finish a thing in a scene and I'll say, "This is a one-hour drama, everybody, a one-hour drama," because it'll be on the heels of something so very comic. I think Chris [Sheridan] has done a great job in creating a world that can hold all of it. That is no easy feat, and when it doesn't work, it's so easy for it not to work, and I think he's done a good job of of getting it to work.
When we did the pilot, that was something that we all talked about, just play it like a drama, you know, play it like a drama and the comedy will be there. I think we do that for the most part, but again, there's leeway to be a little bit – You know, there's a scene where Elvy, or my wife that I didn't know I had, she's gone downstairs and she's opened up the freezer, and she's taken out steaks, and she's made steaks, and I'm saying, "Where did you get those steaks?" She says, "I got them downstairs." And I'm going to say, "It's closed; that door is closed," and I say, "That door is open." I had two takes where I said, "That door is open," or "That door is open!" or something like that. Then, the third take, I screamed it, and that's the one they used. So, you know, they use [it] at their discretion also. They have options. But in the world, there's this alien who has new emotions, and he's starting to feel he doesn't have a great governor on his emotions. His feelings can just come up and come up in a rush. So, you can excuse it away that it becomes a very comic "Open!" screaming moment. So, I hope that it holds it all, and we do – I think, Cory, your stuff is so funny. You have the same thing. Right?
Corey:   Yeah, it's trying to find a way to keep these ungrounded characters somewhat grounded. You know what I mean? The sheriff is definitely over the top, but truth be told, listen, I grew up in Virginia, Richmond, Virginia, Chesterfield County, just outside of Richmond, and a lot of my family was up in Dodgeville County. I have an uncle named Flip. You understand what I'm saying? So, you know, I had an uncle named Butt Cut, so I know folks, not quite like Mike, but he's not that foreign to me. Maybe his attitude is much bigger, but the person he is, is pretty – I know this guy; I know guy.
And as far as getting the scenes and stuff together, we block shoot. So, we shoot two episodes at a time, so it does require in moments – Like we'll be shooting something from episode two and three, literally, in the same day. We might even be using the same location but having totally different emotions from scene to scene, because they're two different episodes. So, we do have to get a reminder every now and again from our directors, or Chris, or our script supervisor, of what's happened between what are we coming directly out of [and] what are we bringing into this moment, which is pretty standard overall, but when you're block shooting, it does create a unique kind of challenge to make sure you're staying in the right moment for the right scene.
Alan:   And I don't do motion capture on this show. Just a heads up to answer that question from before.
Here is the video version of it.
Interview Transcribed by Jamie of http://www.scifivision.com
Check out Jamie's interview with Corey Reynolds!
MORE INFO:
'RESIDENT ALIEN' BLOOPER REEL & DELETED SCENE REVEALED
—Season Finale Airs Wednesday, March 31 at 10/9c—
In advance of the season finale, we're excited to share the hysterical season 1 blooper reel and deleted scene from episode 7.
Based on the Dark Horse comic, SYFY's RESIDENT ALIEN follows Harry, an alien played by Alan Tudyk ("Rogue One," "Firefly") that crash lands on Earth and passes himself off as a small-town human doctor. Arriving with a secret mission to kill all humans, Harry starts off living a simple life… but things get a bit rocky when he's roped into solving a local murder and realizes he needs to assimilate into his new world. As he does so, he begins to wrestle with the moral dilemma of his mission and asking the big life questions like: "Are human beings worth saving?" and "Why do they fold their pizza before eating it?"
From UCP, in association with Amblin TV and Dark Horse Entertainment, RESIDENT ALIEN was adapted to television by executive producer Chris Sheridan ("Family Guy"). Mike Richardson ("Hellboy") and Keith Goldberg ("The Legend of Tarzan") of Dark Horse Entertainment ("The Umbrella Academy"), and Justin Falvey ("The Americans") and Darryl Frank ("The Americans") of Amblin TV also executive produce. David Dobkin ("Wedding Crashers") executive produced and directed the pilot. "Resident Alien" also stars Sara Tomko, Corey Reynolds, Alice Wetterlund and Levi Fiehler.
Hashtag: #ResidentAlien
SYFY PICKS UP DARK HORSE COMICS' 'RESIDENT ALIEN' TO SERIES
breaking news | May 30, 2019
Alan Tudyk Stars in Series from UCP, with Chris Sheridan Executive Producing Alongside Dark Horse Entertainment and Amblin TV
David Dobkin Executive Produced and Directed the Pilot
NEW YORK, NY – February 28, 2019 — SYFY today announced the series pickup of RESIDENT ALIEN, a comedic drama based on the popular Dark Horse comics series by co-creators Peter Hogan and Steve Parkhouse. From Universal Content Productions (UCP), in association with Amblin TV and Dark Horse Entertainment, the series was adapted to television by executive producer Chris Sheridan ("Family Guy"). Mike Richardson ("Hellboy") and Keith Goldberg ("The Legend of Tarzan") of Dark Horse Entertainment ("The Umbrella Academy"), and Justin Falvey ("The Americans") and Darryl Frank ("The Americans") of Amblin TV will also executive produce. David Dobkin ("The Judge") executive produced and directed the pilot.
RESIDENT ALIEN is a twisted and comedic fish-out-of-water story that follows a crash-landed alien named Harry (Alan Tudyk) who, after taking on the identity of a small-town Colorado doctor, slowly begins to wrestle with the moral dilemma of his secret mission on Earth — ultimately asking the question, "Are human beings worth saving?"
Tudyk ("Doom Patrol," "Rogue One") is joined by series regulars Sara Tomko ("Once Upon A Time"), Corey Reynolds ("The Closer"), Alice Wetterlund ("People of Earth") and Levi Fiehler ("Mars"). The series will begin production in Vancouver this summer.
About SYFY
SYFY is a global, multiplatform media brand that gives science fiction fans of all kinds a universe to call home. Celebrating the genre in all its forms, SYFY super-serves passionate fans with original science fiction, fantasy, paranormal and superhero programming, live event coverage and imaginative digital and social content. The brand is powered by SYFY WIRE (www.syfy.com), the premier portal for breaking genre news, insight and commentary. SYFY is a network of NBCUniversal, one of the world's leading media and entertainment companies. NBCUniversal is a subsidiary of Comcast Corporation.
About UCP
UCP is a premium content studio that operates with a highly curated indie sensibility, while simultaneously leveraging the power and scale of NBCUniversal. As fierce advocates for creators with an eclectic point of view, the UCP team develops pioneering original programming with partners such as Amazon ("Homecoming"), Netflix ("The Umbrella Academy"), Hulu ("The Act") and YouTube ("Impulse"). In addition, UCP produces high-caliber content for NBCU Cable networks, including Bravo ("Dirty John"), USA (the Emmy® and Golden Globe®-winning drama "Mr. Robot," the Golden Globe nominated "The Sinner," "The Purge" and "Suits" ) and SYFY ("Happy!," and "The Magicians"). UCP's content library also features 800 hours of award-winning and critically-acclaimed content, including the Emmy Award-winning "Monk," the Peabody and Hugo Award-winning "Battlestar Galactica" and the Emmy nominated "Psych."
About Amblin Television:
Amblin Television, a long-time leader in quality programming, is a division of Amblin Partners, a content creation company led by Steven Spielberg. Amblin Television's co-presidents, Darryl Frank and Justin Falvey, oversee all development, production and programming for the company. Amblin Television currently has thirteen projects in various stages of production including "Bull" and "Tommy" for CBS, "Roswell, New Mexico" for the CW, "The Haunting of Bly Manor" for Netflix – the follow-up chapter to The Haunting of Hill House, "Amazing Stories" for Apple, "Halo" for Showtime, a straight-to-series order for "Brave New World" from USA Network, "Cortes and Moctezuma" for Amazon, "Animaniacs" for Hulu, "Why We Hate" for Discovery, "Resident Alien" for SYFY, and the documentary films "Natalie Wood: What Remains Behind" for HBO and "Laurel Canyon" for Epix.
Some of Amblin Television's previous credits include the Emmy and Golden Globe Award-winning drama "The Americans" for FX, Emmy-nominated HBO movie "All The Way" starring Bryan Cranston, "Smash" for NBC, "Under the Dome" for CBS, "Falling Skies" for TNT, "The Borgias" and "The United States of Tara" for Showtime, and "Las Vegas" for NBC.
About Dark Horse Entertainment:
Dark Horse Entertainment was spun off from founder Mike Richardson's Dark Horse Comics in 1992. The company's first major hits—THE MASK and TIMECOP — were based on Richardson's creations and DHE has since produced over 30 films and series, including an Emmy Award–winning documentary, MR. WARMTH: THE DON RICKLES PROJECT. Recent projects include THE LEGEND OF TARZAN with Warner Bros., the DARK MATTER television series for Syfy network and POLAR, adapted from Victor Santo's noir graphic novel starring Mads Mikkelsen (Rogue One) at Netflix. Current projects include a reboot of Mike Mignola's HELLBOY starring David Harbour (Stranger Things) directed by Neil Marshall (The Descent), and THE UMBRELLA ACADEMY, a Netflix original series based on the comics created by Gerard Way (My Chemical Romance) and Gabriel Ba.
Proofread and Edited by Brenda
Back to the Primetime Articles and Interviews Page
Follow Us!