Larry David is a comedian/writer who wrote "Seinfeld". In this series, he plays a Hollywood fictionalized version of himself. Much like George in "Seinfeld", the Larry of this show is fairly clueless and says and does all sorts of strange things. It's a hilarious show and a lot of the dialogue is improvised by the actors. There are many great famous guest-stars playing themselves (or rather, Larry David's hilarious version of them). If you loved Seinfeld, you will probably love this show as much as we do because it's even funnier but has the same type of humor. The show began in 2000 on HBO and has been on for 10 seasons. Season 11 will debut in 2021.
Welcome to our new site for "Curb Your Enthusiasm" on HBO!
UPCOMING EPISODES
11/7 "The Mini Bar"
11/14 "The Watermelon"
11/21 "IRASSHAIMASE!"
11/28 "Man Fights Tiny Woman"
12/5 "Irma Kostroski"
Check out all of the great shows we cover!
Last Updated 11/7/21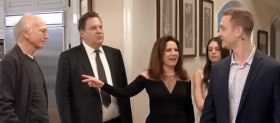 Follow Us!