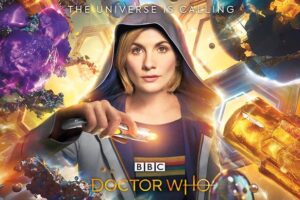 The new "Doctor Who" started in 2005 (We don't cover the old series yet). It has been a smash hit ever since, and the show is just great fun. In the U.S., it airs on BBC America and sometimes on Syfy. Doctor Who is a Time Lord, the last of his race. He is able to travel through time and space, and he often helps or saves people. He has had many traveling companions through the years. When The Doctor, as he is known, dies, he can regenerate, so he comes back looking very different. In 2018, The Doctor returned as a woman. It's very good science fiction, fantasy, drama, and just plain fun!
Welcome to our new site for "Doctor Who"!
Watch new episodes on BBC America (or BBC UK), Amazon or HBO Max.
UPCOMING EPISODES
The show returns for season 13 October 31, 2021! Season 13 is called FLUX
10/31/21 "Chapter One: The Halloween Apocalypse"
11/7/21 :Chapter Two: War of the Sontarans"
Check out all of the great shows we cover!
Last Updated 10/31/21
Follow Us!