The Legends are a group of time travelers started by Time Master Rip Hunter to fight evil Vandal Savage. He recruited The Atom, White Canary, Hawkman, Hawkgirl, Captain Cold and Heatwave. Captain Cold died heroically in the first season. Hawkman and Hawkgirl left, and Rip diseappears at the end. In the second season, Vixen and Steel join the group to fight The Legion of Doom from getting the Spear of Destiny to rewrite history. In Season 3, the team is joined by Isis to stop anachronisms through time that they accidentally created. They are sometimes joined by an alternate universe Captain Cold, as well as by Rip or the agents of his new Time Bureau. They also fight the evil Mallus.
Welcome to our new site for "DC's Legends of Tomorrow" on The CW!
Check out all of the great shows we cover!
Last Updated 08/21/21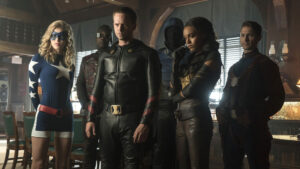 Follow Us!