Where to see your favorite "Doctor Who" and "Torchwood" stars!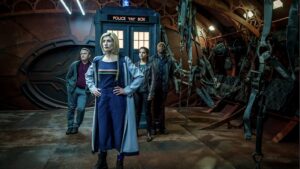 Jenna Coleman (Clara) stars in "Victoria" on PBS Sundays.
Billie Piper (Rose) appears on "Late Night with Seth Meyers" Tuesday, 1/19 on NBC. She stars in "I Hate Suzie" on HBO Max.
Sheridan Smith, who's played many roles on the show, stars in the series "Cleaning Up" on Sundance Now.
Eve Myles (Gwen) also appears. Myles also stars in "Keeping Faith" on Acorn.
John Simm (The Master) stars in the new Amazon Prime series "White Dragon." (AKA "Strangers") and has a new show he's working on, "Cold Courage."
Alex Kingston appears in a new show "A Discovery of Witches" (You watch it on AMC, Sundance Now or Amazon) as well as the Amazon original series "The Widow."
Freema Agyeman (Martha) stars in "New Amsterdam" Tuesdays on NBC.
Karen Gillan has a bunch of movies coming out, including "Guardians of the Galaxy, Vol. 3," probably out in 2021. She appears on "A Little Late with Lilly Singh" Wednesday, 8/5 (Re-run from 2/25/20) on NBC.
David Tennant has a new podcast! Other actors from "Doctor Who" will appear. More Info He has 3 new movies coming out and also appears in "Good Omens" on Amazon and does a voice on the animated web series "Gen: Lock."
Mark Gatiss appears in the HBO miniseries "Gunpowder" and also appears in "Good Omens."
Burn Gorman (Owen) appears in "The Expanse" Season 4 on Amazon Prime and in the ITV series "Cheat."
Noel Clarke (Mickey) has a lot of new movies coming out.
Christopher Eccleston (The Doctor, 2005) news foundhere! He stars in the drama "The A Word," which returns for season 3 on BBC. You can also view it on Amazon and on SundanceTV.
Arthur Darvill (ex-Rory, Doctor Who) stars in "DC's Legends of Tomorrow" on The CW and also stars in "Broadchurch".
Gareth David-Lloyd (Ianto, Torchwood) has a lot of new movies coming out.
Visit all our other TV appearances pages!