Where to see your favorite "The Flash" stars, past and present!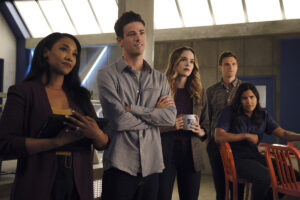 Ruby Rose (Kate) appears Wednesday, April 21 on "The Today Show" on NBC to discuss her new movie, "Vanquish."
Nicholas Gonzalez (ex-Dante) appears in both "The Good Doctor" on CBS and "Being Mary Jane" on BET.
Keith David (Solovar) has many movies coming out and stars in "Greenleaf" on OWN.
Isabella Hofmann (Clarissa) guest-stars on "S.W.A.T." Wednesday, January 27 on CBS.
Matt Letscher (ex-Eobard) joins the cast of "Narcos" this season on Netflix. It airs later this year. He appears in a new TV series, "Angel of Darkness" on TNT.
Tobin Bell (Savitar) and Tony Todd (Zoom) appear at the 15th Annual Texas Frightmare Weekend May 1-3 2020 at the Hyatt Regency DFW in Dallas, TX. More Info (This may be delayed due to the virus)
Clancy Brown (General Eiling) appears in "Emergence" Tuesdays on ABC. He appears regularly on "Billions" on HBO, "The Goldbergs" on ABC, "The Epic Tales of Captain Underpants" on Netflix; and many voices on "SpongeBob SquarePants" on Nickelodeon.
Richard Brooks (Warden Wolfe) stars in the web soap "The Rich and the Ruthless" on UMC, appears in "Bosch" on Amazon Prime.
Jessica Camacho (ex-Gypsy) stars in "All Rise" Mondays on CBS.
Wentworth Miller has a recurring role on "Madam Secretary" Sundays on CBS.
Wentworth Miller (Captain Cold) and Dominic Purcell (Heatwave) stars in "Prison Break" Tuesdays on FOX. Purcell also stars in "DC's Legends of Tomorrow" Tuesdays on The CW.
Malese Jow (ex-Linda) has a recurring role on "NCIS: Los Angeles" Sundays on CBS, stars in the CW Seed's "How To Be a Vampire" and appears in "The Shannara Chronicles" on SpikeTV later this year.
Katee Sackhoff to Play Astronaut in Netflix Straight-to-Series Drama
Keiynan Lonsdale (ex-Wally) stars in "Love, Simon," now in theaters.
Victor Garber (ex-Martin) will be starring in "Hello Dolly" with Bernadette Peters, taking over from David Hyde Pierce and Bette Midler. Their first show is on January 20. Buy tickets here He also appears in "The Orville" on FOX and in "Power" on Starz. He appears in the upcoming movie, "The Happiest Season."
Robbie Amell (ex-Ronnie) and his brother, Stephen (Oliver, Arrow) appear on "A Little Late with Lilly Singh"Wednesday, 7/1 (Re-run from 3/9/20) on NBC. Robbie also stars in "Upload" on Amazon Prime.
Rick Cosnett (ex-Eddie) has 2 new movies coming out.
Vanessa Williams (ex-Francine) has joined the cast of "Days of Our Lives". See More
Roger Howarth (ex-Mason) plays Franco on "General Hospital" weekdays on ABC.
Britne Oldford (ex-Shawna/Peek-a-Boo) stars in "Hunters" on Syfy, Mondays at 10pm ET/PT.
Tom Cavanagh (Harry) stars in a TV movie on Hallmark Movies & Mysteries Channel "Darrow and Darrow."
Grant Gustin (Barry) stars in an upcoming film "Krystal."
Patrick Sabongui (ex-Captain Singh) has a few movies coming out and also stars in "Shooter" on USA Network.
Shantel VanSanten (ex-Patty) appears in "The Boys" on Amazon Prime.
Violett Beane (Jesse) has the movie "Truth or Dare" coming out in 2018.
Tobin Bell (Savitar/Dr. Alchemy) has quite a few movies coming out.
Michelle Harrison (Nora) has two movies coming out soon.
Andre Tricoteux (Savitar) plays Collosus in "Deadpool 2" in 2018.
Danielle Nicolet (Cecile) has a movie out in 2018, "Acrimony."
David Sobolov (ex-Grodd) plays Drax in the "Guardians of the Galaxy" movies.
Clancy Brown (ex-General Eiling) does a lot of voice over work and has many projects going on.
Anne Dudek (ex-Tracy) appears in "Bosch," streaming right now on Amazon (season 4). She also stars in the comedy "Corporate" on Comedy Central.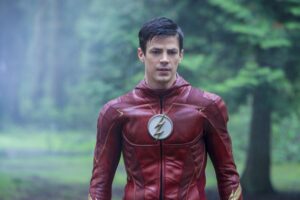 Visit all our other TV appearances pages!