Celebrate your favorite GH actor's birthday!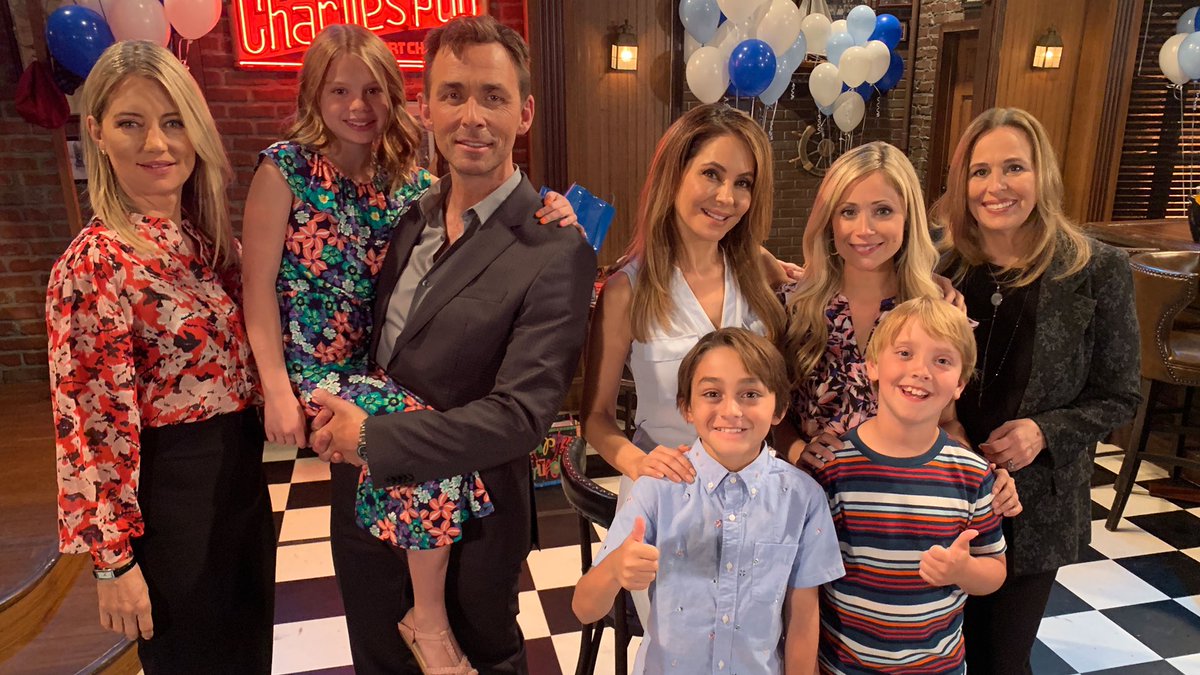 Actor

Birthday

Jesica Ahlberg (Darby Collette)
9/28/89

Lexi Ainsworth (Kristina Davis)

10/28/92
Edward Albert (Bennett)
2/20/51-9/22/06
Denise Alexander (Leslie Webber)
11/11/39
Jed Allan (Edward Quartermaine)
3/1/37-3/9/19
Kristen Alderson (Starr Manning / Kiki Jerome)
5/29/91
Aki Aleong (Mr. Wu)
2/19/34
Christian Alexander (Kiefer Bauer)
4/14/90
Adrian Alvarado (Cruz Rodriguez)
4/18/76
Rachel Ames (Audrey Hardy)
11/2/29
Bradford Anderson (Damian Spinelli)
9/21/79
Richard Dean Anderson (Dr. Jeff Webber)
1/23/50
Réal Andrews (Marcus Taggart)
1/29/63
Jennifer Anglin (Cheryl Stansburgy)
10/4/60
Gerald Anthony (Marco Dane)
7/31/51-5/28/04
Vinessa Antoine (Jordan Ashford)
7/21/83
Ashton Arbab (Dev Cerci)
2/14/03
Senait Ashenafi (Keesha Ward)
3/10/66
Matthew Ashford (Tom Hardy)
1/29/60
Scott Thompson Baker (Colton Shore)
9/15/60
Brandon Barash (Johnny Zacchara)
10/4/79
Harper Rose Barash (Georgie Spinelli)
1/7/2014
Adrienne Barbeau (Suzanne Stanwyck)
6/11/45
Roseanne Barr (Jennifer Smith)
11/3/52
Nicolas J. Bechtel (Spencer Cassadine)
2/15/05
Melissa Bedford (Jensen Buchanan)
7/18/62
Greg Beecroft (Jonathan Paget)
5/9/52
Yeniffer Behrens (Marianne Eroza)
10/7/76
Sam Behrens (Jake Meyer)
7/24/50
Shari Belafonte (Mayor Janice Lomax)
9/22/54
Tajh Bellow (TJ)
2/9/95
Daniel Benzali (Theo Hoffman)
1/20/50
John Beradino (Steve Hardy)
5/1/17-5/19/96
Julie Marie Berman (Lulu Spencer)
11/3/83
Maurice Benard (Sonny Corinthos)
3/1/63
Robyn Bernard (Terry Brock O'Connor)
5/26/59
Kevin Bernhardt (Kevin Collins)
4/2/61
Corbin Bernsen (John Durant)
9/7/54
Gigi Birmingham (Gigi Birmingham)
11/8/57
Loanne Bishop (Rose Kelly)
11/10/55
Sean Blakemore (Shawn Butler)
8/10/67
Harper and Scarlett Bloom (Louise Jones)
?/21
John Bolger (Garrett Prescott Floyd)
2/26/54
Steve Bond (Jimmy Lee Holt)
4/22/53
Nazanin Boniadi (Leyla Mir)
5/22/80
Jay Bontatibus (Det. Andy Capelli)
7/31/64-2/12/17
Angel Boris (Angel Sorel Ellis)
8/2/74
Eileen Boylan (Sage Alcazar)
5/10/87
Aaron Bradshaw (Leo Falconeri)
?
Chad Brannon (Zander Smith)
8/2/79
Tamara Braun (Carly Corinthos)
4/18/71
Wendy Braun (Iris Sneed)
4/5/70
Patricia Breslin (Meg Bentley)
3/17/31-10/12/11
Brianna Brown (Dr. Lisa Niles)
10/2/79
Kimberly J. Brown (Chloe Jennings/Marie Hopkins)
11/16/84
Sarah Joy Brown (Carly/Claudia Zacchara Corinthos)
2/18/76
Susan Brown (Dr. Gail Baldwin)
5/4/32-8/31/18

Argentina Brunetti (Filomena)

8/31/07-12/20/05

Breck Bruns (Georgie Jones)

1/1/93

Ian Buchanan (Duke Lavery)
6/16/57
Jensen Buchanan (Melissa Bedford)
7/18/62
Rebecca Budig (Hayden Barnes)
6/26/73
Brooke Bundy (Diana Taylor)
8/8/44
Steve Burton (Jason Quartermaine/Morgan)
6/28/70
Richard Burgi (Paul Hornsby)
7/30/58
Molly Burnett (Maxie Jones)
4/23/88
James C. Burns (Vaughn)
2/25/59
Bonnie Burroughs (Gladys Corbin)
2/3/61
Nathin Butler (Dr. Ewen Keenan)
1/23/?
Martha Byrne (Andrea Floyd)
12/23/69
Inga Cadranel (Lorraine "Harmony" Miller)
4/30/78
John Callahan (Leo Russell)
12/23/53-3/28/20
Ryan Carnes (Lucas Jones)
12/6/82
Tia Carrere (Jade Soong Chung)
1/2/67
Laura Carrington (Simone Hardy)
3/15/58
Crystal Carson (Brenda Barrett)
6/24/67
Rosalind Cash (Mary Mae Ward)
12/31/38-10/31/95
Shawn Cassidy (Dusty Walker)
9/27/58
Teresa Castillo (Sabrina Santiago)
10/14/83
Emma Caulfield (Lorraine Miller)
4/8/73
Lisa Cerasoli (Venus Ardonowski)
1/27/69
Judith Chapman (Ginny Webber)
11/15/51
Leslie Charleson (Monica Ward Quartermaine)
2/22/45
Annette Chavez (Letitia)
9/30/74
Nicholas Chavez (Spencer)
9/6/99
Maree Cheatham (Charlene Simpson)
6/2/40
Derk Cheetwood (Max Giambetti)
10/8/73
Drew Cheetwood (Milo Giambetti)
7/14/83
Robin Christopher (Skye Chandler Quartermaine)
6/18/65
Tyler Christopher (Nikolas Cassadine)
11/11/72
Brian Patrick Clarke (Grant Putnam)
8/1/52
Tamara Clatterbuck (Tammy Carson)
5/26/63
Scott Clifton (Dillon Quartermaine)
10/31/81
Matt Cohen (Dr. Griffin Munro)
9/28/82
Claire Coffee (Nadine Crowell)
4/14/80
Bradley Cole (Warren Bauer)
2/11/59
Michael Cole (Harlan Barrett)
7/3/45
John Colicos (Mikkos Cassadine)
12/10/28-3/6/00
Dioni Michelle Collins (Deanna Sirtis)
?
Marcus Coloma (Nikolas Cassadine)
10/18/78
Norma Connolly (Ruby Anderson)
8/20/27-11/18/98
Jason Cook (Matt Hunter)
9/13/80
Nikki Cox (Gina Williams)
6/2/78
Bryan Craig (Morgan Corinthos)
10/27/91
Patricia Crowley (Mary Scanlon)
9/17/33
Jason Culp (Julian Jerome)
1/15/61
Serah D'Laine (Sarah Webber)
10/23/82
Stuart Damon (Alan Quartermaine)
2/5/37-6/29/21
Shell Danielson (Dominique Baldwin)
9/25/62
Jason David (Aiden Spencer)
3/26/10
Lane Davies (Cameron)
7/31/50
Sammy Davis, Jr. (Eddie)
12/8/25-5/16/90
Todd Davis (Bryan Philips)
9/25/51-7/25/13
Trent Dawson (Huxley Lynch)
2/4/71
Kim Delaney (Jackie Templeton)
11/29/61
Pat Delaney (Kathleen O'Connor)
12/1/36
John DeLuca (Aaron Roland)
4/25/86
James DePaiva (Dr. David Bensch)
10/8/57
Kassie DePaiva (Blair Cramer)
3/21/61
Robb Derringer (Kyle Sloane)
7/6/67
Jimmy Deschler (Rafe Kovich)
11/30/94
Seamus Dever (Ian Devlin)
7/27/76
William deVry (Julian Jerome)
4/20/68
Ami Dolenz (Melissa McKee)
1/8/69
Jack Donner (Alfred)
10/29/28-9/1/19
Risa Louise Dorken (Nurse Amy)
2/5/90
Tony Dow (Ross Jeanelle)
4/13/45
Chad Duell (Michael Corinthos)
9/23/87
Josh Duhon (Logan Hayes)
8/27/84
Christopher B. Duncan (D.A. Joseph Campbell)
12/4/64
Michael Easton (John/Stephen/Caleb/Silas/Finn)
2/15/67
Sonya Eddy (Epiphany Johnson)
6/17/67
Hilary Edson (Tania Jones)
10/17/65
Jane Elliot (Tracy Quartermaine)
1/17/47
Kiko Ellsworth (Stan Johnson)
1/2/73
Hayley Erin (Kiki Jerome)
7/13/94
Mark D. Espinoza (D.A. Martinez)
6/24/60
Mary Beth Evans (Katherine Bell)
3/7/61
Greg Evigan (Jim Harvey)
10/14/53
Richard Fancy (Bernie Abrams)
8/2/43
Porter Fasullo (Danny Morgan)
9/29/08
Bianca Ferguson (Claudia Johnston Philips)
2/11/55
Scarlett Fernandez (Charlotte)
8/4/2009
Lily Fisher (Georgie Spinelli)
3/13/10
Chrissie Fit (Mercedes)
4/3/84
Joe Flanigan (Dr. Neil Byrne)
1/5/67
Genie Francis (Laura Webber Spencer)
5/26/62
Betsy Franco (Karen Anderson/Betsy Frank)
8/15/47
James Franco (Franco Frank)
4/19/78
Max Gail (Mike Corbin)
4/5/43
Max Galloway (Buzz Stryker)
7/27/37-1/8/09
Richard Gant (Dr. Russell Ford)
3/10/44
Zac Garred (Levi Dunkleman)
12/13/86
Drew Garrett (Michael Corinthos)
4/21/89
Kathleen Gati (Dr. Liesl Obrecht)
8/13/57
George Gaynes (Frank Smith)
5/16/17- 2/15/16
Anthony Geary (Luke Spencer/Bill)
5/29/47
Jason Gerhardt (Coop Barrett)
4/21/74
Blake Gibbons (Coleman)
6/21/61
Amy Grabow (Rachel Adair)
12/18/79
Nancy Lee Grahn (Alexis Davis)
4/28/58
Alisyn & Kelli Griffith (Lulu Spencer)
10/14/94
David Groh (D. L. Brock)
5/21/39-2/12/08
Joyce Guy (Phyllis Caulfield)
8/18/54
Jennifer Guthrie (Dawn Winthrop)
11/5/69
Ron Hale (Mike Corbin)
1/2/46
Peter Hansen (Lee Baldwin)
12/5/21-4/9/17
Vanita Harbour (Dara Jensen)
7/7/68
Glen Walker Harris, Jr. (Sly Eckert)
3/5/83
Gregory Harrison (Gregory Chase)
5/31/50
Iva Hasperger (Petra)
3/10/77
Laura Harring (Carla Grego)
3/3/64
Nathaniel Harris (Sergeant Robinson)
12/6/70
Lindsay Hartley (Sam McCall)
4/17/78
Don Harvey (Tom Baker)
5/31/60
Bob Hastings (Burt Ramsey)
4/18/25-6/30/14
Patricia Healy (Tammy Carson)
2/21/59
Rick Hearst (Ric Lansing)
1/4/65
Elizabeth Hendrickson (Margaux Dawson)
7/3/79
Carolyn Hennesy (Diane Miller)
6/10/62
Sandra Hess (Sasha Donev)
3/27/68
Briana Nicole Henry (Jordan)
1/19/92
Rebecca Herbst (Elizabeth Webber)
5/12/77
Lynn Herring (Lucy Coe)
9/22/58
Brighton Hertford (Barbara Jean "BJ" Jones)
6/11/86
Jane Higginson (Lady Arielle Ashton)
2/9/61
Ben Hogestyn (Lucas Jones)
4/27/83
Gerald Hopkins (A.J. Quartermaine)
12/26/65
Anders Hove (Cesár Faison)
1/16/56
Roger Howarth (Todd/Franco/Austin Gatlin-Holt)
9/13/68
Tina Huang (Linda Chu)
10/28/81
Finola Hughes (Anna Devane)
10/29/59
Rif Hutton (Lenny Caulfield)
11/28/62
Annie Ilonzeh (Dr. Maya Ward)
8/23/83
John Ingle (Edward Quartermaine)
5/7/28-9/16/12
Steve Inwood (Moreno)
1/3/47
Jonathan Jackson (Lucky Spencer)
5/11/82
Cassandra James (Dr. Terry Randolph)
7/17/92
Anne Jeffreys (Amanda Barrington)
1/26/23-9/27/17
Arte Johnson (Finian O'Toole)
1/20/29-7/3/19
Ashley Jones (Professor Parker Forsyth)
9/3/76
Sean Kanan (Alan James "AJ" Quartermaine)
11/2/66
Lesli Kay (Lois Cerullo Ashton)
6/13/65
Steven Kay (Reginald Jennings)
1/1/63
Elizabeth Keifer (Sister Mary Camellia McKay)
11/14/61
Shell Kepler (Amy Vining)
10/5/58-2/1/08
Richard Kelley (Jim Harper)
12/16/58
Robert Kelker-Kelly (Stavros Cassadine)
4/18/64
Brook Kerr (Portia Robinson)
11/21/73
Kent Masters King (Dr. Lainey Winters)
8/5/74
Ted King (Lorenzo Alcazar)
10/1/65
Kodi Kitchen (Dr. Maggie Wurth)
5/25/?
Michael E. Knight (Martin Grey)
5/7/59
Jeff Kober (Cyrus Renault)
12/18/53
Ilene Kristen (Delia Ryan Coleridge)
7/30/52
Wally Kurth (Ned Ashton)
7/31/58
Briana Lane (Brook Lynn)
10/27/85
Sarah Laine (Sarah Webber)
10/23/82
Chloe Lanier (Nelle Benson)
11/3/92
Karleigh Larson (Josslyn Jacks)
8/10/09
Robert Lasardo (Manny/Mateo Ruiz)
9/20/63
Carol Lawrence (Angela Eckert)
9/5/32
Mark Lawson (Dustin Phillips)
12/17/78
Michael Learned (Shirley Smith)
4/9/39
Anna Lee (Lila Quartermaine)
1/2/13-5/14/04
Andrew Tinpo Lee (Marty)
5/31/68
Lillian Lehman (Dr. Joyce Meadows)
2/12/47
Edie Lehmann (Katherine Bell)
9/25/57
Steven Leigh (Kim Wu)
8/10/64
Adrianne León (Brook Lynn Ashton)
3/15/87
Michael Leone (Cameron Spencer)
6/1/2005
Lindze Letherman (Georgie Jones)
11/2/88
David Lewis (Edward Quartermaine)
10/19/16-12/11/00
Jen Lilley (Maxie Jones)
8/4/88
Jon Lindstrom (Dr. Kevin Collins / Ryan Collins)
10/18/57
William Lipton (Cameron Webber Spencer)
6/2/03
Natalia Livingston (Emily Quartermaine)
3/26/76
Lisa LoCicero (Olivia Falconeri)
4/18/70
June Lockhart (Mariah Ramirez)
6/25/25
Bradley Lockerman (Casey Rogers, the Alien)
3/9/55
Rocco Falconeri (Charles "Charlie" George & Ethan Philip Losie
4/2012
Jophielle Love (Violet Finn)
5/20/14
Florencia Lozano (Téa Delgado)
12/16/69
Stephen Macht (Trevor Lansing)
5/1/42
Guy Mack (Patrick O'Connor)
2/26/56
Katelyn MacMullen (Willow Tait /Kali Miller)
6/27/95
Rio Mangini (Oscar Nero)
10/6/02
Vanessa Marcil (Brenda Barrett)
10/15/69
Joe Marinelli (Joseph Sorel)
1/21/57
Ronnie Marmo (Lt. Ronnie Dimestico)
1/2/71
Ricky Martin (Miguel Morez)
12/24/71
A Martinez (Roy DiLucca)
9/27/48
DeLane Matthews (Janine Matthews)
8/7/61
Cameron Mathison (Drew Cain)
8/25/69
Eddie Matos (Peter Marques)
7/18/78
Robin Mattson (Heather Webber)
6/1/56
Sofia Mattson (Sasha Gilmore)
6/1/56
Brad Maule (Dr. Tony Jones)
10/11/51
Frank Maxwell (Dan Rooney)
11/17/16-8/4/04
Leigh J. McCloskey (Damian Smith)
6/21/55
Eden McCoy (Josslynn Jacks)
6/10/2003
Grayson McCouch (Kyle Sloane)
10/29/68
Kimberly McCullough (Robin Scorpio-Drake)
3/5/78
Kurt McKinney (Ned Ashton)
2/15/62
Coby Ryan McLaughlin (Shilo/David Henry 'Hank' Archer)
5/17/76
Emily McLaughlin (Jessie Brewer)
12/1/30-4/26/91
Ron Melendez (Dr. Andy Archer)
12/1/72
Lilly Melgar (Lily Rivera Corinthos)
7/30/69
David Mendenhall (Mike Webber)
6/13/71
Bill H. Meyers (Bill Harrison/Harry)
4/9/56
Billy Miller (Drew Cain/Jason)
9/17/79
J. Robin Miller ( Lydia Karenin Cassadine)
6/21/72
Donna Mills (Madeline Reeves)
12/11/40
Kelly Monaco (Samantha McCall Morgan)
5/23/76
Sydney Mikayla (Trina Robinson)
2/1/03
O'Neill Monahan (Rocco Falconeri)
1/19/?
Anthony Montgomery (Dr. André Maddox)
6/2/71
Rebeka Montoya (Delores Padilla)
5/12/86
Lynne Moody (Florence Campbell)
2/17/50
Demi Moore (Jackie Templeton)
11/11/62
Camila More (Anna Devane)
10/15/57
Debbi Morgan (Dr. Ellen Burgess)
9/20/56
Lindsey Morgan (Kristina Corinthos Davis)
2/27/90
M'fundo Morrison (Justus Ward)
9/5/74
Senta Moses (Winnifred Leeds)
8/8/73
Hugo Napier (Larry Ashton)
6/18/46
Jaime Ray Newman (Kristina Cassadine)
4/2/78
Stephen Nichols (Stefan Cassadine)
2/19/51
James Nigbor (Jake Spencer)
2/2007
Minae Noji (Dr. Kelly Lee)
5/30/73
Logan O'Brien (Lucas Jones)

1/21/92

Alyshia Ochse (Irina Cassadine/Cassandra)
11/2/80
Erik and Theo Olsen (Wiley Corinthos)
2

/2/18

Ryan Paevey (Nathan West/James Reeves)
9/24/84
Jeffrey Vincent Parise (Carlos Rivera)
7/8/71
Nathan Parsons (Ethan Lovett)
6/16/88
Khary Payton (Terrell Jackson)
5/16/72
Andrea C. Pearson (Gia Campbell/Summer Holloway)
9/29/80
Thaao Penghlis (Victor Cassadine)
12/15/45
Joseph C. Phillips (Justus Ward)

1/17/62

Jay Pickett (Det. David Harper/Lorenzo Alcazar)
2/10/61-7/30/21
Mark Pinter (Special Agent Thomas Rayner)
3/7/50
Larry Poindexter (Asher Thomas)
2/16/59
Susan Pratt (Anne Logan)
4/29/56
Erin Hershey Presley (Alison)
9/2/76
Cynthia Preston (Faith Rosco)
5/18/67
Nicholas Pryor (Victor Collins)
1/28/35
Haley Alexis Pullos (Molly Lansing)
7/10/98
Ingo Rademacher (Jax Jacks)
4/22/71
Dominic Rains (Dr. Leo Julian)
3/1/82
Ella Ramacieri (Scout)
?
Marisa Ramirez (Gia Campbell)
9/15/77
Gail Ramsey (Susan Moore)
6/29/48
Wes Ramsey (Peter August/Henrik Faison)
10/6/77
Scott Reeves (Steven Lars Webber)
5/16/66
Aaron Refvem (Morgan Corinthos)
10/7/97
John Reilly (Sean Donely)
11/11/36-1/9/21
Peter Renaday (John Jacks)
6/9/35
Matt Riedy (Dr. Matthew Mayes)
5/1958
Robyn Richards (Maxie Jones)
1/22/87
Cheryl Richardson (Jenny Eckert Ashton)
5/8/64
Tequan Richmond (TJ Ashford)
10/30/92
Robin Riker (Naomi Dreyfus)
10/2/52
Chris Robinson (Rick Webber)
11/5/38
Sebastian Roché (Jerry Jacks)
8/4/64
Kali Rodriguez (Kristina Davis)
7/27/00
Tristan Rogers (Robert Scorpio)
6/3/46
Owen and Curtis Rufca (James West)
?
Mitchell Ryan (Frank Smith)
1/11/28
Emme Rylan (Lulu Spencer)
11/4/90
Antonio Sabato, Jr. (Jagger Cates)
2/29/72
Dahlia Salem (Claire Walsh)
11/21/71
Emma Samms (Holly Sutton)
8/28/60
Marc Anthony Samuel (Felix DuBois)
5/8/68
Aaron Sanders (Morgan Quartermaine)
4/16/96
Brytni Sarpy (Valerie Spencer)
9/21/87
Paul Satterfield (Paul Hornsby)
8/19/60
Michael Saucedo (Juan Santiago)
7/11/76
Ava & Grace Scarola (Avery Jerome Corinthos)
4/26/2014
Carly Schroeder (Serena Baldwin)
10/18/90
Coltin Scott/Stephen Martines (Nikolas Cassadine)
7/23/75
Ignacio Serricchio (Diego Alcazar)
4/19/82
Amanda Setton (Brook Lynn Quartermaine)
12/16/85
Charles Shaughnessy (Alistair Durban)
2/9/55
Dough Sheehan (Joe Kelly)
4/27/49
Parry Shen (Brad Cooper)
6/26/73
Graham Shiels (Cody Paul)
12/26/70
Kin Shriner (Scott Baldwin)
12/6/53
Brooklyn Rae Silzer (Emma Scorpio-Drake)
4/24/06
Jennifer Sky (Sarah Webber)
10/13/77
Tava Smiley (Chloe Morgan Ashton)
10/19/71
Stephen A. Smith (Brick)
10/14/67
Rena Sofer (Lois Cerullo Ashton)
12/2/68
Pepi Sonuga (Taylor DuBois)
9/8/93
Rick Springfield (Dr. Noah Drake/Eli)
8/23/49
Michelle Stafford (Nina Reeves Clay)
9/14/65
John Stamos (Blackie Parrish)
8/19/63
Darby Stanchfield (Amelia Joffe)
4/29/71
Richard Steinmetz (Joe Scully, Jr.)
2/16/59
Stella Stevens (Jake)
10/1/36
Danica Stewart (Maxie Jones)
8/2/83
Garren Stitt (Oscar Nero)
1/21/03
Julian Stone (Jerry Jacks)
12/31/62
Kirsten Storms (Maxie Jones)
4/8/84
Mathew St. Patrick (Marcus Taggert)
3/17/69
Sally Struthers (Jennifer Smith)
1/28/47
James Patrick Stuart (Valentin)
6/16/68
Gloria Stuart (Catherine)
7/4/1910-9/26/2010
Katie Stuart (Sage Alcazar)
8/22/84
Kelly Sullivan (Connie Falconeri/Kate Howard)
2/3/78
Michael Sutton (Stone Cates)
6/18/71
Josh Swickard (Harrison Chase)
7/4/92
Amber Rose Tamblyn (Emily Quartermaine)
5/14/83
Barbara Tarbuck (Lady Jane Jacks)
1/15/42-12/26/16
Bianca Taylor (Claudia Phillips)
2/11/55
Elizabeth Taylor (Helena Cassadine)
2/27/32-3/23/11
Amanda Tepe (Colleen McHenry)
10/16/77
Kelly Thiebaud (Dr. Britt Westbourne)
1/1/85
Roy Thinnes (Phil Brewer)
4/6/38
CJ Thomason (Lucas Jones)
12/6/82
Jason Thompson (Dr. Patrick Drake)
11/20/76
Jessica Tomé (Leticia Juarez )
9/25/84
Elena Tovar (Rosalie Martinez )
7/30/?
Constance Towers (Helena Cassadine)
5/20/33
Ellen Travolta (Gloria Cerullo)
10/6/40
Matt Trudeau (Lucas Jones)
?
Jessica Tuck (Cassandra Pierce)
2/19/63
Donnell Turner (Curtis Ashford)
1/8/73
Janine Turner (Laura Templeton)
12/6/62
Erik Valdez (Trey Scully)
8/26/79
Greg Vaughan (Lucky Spencer)
6/15/73
Ilia Volok (Andrei Karpov)
11/22/64
Anthony Vitale (Aldo)
11/30/65
Lisa Vultaggio (Hannah Scott)
1/20/73
Johnny Wactor (Brando Corbin)
8/31
Catherine Wadkins (Mary Bishop)
6/19/75
Kristina Wagner (Felicia Scorpio)
10/30/63
Jack Wagner (Frisco Jones)
10/3/59
Tonja Walker (Olivia St. John)
9/19/60
Braden Walkes (Cameron Spencer)
9/9/2003
David Wallace (Tom Hardy)
11/23/58
Megan Ward (Kate Howard/Connie Falconeri)
9/24/69
Billy Warlock (A.J. Quartermaine)
3/26/61
Robert Palmer Watkins (Dillon Quartermaine)
6/18/88
Cynthia Watros (Nina Reeves)
9/2/68
Vernee Watson (Stella Henry)
9/28/49
Bruce Weitz (Anthony Zacchara)
5/27/43
Annie Wersching (Amelia Joffe)
3/28/77
Hudson West (Jake Spencer Morgan)
3/4/07
Maura West (Ava Jerome)
4/27/72
Dan White (Elijah Crowe)
3/25/80
Bergen Williams (Alice Gunderson)
7/14/59
Billy Dee Williams (Toussaint Dubois)
4/6/37
Bree Williamson (Claudette West)
12/28/79
Alicia Leigh Willis (Courtney Matthews)
3/1/78
Emily Wilson (Ellie Trout)
5/28/85
Landon Wine (Andreas Andropolus)
6/2/62
Sherilyn Wolter (Celia Quartermaine)
11/30/51
Laura Wright (Carly Jacks)
9/11/70
Sharon Wyatt (Tiffany Hill Donely)
2/13/53
Meg Wyllie (Lila Quartermaine/Hester Frumpkin)
2/15/17-1/1/02
David Wysocki (Tom Hardy)
11/23/58
John J. York (Mac Scorpio)
12/10/58
Jacob Young (Lucky Spencer)
9/10/79
Dominic Zamprogna (Dante Falconeri)
4/21/79
Jackie Zeman (Bobbie Spencer)
3/6/53
This is the current cast plus some others from the past.  Please let us know if there's anyone that you think we should add!
Most of this Info from Internet Movie Database
Back to the main General Hospital Page