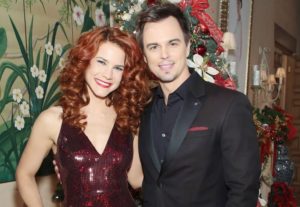 B&B News and Information! SOD Scoops, & Spoilers Below
Today's episode 2/10 was pre-empted due to hearings. It will air tomorrow, so they say.  It may be pre-empted again.
OLDER NEWS
Today's episode 2/9 was pre-empted due to hearings. It will air tomorrow.
SID Spoilers: Carter Confronts Zoe
SID Spoilers: Should Katie Forgive Bill?
Daytime soaps didn't air Wednesday, Jan. 21, due to news coverage of the inauguration. They will air Thursday, Jan. 22.
Jacob Young (ex-Rick) Talks About His New Podcast
B&B will re-air tomorrow, Jan. 7 (it was pre-empted yesterday by news)
SID Spoilers: Liam Makes a Heartbreaking Confession
The show will not air on Friday due to it being New Year's Day.
SID Spoilers: Is Thomas Going to Die?
SID Spoilers: What's Wrong With Thomas
The show will be-prempted Thursday for Thanksgiving, and Friday will be a re-run. More Info
SOD: B&B has been renewed through 2022
Find many links to other B&B news/scoops/spoilers here!
CBS is posting B&B Bonus Scenes which haven't aired in the US. Go to their website and scroll down to the Bonus Scenes section toward the bottom.
The Bold and the Beautiful Fan Community is online at www.boldandbeautiful.com. This free and revamped group includes a weekly "Ask Cathy" column where fan club director Cathy Tomas will answer the most asked question of the week, as well as "B&B's Fan of the Month" starting in August!
B&B has disbanded its official fan club. "The Official The Bold and The Beautiful Fan Page" is now on  Facebook, and all the latest news can be found on Twitter. Also, at www.boldandbeautiful.com fans can find live streaming of special events and info. that will keep you informed daily of what's going on behind the scenes, sneak peeks at things to come, locations and dates of public appearances as well as how to independently network with your favorite actors from B&B.
For an autographed headshot, you may write directly to the specific actor
c/o "The Bold and the Beautiful"
7800 Beverly Blvd.
Los Angeles, CA   90036
B&B Scoops and Spoilers
By Suzanne
SOD 2/15/21
This week, Hope tries to work on her marriage as they wait for the paternity results. She isn't sure what she'll do if the baby is Liam's.
Bill tells Liam about his trip to Genoa City. Paris gets a strong warning from Carter about Zende. Katie sees that Donna and Brooke are united in their support.
Ratings, week of 1/11: 2.0
Ashley Jones (Bridget) and Kelly Kruger (Eva) return this week. Eva is working with Paris and Katie at the Forrester Foundation. The two actresses are interviewed about their stint. The actresses are good friends in real life. Bridget returns 2/11 and Eva 2/12 (dates approximate).
Bill asks Donna and Brooke for help in winning Katie back. Brooke and Bill are definitely a thing of the past.
Zoe begs Carter for forgiveness and confesses that she flirted with Zende. Carter doesn't want to hear it. He confronts Zende about going after Zoe and learns about the text he sent.
Bill visits Jack and Lauren in Genoa City when Sally happens by. She is shocked to see Bill and abruptly leaves.
2/10 Steffy, Liam, Hope and Finn learn who the father is. 2/11 Thomas tells Vinnie that all he cares about is Hope's happiness. 2/12 Liam hears all about Bill's trip.
Scott Clifton (Liam) is chosen as Performer of the Week.
Katherine Kelly Lang (Brooke) and Thorsten Kaye (Ridge) discuss their characters' history.
Don Diamont (Bill), Denise Richards (Shauna) and Jacqueline MacInnes Wood (Steffy) answer questions about Valentine's Day.
What Will Happen: Finn and Liam have to deal with what fate has brought them. Thomas really wants to get Ridge and Brooke to believe in him again. Finn tells Steffy what she's meant to him, which makes her very emotional.
SOD 2/8/21
Don Diamont (Bill) talks about crossing over to Y&R (where he used to play Brad).
Zoe tells Carter that she wants to get married right away, so he's on cloud 9. Reluctantly, Ridge tells Carter that Zoe has feelings for Zende. Carter doesn't want to believe him at first, but he spills that he heard Zoe coming on to Zende. At first, Zoe won't admit it, when Carter confronts her. Then she does. Carter is shattered.
Bridget comes back for a visit with the Logans. Brooke and Thomas come to an understanding. Steffy finds out who the father of her baby is.
Ratings, week of Jan. 4: 1.88.
Vinny returns Feb. 3.
Annika Noelle (Hope) is engaged.
Steffy is hopeful that her babydaddy is Finn. As she awaits the results of her paternity test, she gets a visit from Brooke, who is not happy. Ridge is there for Steffy to have a shoulder to lean on.
2/4 Ridge hears from Steffy about her night with Liam, and her pregnancy. 2/5 Finn tells Ridge what he intends with Steffy.
The show is given a Thumbs Up! for the latest baby storyline.
Sweeps Preview: We'll find out this month who the father of Steffy's baby is. The results will decide what happpens to everyone involved. Someone has been playing puppet master with all that's going on with Finn, Steffy, Liam, Hope and Thomas. Ridge and Brooke have to work hard to keep their children's problems from affecting their marriage. Zoe's obsession with Zende may cost her future at Forrester as well as her relationships. Bill gets advice from Wyatt and Brooke about how to be better for Katie. The Logan sisters get together and talk about love, forgiveness and family.
Characters of two actors are compared to a former role they played, including John McCook (Eric and Lance) and Rena Sofer (Quinn and Lois).
What Will Happen: Zoe tries to fix things with Carter. Ridge gives someone bad news. Paris gets a tongue lashing by Zoe.
SOD 2/1/21
Carter asked Ridge to be his best man. Ridge notices that Zoe and Zende seem to have something going on, so he investigates. Zende denies that he has any involvement with Zoe. He also questions Paris, who says they're just friends. Ridge goes to the Forrester mansion, where he accidentally overhears Zoe telling Zende that she loves him. Ridge objects to what they're doing. Zoe asks him not to tell Carter. He leaves without saying what he'll do.
Steffy is confronted by Brooke, who's angry about what Steffy's done to Hope. After Carter hears that Zoe is interested in Zende, he's shocked. Steffy takes a paternity test, which makes things more tense.
Ratings, week of 12/28: 2.05.
Tina Huang (Dr. Campbell) has more episodes, starting Jan. 29. She also plays D.A. Melinda Trask on Days.
Bill begs Katie to give him one more chance to make things right. He promises to earn her trust back.
1/28 Paris decides Carter should know the truth about Zoe and Zende. 1/29 Brooke is completely caught off guard when Hope tells her that Steffy may be carrying Liam's child again. Zoe tells Carter they can set their wedding date right away (since she's worried that he'll find out about her and Zende).
The show is given a Thumbs Down! for focusing mainly on a few characters and ignoring the rest.
An article focuses on surprise relatives that show up in town, including Karen Spencer, Macy, April, Liam, Wyatt, Nick, and Sasha.
What Will Happen: Katie asks Donna for advice, while Bill does the same with Wyatt. Ridge gets more suspicious of Zoe and Zende.
SOD 1/25/21
Thomas comforts Hope when he learns about Liam cheating on her and Steffy's pregnancy. Hope is surprised by how selfless Thomas is. He gives her good advice, and they're building a friendship.
Zoe goes after Zende, but Ridge knows what she's up to. Brooke learns about Liam's mistake and gets very angry. When Bill is with Katie, he gets very emotional.
Ratings, week of 12/21: 1.82.
Tina Huang returns as Dr. Campbell Jan. 20.
Dawn Wells (ex-Alice) passed away from COVID 12/30.
Summer and Flo meet up at a restaurant so that Flo can tell Summer all about Sally. Flo gives her an earful.
1/19 Steffy is put on the spot by Finn when he wants to know who she's hoping will be her babydaddy. 1/20 Liam gets yelled at by Wyatt for cheating on Hope again. 1/21 Steffy wants to get a paternity test.
Jacqueline MacInnes Wood (Steffy) is featured in an article.
Delon de Metz (Zende) and Katrina Bowden (Flo) list their favorite things.
What Will Happen: Ridge is asked to be Carter's best man. Zoe finds out that Zende had sent her a text a while back (that was missing). Hope is begged for forgiveness by Liam.
Kiara Barnes (Zoe) is featured in the one-page "Take Five" interview.
SOD 1/18/21
Crossover with Y&R: Summer (Hunter) and Kyle (Michael Mealor) go to L.A. to meet with Wyatt Spencer (Darin Brooks), hoping to meet his dad, Bill (Don Diamont). She wants to get her line, JVC, promoted by Spencer so that she can take it in another direction. Summer also wants to find out more about Sally, whom Wyatt once dated. She wants to know what Sally is really up to in Genoa City. Kyle leaves Wyatt and Summer to chat. Wyatt agrees to bring her proposal to Bill. She asks about Sally, which surprises Wyatt. He didn't know she had gone to Wisconsin, of all places. Summer can't get Wyatt to give up any dirt on Sally, but she notices that he's tense. When she meets Bill, he tells her to give his regards to Lauren. Summer tries again to question Wyatt about Sally, so he wonders why she wants to know. Wyatt's girlfriend Flo (Katrina Bowden) drops by and hears them talking about Sally. Wyatt leaves to go to another meeting, so Flo and Summer have a chat. Flo is happy to dish the dirt.
Liam confesses to Hope that he slept with Steffy. Hope can't believe it. He also tells her that Steffy is pregnant.
Delon de Metz (Zende) is featured in a short interview to talk about his character.
Zoe gets an answer from Zende about Carter that she didn't expect. After Thomas learns about Steffy and Liam, he comforts Hope. Flo unexpectedly gets a way to wreak revenge on someone.
Vinnie (Joe LoCicero) returns Jan. 13.
Camellia Somers (intern Charlotte) is dating actor/singer Chord Overstreet ("Glee"). She is the granddaughter of actress Suzanne Somers ("Three's Company").
Zoe and Paris have a big fight after Zoe learns that Paris isn't leaving town. Zoe is scared that Zende and Paris will get together, which leaves her with no backup if she and Carter split (since she's had so many breakups before).
1/12 Finn is shocked to learn from Steffy that she's pregnant and that's why she told him about sleeping with Liam. 1/13 Liam is confronted by Finn about it. 1/15 Bill is working out when Wyatt interrupts to have him meet a "beautiful stranger" (probably Summer from Y&R).
In an article, the guys in charge of B&B and Y&R talk about how they did the crossover event.
What Will Happen: Hope and Finn don't forgive Steffy and Liam and won't take their excuses. Zoe is questioned by Zende about Carter. Hope tries to hide from her mom about how upset she is.
SOD 1/11/21
Steffy learns she's pregnant, but she doesn't know whether the father is Liam or Finn. She tells Liam, who's worried about how this will affect his marriage to Hope. Liam thinks that they should tell Hope and Finn. Steffy wants to keep it secret. Steffy's portrayer, Jacqueline MacInnes Wood, is glad that they were able to write her real-life pregnancy into the show.
Thomas gets a visit he wasn't expecting from Vinny. Zoe is accused of something by Paris. Steffy and Liam's secret comes out.
Ratings, week of 12/7: 1.89.
Thomas is struggling to figure out what happened to him before he went into the hospital. He wants to make it up to Hope. He's horrified that she and Liam saw him talking to the mannequin.
Zoe yells at Paris for wanting to stay at Forrester, but Zende urges her to take the offer. Zoe is not happy when she sees them kissing.
1/5 After Paris decides what to do with her future, Carter reads Zoe the riot act. 1/6 Liam and Steffy decide something important. 1/7 Zende chases after Paris after learning that she's leaving, thanks to Zoe.
Scott Clifton (Liam) and Tanner Novlan (Finn) share their health tips.
What Will Happen: When Finn opens up to Steffy about what he wants for the future, Steffy is torn about whether to tell him the truth. Thomas shares a very heartfelt apology with Hope. Liam learns something startling.
SOD 1/4/21
When Thomas gets out of the hospital, he doesn't know what to do next. Steffy drives him to Brooke's house. Brooke invites him to move in while he recovers. This shocks Thomas. She recognizes the struggle he's going through, and of course Ridge wants him there as well. Thomas wonders if maybe there is forgiveness after all. Brooke only lays out one condition: that he tell her that he's not going to pursue Hope. He does so as best he can. Liam is not happy to hear it, though. He gets very upset about it.
Ratings, week of 11/30: 1.89.
Liam and Steffy decide to do the right thing. Paris accuses her sister of being jealous as she defends herself. When Hope tells him something shocking, Thomas has a hard time dealing with it.
Zoe gets really annoyed when she finds out that Carter set up a meeting for Paris so that Ridge could interview her for a job overseeing the Forrester Foundation. She demands that he take back the invitation. Carter doesn't know how to handle Zoe because he's never seen her this way before.
12/29 Liam starts to fall apart from having to lie to Hope. 12/30 Hope wants to know what Liam and Steffy are keeping from her. 12/31 Finn tells Steffy he loves her; she tries to cover up her guilty feelings.
Preview for 2021- The new year will bring surprises and the year will have "passion, love, revenge, family and gorgeous fashion." Expect that something unusual will happen when Hope finally learns about Liam and Steffy's night together. It will affect the Logans, Forresters and Spencers. Finn's reaction will also be surprising. Brooke hasn't forgotten what Thomas has done, even though she's welcoming him in to her home. Will Hope and Thomas bond after she finds out the truth about Steffy and Liam? We learn more about Zoe and Paris' lives. It's uncertain if Zoe and Carter will really get married. Bill has to make a decision about his future, romantically. He gets 2 other people to help convince the woman he loves to come back to him. Flo hopes Sally is gone for good. She may try to get revenge, or she may do like Wyatt says and put the past behind them. Some new people will come to town. Has Quinn learned her lesson, and will she stay married to Eric? She may continue to meddle in the lives of others.
A Year in Review recaps what's been going on this year on the show.
What Will Happen: Paris gets a warning from Zoe. When Zoe rants and raves, Carter is flummoxed. Paris gets a declaration from Zende.
SOD 12/14/20
Liam is shocked to hear from Hope that Thomas was kissing the mannequin. It hits him hard when he realizes that he's the one who cheated, not her.
Ridge finds out about Thomas' deep, dark secret. Liam and Steffy talk about how they feel.
Ratings: week of 11/9: 1.96.
After talking to Liam, Hope realizes that Thomas is not doing well mentally, so she goes to see him and tries to reason with him. He's delusional, and she doesn't know how to help.
12/8 Thomas gets emergency surgery. 12/10 Quinn admits something important to Eric. 12/11 an unexpected twist happens when Shauna and Quinn have a confrontation.
The arrive of Zoe's sister Paris gets a Thumbs Up!
The annual Holiday Guide article has soap-opera- and soap-actor-related things to buy as gifts.
An article focuses on characters who should never have been killed off on each show, such as Darla, Phoebe and Aly.
What Will Happen: Quinn hears something shocking. Liam and Steffy go back and forth on what they should do. The Forresters don't hear the answers from Finn about Thomas' health that they wanted.
Tanner Novlan (Finn) is featured in the short, one-page "Take Five" interview.
SOD 12/7/20
Thinking he's seeing Thomas kiss Hope, Liam is left shocked and devastated. He goes to see Steffy, who can't believe it. Then they drink tequila. Liam and Steffy feel nostalgic, and then they make love. They wake up the next morning with regrets and guilt. Steffy talks him into confronting Hope about her kissing Thomas. Hope and Liam have a huge fight where he doesn't let her even talk much, and she doesn't know what he's talking about.
Zende spends time with Paris, whom he likes, to get over Zoe. Quinn tries once again to get Eric back by spying on him and Shauna. When Liam learns something vile, he has to consider what's at stake. Thomas clings to his life while Hope, Ridge and Steffy wait and pray that he'll be okay.
Ratings, week of 11/2: 1.93.
Hope has been worrying about Thomas ever since she saw him unravel at Thanksgiving. Finn visits, making her more concerned. She remembers that Thomas hit his head, so they both worry that he could have a medical issue. She wants to talk to Liam about it, but she can't find him (because he's with Steffy).
11/30 Finn tries to find out what's wrong with Thomas. 12/4 Finn diagnoses Thomas, who urgently goes to the hospital.
In an article entitled "Random Inquiries," stars of each show are asked a bunch of questions, including Katrina Bowden (Flo) and Darin Brooks (Wyatt).
What Will Happen: When Thomas goes off the rails, Hope does something to help him. Steffy and Liam get in trouble for their cheating ways.
SOD 11/30/20
Annika Noelle (Hope) talks about how much fun it's been to voice the Hope mannequin.
Liam is annoyed when Hope and Douglas join Thomas for Thanksgiving dinner. He gets worried when he can't get Hope on the phone. He rants and raves to Steffy, who doesn't think he has any proof that Thomas is up to anything. Liam goes over to confront Thomas again. He sees Thomas with his shirt off and thinks he's making love to Hope.
A couple that's had many obstacles faces another one. As Thomas falls further into darkness, things take a weird turn. After someone is betrayed, there is a shocking consequence that no one would see coming.
Ratings, week of 10/26: 1.96
11/23 While having dinner with Douglas and Hope, the mannequin comes to life for Thomas. 11/24 Thomas does something he'll regret while he's hallucinating. 11/25 When Finn visits Thomas unexpectedly, he's able to bring Thomas back to the real world.
The show is given a Thumbs Up! for Shauna and Quinn's feuding.
Actors share their favorite Thanksgiving recipes, including John McCook (Eric) and Tanner Novlan (Finn).
What Will Happen: Liam can't believe what he saw Thomas do. Liam gets very upset. Steffy and Liam don't agree about how sane Thomas is.
SOD 11/23/20
Wyatt orders his mom to move out because her problems with Eric and Shauna are hurting his relationship with Flo. He advises her to go make up with Eric and Shauna.
Finn tries to figure out what's really going on. Thomas has a tough time discerning delusions from reality.
Ratings, week of 10/19: 2.01
Douglas (Henry Joseph Samiri) is back this week.
Hope sets up a meeting between Douglas and Thomas. She sees the good side of Thomas. Liam isn't too happy about it.  11/16 Zoe is congratulated by Paris on getting engaged. 11/18 Quinn turns her fury onto Shauna. 11/20 Zende wishes Carter and Zoe best wishes, even though he doesn't mean it.
The show is given a Thumbs Down! for rushing the romances of Steffy/Finn and Carter/Zoe/Zende.
Don Diamont (Bill) and Aaron D. Spears (Justin) are interviewed together.
What Will Happen: Thomas is stunned by what the mannequin tells him. Liam and Steffy share some sweet moments with Kelly. Quinn begs Eric to forgive her again.
SOD 11/16/20
Matthew Atkinson (Thomas) talks about his new storyline (acting with the mannequin).
Liam bursts into Thomas' apartment this week and finds the Hope mannequin. He confronts Thomas, who has a smooth explanation. Liam doesn't believe him, and they argue.
Thomas and Douglas share a happy reunion. Zende and Zoe have a moment that isn't too happy. Wyatt and Flo try to make peace between Quinn and Shauna.
Ratings, week of 10/12: 2.00.
Wyatt visits Eric to try to convince him to forgive Quinn. Eric hears him out, but he's not so sure he will do it.
11/10 Zoe is put on the spot by her sister about whether she chooses Carter or Zende. 11/12 Someone is proposing marriage when they're dramatically interrupted. 11/13 Zende and Zoe discuss their growing feelings.
What Will Happen: Thomas plans an unusual date. Finn puts Liam in his place. Liam can't believe how Steffy and Hope react to what he told them about Thomas.
SOD 11/9/20
Courtney Hope (ex-Sally) talks about joining Y&R.
Quinn, who's living with Wyatt and Flo, is not too happy to learn that Shauna has moved in with Eric. She plans to get Eric back.
Zoe's sister, Paris (Diamond White), comes to town and meets the Forresters. There is some tension between the two sisters. Paris is a social worker who gets smitten by Zende. She may have a big secret, too.
Thomas' dark side comes out again. Wyatt speaks to Eric for his mom. Liam tries to tell Hope and Steffy that something is off again about Thomas.
Ratings, week of 10/5: 2.16.
Bridget (Ashley Jones) calls her mom on the phone 11/2.
Kelly Kruger returns as Eva, the Forrester International Publicist, 11/2.
Jacqueline MacInnes Wood (Steffy) announced that she's expecting another child.
Thomas (Matthew Atkinson) hit his head and is now imagining that this Hope mannequin is really Hope.
11/4 Liam freaks out a little when he hears about Thomas' behavior from Finn. 11/5 Liam tries to find a way to keep Thomas away from Hope. 11/6 When Liam goes to Thomas' apartment, he gets a big shock.
The show is given a Thumbs Up! for Quinn getting her comeuppance for her scheming.
November Sweeps Preview: Because Thomas is still obsessed with Hope, his mind builds a relationship with the Hope mannequin. Liam and Hope's relationship and their little family is strong. Liam's not happy that everyone's forgiven Thomas and that he's back working with Hope. Liam and Hope will have to deal with the challenges of Liam sharing a daughter with Steffy as well. Finn and Steffy is a "lovely love story." Fans have wanted another man for Steffy for a long time. We'll see if she can keep away from Liam for a change. Zoe is happy right now with Carter, but she's intrigued by Zende. Then her sister, Paris, arrives. The two sisters are competitive. Not everyone will like Paris. Ridge and Brooke are happy and working as a team. They will try to keep Quinn away from Eric. There will be stress for them as Brooke sides with Hope and Ridge sides with Steffy again. He hints that they won't break up again and will stay together forever. Quinn thinks that Shauna has stabbed her in the back. Wyatt and Flo are committed to each other but also will have a mystery to solve. Wyatt will be there for Liam. Bill and Katie may make their marriage work in the face of a new challenge, or not. It happens soon.
What Will Happen: Paris is warned by Zoe to avoid Zende. Hope is questioned by Steffy about Liam. Zende and Paris have amazing chemistry.
SOD 11/2/20
Wyatt yells at Quinn when he finds out about all of her manipulations. Flo suggests that Quinn move in with them, which Wyatt isn't happy about.
Matthew Atkinson (Thomas) is briefly interviewed. He shares that Thomas is glad that Hope is able to give him another chance. He also talks about Thomas' competition with Zende.
When Shauna tells Quinn something, it shocks her because she didn't see it coming. Zoe's younger sister Paris arrives.
Ratings week of 9/28: 2.0
Julius (Obba Bobbatunde) returned 10/23 to give Zende some thoughtful advice. This causes Zende to question some things.
Karla Mosley (Maya) is no longer on the show, as we reported above. She was last seen May, 2019. (Will we ever find out why she and Rick broke up?)
10/27 Ridge and Brooke celebrate their good news. 10/29 Steffy wonders if Hope has some agenda when it comes to Finn. 10/30 When Quinn asks Eric and Ridge to forgive her, Ridge lets her have it.
The story with Quinn/Shauna fighting with Brooke over Ridge is chosen as this week's Editor's Choice for story.
Stars from each soap share their favorite things about Hallowen, including Kiara Barnes (Zoe), Delon de Metz (Zende) and Tanner Novlan (Finn).
What Will Happen: Hope has a difficult time balancing work and home life. Finn is warned by Thomas about Liam. Ridge and Steffy share a touching moment.
Our other pages for news, scoops, and spoilers:  AMC, ATWT, AW, Days, GH, GH: Night Shift, GL, Loving/The City, OLTL, PC, Passions, Y&R, General Daytime, 24, Battlestar Galactica, Heroes, Jericho, Lost, Smallville, and Star Trek.