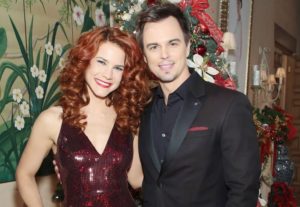 B&B News and Information! SOD Scoops, & Spoilers Below
THE BOLD & THE BEAUTIFUL Spoilers: Will Douglas Reveal Brooke's Secret?
OLDER NEWS
THE BOLD & THE BEAUTIFUL Spoilers: Will Deacon Keep Brooke's Secret?
B&B is pre-empted Friday, December 31 for CBS coverage of the Sun Bowl.
Brian Gaskill (ex-Ozzy) was in a play in NYC and caught COVID. We wish him a speedy recovery! 
THE BOLD & THE BEAUTIFUL Spoilers: Will Taylor Destroy Ridge's Marriage?
Thursday, November 25, a re-run of the show will be aired. Friday, November 26, it will be pre-empted by sports. More Info
THE BOLD & THE BEAUTIFUL Spoilers: Liam Vows to Protect Hope!
Jacob Young (ex-Rick) Talks About His New Podcast
SOD: B&B has been renewed through 2022
Find many links to other B&B news/scoops/spoilers here!
CBS is posting B&B Bonus Scenes which haven't aired in the US. Go to their website and scroll down to the Bonus Scenes section toward the bottom.
B&B has disbanded its official fan club. "The Official The Bold and The Beautiful Fan Page" is now on  Facebook, and all the latest news can be found on Twitter.
For an autographed headshot, you may write directly to the specific actor
c/o "The Bold and the Beautiful"
7800 Beverly Blvd.
Los Angeles, CA   90036
B&B Scoops and Spoilers
By Suzanne
SOD 1/31/22
Hope is told by Brooke, finally, that she slept with Deacon, which stuns Hope. Brooke asks Douglas to keep what he saw quiet. Hope feels more guilty for bringing Deacon into their home. Hope confronts Deacon, but both he and Brooke swear that he didn't do anything to encourage her to drink. She still loves him, even though she's angry with him.
Sean Kanan (Deacon) is featured in a short interview, where he talks about his current storyline.
Steffy and Thomas learn about what happened with Brooke and Deacon. During an argument with Brooke, Ridge warns Deacon. Carter is shocked when Paris' mother, Grace, confronts him about her.
Ratings, week of 12/27: 1.96.
Shireen Cruthfield returns 1/25 as Sequoyah, the model that Zende met before.
Grace has a hard time dealing with the fact that Paris turned Zende's marriage proposal down. She thinks he's a great catch. She can also tell that there's something between Paris and Carter. Grace will be doing something soon to help her daughter.
1/25 When Brooke hears that Douglas is spending time with Thomas, she is terrified. 1/26 Thomas, Steffy and Ridge are told by Thomas that he saw Santa, and more. 1/28 Douglas tries his best to keep his story about Brooke to himself.
Katherine Kelly Lang (Brooke) is Chosen as Performer of the Week.
What Will Happen: Deacon and Hope have a moment of truth. Deacon is irked when Sheila keeps asking for more dirt on Brooke. Brooke struggles with the truth.
SOD 1/24/22
Betty White (ex-Ann) passed away 12/31.
Brooke is stunned to learn that Deacon still loves her. She doesn't want to deal with him at all, so she tells him to go away. Taylor drops by after that and offers Brooke friendship and professional help. Brooke just wants to get rid of her, too. She wants to focus on her marriage and keep Deacon away from Ridge.
Carter tries to something right. Steffy gets suspicious about Brooke's strange behavior. Brooke does something unexpected, driven by her fears.
Ratings, week of 12/20: 1.83.
Akbar Gbajabiamila plays Max, someone Carter works with. He is a co-host on "The Talk" on CBS and hosts "American Ninja Warrior" on NBC. He was previously an NFL sports commentator. He is someone we haven't seen before, but he's been around. Gbajabiamila enjoyed working with Lawrence Saint-Victor (Carter) and admired how big and fit he is. He hopes he can return.
Carter and Paris kiss again. She's moving on from Zende.
1/20 Hope and Liam figure out what really happened with Brooke on New Year's Eve. 1/21 Taylor and Ridge share a special moment together as they think about their family.
The show is given a Thumbs Down! for Bill and Wyatt going missing lately.
Adrienne Frantz (ex-Amber) is featured in a "Where Are They Now" article.
What Will Happen: Brooke is begged by Hope to tell what happened the night she drank. When she sees Sheila obsessed with Brooke, Taylor gets suspicious. Liam gets pressure from Hope to keep things between them and not share it with Steffy.
SOD 1/17/22
Cassandra Creech joins the show Jan. 10 in a recurring role as Dr. Grace Buckingham, mother of Zoe and Paris. She previously acted on Days and ATWT. Creech reveals that Grace is a bit protective of her girls (especially after what happened with their father).
Steffy had a big fight with Hope over Brooke, Ridge and Taylor, so Steffy suggests to her mom that she fight for Ridge. Steffy is determined to get her parents back together. She thinks that Ridge is feeling sad and frustrated with Brooke. Taylor isn't interested in breaking up Ridge and Brooke, but Steffy offers her support if she goes for it. Later, Steffy tells Ridge that she and Thomas think that Deacon was responsible for Brooke and Ridge's current problems. Ridge doesn't know what to think.
Preview: Taylor thinks that Sheila is not being honest about her motives. Carter and Paris get romantic. Brooke hears something shocking from Deacon.
Ratings, week of 12/13: 1.92.
A man (played by Alfonso Caballero) tells Brooke something wise 1/10. The real model Alexis Gaube (Andi) shows up Jan. 14. James Ripple plays a bartender Jan. 14.
Hope worries about her mom, blaming herself for her relapse with drinking – for bringing Deacon back into their lives.
1/10 Paris is surprised with a gift from Zende – her mom, Grace. 1/11 Carter feels uneasy when Zende poses a question about whether Paris might be interested in someone else. 1/12 Paris introducers her mom to the Forresters and those who work at the company, including Carter, but she's not comfortable that it was Zende that brought her there.
The show is given a Thumbs Up! for reviving the Steffy/Hope rivalry by bringing Taylor back to town.
Krista Allen (Taylor) is featured in an interview.
Sean Kanan (Deacon) shares his fitness and nutritional habits to help fans get healthier in the new year.
What Will Happen: Sheila swears that she'll destroy Brooke. Steffy hears the truth from Taylor about how she feels about Ridge. Brooke decides something that will cause her pain.
SOD 1/3/22
While Sheila is very happy to be able to visit Finn over the holidays, thanks to Taylor, but Brooke objects to the idea of Sheila being near her grandchild. Sheila feels threatened, so she switches Brooke's non-alcoholic Champagne for the real thing. Brooke gets a bit drunk and then sees Deacon on New Year's Eve. They have a passionate kiss after talking about the past.
Ridge and Deacon each try to figure out what has happened with Brooke. Unknown to Taylor, Sheila gets closer to her in order to target Brooke. History repeats itself with Brooke.
Ratings, week of 11/29: 1.99.
Abdur Wyatt plays a bartender starting 12/29.
As mentioned above, Courtney Hope (ex-Sally, now on Y&R) and Chad Duell (Michael, GH) are divorcing after being married for just 2 months.
Carter lets Paris know that Zende is going to propose, since they have discussed how Paris isn't looking for a serious relationship right now. Carter doesn't want either of them to get hurt, but he's also clearly attracted to Paris.
2/27 Zende gets the engagement ring from Quinn that she designed. 2/28 He tells Paris that he has something special planned for them on New Year's Eve. 9/29 Someone visits Taylor that she didn't expect, surprising her.
The show is given a Thumbs Down! for speeding up Zende and Paris' romance.
2002 preview: Brooke and Ridge's marriage will be hanging by a thread at the beginning of the new year. Brooke parties with Deacon, thanks to Sheila spiking her drink. Brooke feels very guilty and decides whether to cover up the truth or not. Ridge can tell something is wrong, but he doesn't get a straight answer from her. She then admits that she had drinks while he was away on business. Steffy and Taylor worry how Deacon's presence and Brooke's falling off the wagon will affect Ridge. Taylor gives Ridge a safe place to talk about his feelings. She's also cautious about Sheila being so nice to her and trying to use her against Brooke. Brooke tells Deacon that he's no longer welcome, which upsets him. They don't tell Hope the reason why, but she's supportive of her father as well as Brooke trying to get sober again. Paris does something that will shock both Carter and Zende. Two new characters will be introduced. One will work for Forrester and the other one will be related to someone (and not expected).
"The Bay" returns for season 7 on 12/28. An article looks at the cast, which includes Brandon Beemer (ex-Owen) and Tristan Rogers (ex-Hunter)
What Will Happen: Brooke, feeling vulnerable, talks about her old affair with Deacon. Brooke falls into Sheila's trap, not knowing what she did. When Sheila and Brooke fight, Deacon tries to stop them.
SOD 12/20/21
Taylor's back in town, so she reconnects with her family. They kept up via video chats, we're told. Taylor has stayed away for another reason besides work, and she feels guilty for her time away. She knows that Ridge and Brooke are having problems. She doesn't want to get involved in their problems, but she's there for him, to listen.
Ratings, week of November 15: 1.96.
Ridge is defended by Brooke to Deacon and Hope. Sheila learns from Deacon that Taylor is back. After Ridge and Brooke get into an argument, Taylor counsels him.
Jacqueline MacInnes Wood is pregnant again, with her third child.
Hope and Deacon find out that they each love martial arts, so they work out together and get to know each other better. Someone unexpected arrives, interrupting them.
12/13 Katie and Brooke talk about Ridge, Deacon and Stephen. 12/15 Thomas is emotional when he meets up with his mom. 12/17 Ridge is shocked when he figures out that Deacon is going after Brooke.
Quinn and Carter's affair is chosen as Most Shocking Twist; Deacon and Sheila are chosen as Best Returns; and Carter is chosen as Most Rejuvenated Character in this year's "Best and Worst of 2021."
What Will Happen: Thomas and Steffy are very emotional when they see Ridge and Taylor together.
SOD 11/15/21
Hope wants to spend more time with Deacon but feels that Sheila is a bad influence. Hope works on getting Brooke on her side by telling her how she feels about Deacon and how she came into the world, from her perspective. Brooke reveals that she still feels guilt and shame for what she did (cheating with Deacon). Next, Hope works on Ridge.
Kimberlin Brown (Sheila) is featured in a short interview.
Next week: Zende wants to make a special gift for Paris, so she enlists Quinn's help. Paris is shocked when Thomas tells her how he feels with a special surprise dinner. Finn's mother, Li, is stunned when she hears the truth about Finn and Jack.
Ratings, week of 10/11: 1.97.
Alexis Gaube plays Petra, a model. She's the newest model on "The Price Is Right."
Finn's father, Jack (Ted King) returns 11/12.
Xavier Prather debuts as James 11/8 (Big Brother winner this year).
Douglas (Henry Samir) is back 11/9.
Courtney Hope (ex-Sally) and Chad Duell (Michael, GH) were married 10/23.
Quinn yells at Donna for helping Eric with his erectile dysfunction. Donna gets scared by Quinn's tirade. Donna is hoping that Eric will return her feelings when he asks to speak with her alone. He praises her, but then the conversation goes in the opposite direction. Donna knows that Quinn is pulling Eric's strings.
Thomas and Paris grow closer as roommates. Paris is committed to Zende but cares about Thomas as a friend. Douglas asks her if she's his daddy's new girlfriend, which makes things awkward for her. Paris is able to answer in a sweet way.
11/9 Quinn and Katie argue about all of the terrible things Quinn has done. 11/12 Jack hides from Finn after asking Sheila to lunch.
Heather Tom (Katie) is featured in an article where she looks back on her work as Katie.
What Will Happen: Justin is hired by Ridge to dig up the dirt on what Deacon and Sheila are up to. Something knocks Paris off her even keel. When Brook defends to Ridge why Deacon is there, Ridge gets very angry.
Eileen Davidson (ex-Ashley) is featured in the short, one-page interview "Take Five."
SOD 11/8/21
Deacon's arrive in town has caused problems for Liam and Hope. Steffy is not happy about Hope's welcoming of Deacon. Hope is annoyed that Liam and Steffy are lumping Deacon and Sheila together. Hope and Finn have a new friendly relationship as they try to convince their spouses to see their points of view. Liam doesn't want Beth to meet Deacon, either. Hope sits down with Brooke for a long-overdue heart-to-heart about the situation.
Ratings, week of 10/4: 2.04.
Ridge does something to keep Deacon from interfering, for now. Hope welcomes her father into her life in an extreme way. Quinn learns that Katie is a strong enemy to have.
Wyatt and Flo haven't been around much lately because the actors who portray them have been busy with other projects. They'll be seen again with more story in the fall.
Katie gets ready to yell at Carter for his involvement with Quinn, but she finds that they have a lot in common. They bond over the fact that they haven't found the right person. Katie is able to confide him about her problems with Bill.
11/1 After finding out something about Eric, Quinn goes after Donna big time. 11/2 When Quinn gives Eric an ultimatum about Donna, he's not prepared. 11/3 Donna is over the moon when she thinks Eric might be eager to get back together with her.
The show is given a Thumbs Up! for bringing Deacon back and teaming him up with Sheila.
November sweeps: Deacon and Sheila are going to give everyone a run for their money. They bring trouble with them, even though they're both trying to turn over new leaves. Eventually, Brooke will see Hope's point of view about wanting her father around. It will put Hope and Liam in a contentious situation, however. Although Finn and Steffy seem to be agreeing more about keeping Sheila out of their lives, there will be more trouble for her to cause. Ridge will also be involved. We'll see more of Jack and Li. He still has the big secret about cheating on his wife with Sheila and being Finn's real father. Quinn and Eric are determined to stay married, but the Logan sisters will do their best to keep them apart because they don't think Quinn is good enough for him. Katie and Carter's new friendship will make her see that he's the opposite of Bill. The show will have a traditional Thanksgiving dinner with humor, fantasy, fun and some touching moments.
Sean Kanan (Deacon) is featured in an interview.
Kimberlin Brown (Sheila) and other actors who play soap "villains" discuss their characters.
What Will Happen: Sheila gets annoyed when Deacon does something rash, messing with her plan. Steffy gets very angry at Hope. Carter and Katie grow closer.
Thorsten Kaye (Ridge) is featured in the short, one-page "Take Five" interview.
SOD 11/1/21
When Sheila sees Finn and Hope at Il Giardino, she kisses Deacon to make them think they're together romantically. Sheila uses the situation to try to manipulate Steffy. She believes that she has changed but is getting impatient with how long it's taking everyone to forgive and accept her.
Annika Noelle (Hope) is featured in a short interview about Hope and Deacon spending time together. She's glad to have story that isn't about another romance. Hope just wants to believe that he's changed. In another part of SOD, it's revealed that Noelle wrote an article for Glamour magazine where she revealed she'd suffered from two miscarriages.
Ratings, week of 9/27: 2.01
Next week: Eric is shocked when Quinn demands something. Liam and Steffy conspire to keep Finn and Hope from their parents. After Donna runs into Quinn, she is rattled.
Xavier Prather, who recently won "Big Brother" on CBS, will be featured 11/8 and 11/10 as an executive at Forrester.
Katrina Bowden (Flo) will be in a new movie, "Dead Wrong."
Pierson Fodé (ex-Thomas) appears in the new murder mystery movie "Out of Hand."
Brooke pushes Donna to tell Eric that she still loves him and would like to give their romance another try. Donna ends up telling Eric how she feels.
10/27 When Liam and Steffy hear about Deacon and Sheila, they are very alarmed. 10/28 Zende and Paris grow closer, which Thomas observes. 10/29 Katie's friendship with someone grows stronger.
The show is given a Thumbs Down! for the absence of Wyatt and Flo.
Actors from each show answer questions about their Halloween favorites, including Kimberlin Brown (Sheila), Jennifer Gareis (Donna) and Diamond White (Paris).
What Will Happen: Donna tells someone a secret by accident. Shauna is there for Quinn, who tells her what she really wants. Brooke tries to set up her sister and Eric.
Our other pages for news, scoops, and spoilers:  AMC, ATWT, AW, Days, GH, GH: Night Shift, GL, Loving/The City, OLTL, PC, Passions, Y&R, General Daytime, and Primetime News.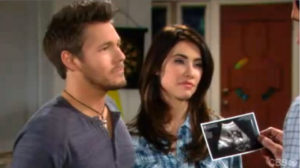 Follow Us!