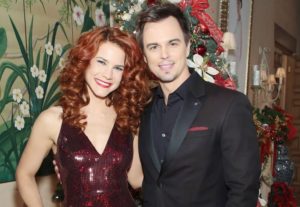 B&B News and Information!
B&B Scoops and Spoilers
Note: Dates mentioned may not be accurate due to pre-emptions.
By Suzanne
SOD 3/27/23
Thomas is back at Forrester Creations, which doesn't make Liam happy.
Sheila and Bill's romance grows darker. Ridge rescues someone just in time. Katie gets advice from Brooke about Carter.
Ratings, week of 2/20: 1.97.
Linda Purl (Lucy) and Patrick Duffy (Stephen) return starting 3/22. Josh Hoffman will play Ridge and Brooke's son, RJ, starting 4/21.
3/20 Sheila starts to have a meltdown about Bill finding out about her and Deacon. 3/21 Deacon and Sheila try to end things. Thomas and Hope work together passionately. 3/23 Stephen gets angry about Brooke and Ridge.
John McCook (Eric) and Katherine Kelly Lang (Brooke) are featured in an interview, talking about the show's past 36 years. March 23 is the show's anniversary.
What Will Happen: Hope is ecstatic to be working with Thomas again. Sheila and Deacon talk about the possibilities of whether she should stay with Bill or not. Bill makes a momentous stride forward with Sheila. Bill thinks back to the night he met Sheila on the beach.
SOD 3/20/23
Hope tells Liam that Douglas wants to move back in with them, which makes them both happy. However, Liam is outraged when Hope tells him that she has to hire back Thomas, or else Steffy will kill Hope for the Future. Also, she thinks Thomas has changed this time, which Liam doesn't believe.
Early Editions: Bill moves forward in his relationship with Sheila. Deacon feels the need to protect Hope. Sheila worries that Bill is on to her.
Ratings, week of 2/13: 2.07
Ridge is seen again 3/15.
Sheila has feelings for both Bill and Deacon, but she worries how Bill will react if he finds out. Bill and Sheila sit down and try to have an honest talk about their past. He tells her about all of the bad things he's done, but she can't do the same.
3/13 Liam gets a shock. 3/14 Douglas prepares to make a decision. 3/15 Deacon overhears a conversation that makes him worry. The show will be pre-empted 3/16 and 3/17 for basketball.
Annika Noelle is chosen as Performer of the Week.
An article talks about how certain actors' lives were changed due to working in soaps, including Don Diamont (Bill), Darin Brooks (Wyatt) and Jacqueline MacInnes Wood (Steffy).
SOD 3/6/23
Deacon celebrates the re-opening of Il Giardino with Hope. She's there to support him and is happy that he's doing well. She always had faith in him. Deacon is more concerned about her and how she's dealing with losing Douglas. She tries to get him to reveal who the new woman is in his life, but he keeps mum. Sheila drops by later, so he invites her to the re-opening. They have an "emotional" chat but decide to stop seeing each other. He isn't too happy about that but understands it.
Early Editions: Liam gets some news from Hope that worries him. Sheila is put on the hot seat by Bill. Brooke is begged for forgiveness by Thomas.
Ratings, week of 1/30: 2.18.
Eric celebrates Carter's 10 anniversary with Forrester Creations, along with Steffy and Hope.
2/27 Finn and Steffy plot to get Sheila back to prison and out of Bill's life. 2/28 Bill is blasted by his sons for choosing Sheila over family. 3/3 Bill confides in Liam about Sheila.
The show is given a Thumbs Down! for lack of romance on the show lately, especially with newer couples.
Some of the actors are asked about their favorite sports teams, including Don Diamont (Bill), who roots for The Lakers.
What Will Happen: Deacon and Liam discuss Hope. Thomas begs forgiveness. Hope learns some more bad news. Taylor tries to make peace between Thomas and Steffy.
OLDER NEWS
The show will be pre-empted this Thursday, March 16, and Friday, March 17, for March Madness (just like every year!).
SOD 2/27/23
Thomas is not happy when Steffy and Finn tell him that, now that they have custody of Douglas, he can't see him whenever he wants. They want to see that he has grown as a person and is really taking responsibility for his actions. (Yeah, good luck with that!) Steffy gets Taylor to make peace between her and her brother.
Early Editions: Someone is distressed when they're tempted by "forbidden love." Bill bears the brunt of Liam and Wyatt's anger. Hope receives more bad news from Steffy.
Ratings, week of 1/23: 2.20
Paul (Hollis W. Chambers) comes back this week in scenes with Deacon. Also, Petra (Alexis Gaube) is back at Forrester.
Sean Kanan (Deacon) was nominated for an Indie Series Award for writing and producing the short-form streaming series "Studio City" (on Amazon), as well as some of the other actors, such as Tristan Rogers (ex-Hunter) and Justin Torkildsen (ex-Rick). You should watch it if you haven't already because it's a good soap and also funny.
Bill tries to get Finn to make peace with Sheila; he also makes a commitment to Sheila.
2/20 Someone unexpected flirts with Brooke. 2/22 Hope wonders why Taylor is really trying to get Brooke to go back to dating. 2/24 Brooke moves forward with life without Ridge.
The show is given a Thumbs Down! for making Ridge disappear off-screen after Taylor and Brooke stood up to him.
Don Diamont (Bill) and Scott Clifton (Liam) are interviewed about their characters' complex history.
Some of the shows' most beautiful women are saluted and asked questions about their beauty, including Diamond White (Paris) and Krista Allen (Taylor).
What Will Happen: Sheila gets a major commitment from Bill. Brooke hears some information about Ridge from Deacon. Hope misses Douglas terribly. Thomas, worried about things not going his way, decides to change his strategy.
Courtney Hope (ex-Sally) is featured in the short, one-page "Take Five" interview.
SOD 2/13/23
Thomas begs Hope to take him back at Forrester.
Early Editions: Thomas hears some wise advice from Eric. Douglas decides something that is very hard for him. Deacon tries to get a second chance, even though it's risky.
Ratings, week of 1/9: 2.11.
Jill Remez plays Judge Gomez 2/10 when she meets Douglas and some others.
2/6 Kate is surprised to hear Brooke defend Taylor. 2/7 Steffy asks Brooke for help with her mom. 2/8 Brooke proposes something to Taylor.
The show is given a Thumbs Down! for breaking up Sheila and Deacon."
February preview: Sheila might be keeping a big secret from Bill, even though she does love him. She wants more than his love, too. Bill stays by her side to protect her. Steffy and Finn are still determined to put Sheila away and might risk their family to do it. Thomas pushes to get back in Forrester. Hope and Liam are taken to court by Thomas to get Douglas back. Things will go in an unexpected way, with twists and turns. Brooke and Taylor stay friends and decide to do what's best for Douglas rather than take sides like usual. Brooke is set up on a date with someone new by Taylor, and Brooke makes Taylor an offer that she considers. Deacon is doing well and working on making the perfect pizza, but he could lose it all if anyone figures out that Sheila was staying with him all that time when she was on the lam. Katie and Carter continue to grow closer.
What Will Happen: Douglas speaks up. Taylor and Brooke decide to be allies from now on. Douglas is trapped by Thomas' new information.
Who Will Get Custody of Douglas?
Find many links to other B&B news/scoops/spoilers here!
CBS is posting B&B Bonus Scenes which haven't aired in the US. Go to their website and scroll down to the Bonus Scenes section toward the bottom.
B&B has disbanded its official fan club. "The Official The Bold and The Beautiful Fan Page" is now on  Facebook, and all the latest news can be found on Twitter.
For an autographed headshot, you may write directly to the specific actor
c/o "The Bold and the Beautiful"
7800 Beverly Blvd.
Los Angeles, CA   90036
Our other pages for news, scoops, and spoilers:  AMC, ATWT, AW, Days, GH, GH: Night Shift, GL, Loving/The City, OLTL, PC, Passions, Y&R, General Daytime, and Primetime News.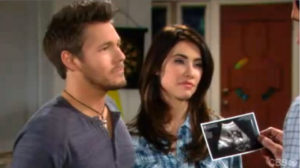 Follow Us!