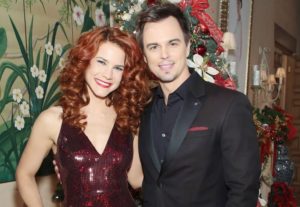 B&B News and Information! SOD Scoops, & Spoilers Below
Congratulations to Ted King, who won the Emmy for "Outstanding Guest Performance in a Drama Series," and John McCook (Eric), who won the Emmy for "Outstanding Lead Performance In A Daytime Drama, Actor." See the full list!
OLDER NEWS
You can watch The 49th Daytime Emmys Creative Arts & Lifestyle Ceremony here! (It wasn't televised)
The show was pre-empted Tuesday, 6/21 due to the hearings.
The Daytime Emmy Awards telecast will be presented live at 9 p.m. on Friday, June 24, on CBS and on Paramount+.
The show was nominated for a Daytime Emmy for: Outstanding Daytime Drama Series; Outstanding Lead Actor (John McCook-Eric); Outstanding Supporting Actress (Kimberlin Brown-Sheila); Outstanding Supporting Actor (Aaron D. Spears-Justin); Outstanding Guest Performer (Ted King-Jack and Naomi Matsuda-Li); Outstanding Multiple Camera Editing; and Outstanding Hairstyling. Also, Wayne Brady (ex-Reese) is nominated again for Outstanding Game Show Host, and his show "Let's Make a Deal" was nominated for Outstanding Game Show. See the full list!
The show was pre-empted today, Thursday, for news; it will be back tomorrow!
Find many links to other B&B news/scoops/spoilers here!
CBS is posting B&B Bonus Scenes which haven't aired in the US. Go to their website and scroll down to the Bonus Scenes section toward the bottom.
B&B has disbanded its official fan club. "The Official The Bold and The Beautiful Fan Page" is now on  Facebook, and all the latest news can be found on Twitter.
For an autographed headshot, you may write directly to the specific actor
c/o "The Bold and the Beautiful"
7800 Beverly Blvd.
Los Angeles, CA   90036
B&B Scoops and Spoilers
Note: Dates mentioned may not be accurate due to pre-emptions.
By Suzanne
SOD 6/27/22
Quinn has lunch with Bridget at the club. She finds out by accident from the waiter that the pickleball court has been closed for quite a while, so she realizes that Eric has been lying to her. She then demands to know from the waiter where Eric is. The women find out from him that Eric has a private bungalow there at the club. They rush there and find Eric and Donna in bed together. Quinn is livid after all the heat she got for cheating on him – and with Donna, of all people. Donna and Bridget leave the husband and wife alone so they can talk about their marriage.
Early Editions: A couple starts back with their passionate romance after taking a break. Finn asks an old friend for her help in saving Finn. Quinn does something hilarious in order to find her "true love."
Hollis W. Chambers returns as bartender Paul 6/24. Starting 6/23, Charlie (Dick Christie) is back trying to solve a crime. Petra (played by "Price Is Right" model Alexis Glaube) returns 6/21. Sheila's old partner, Mike, returns 6/20. He was last seen on the show in 2010.
An album of music from the show is available on Apple Music, Spotify and other music streaming platforms.

The announcer for "The Price Is Right", George Gray, plays the waiter that has to tell Quinn unfortunate news.
Sheila attacks Li after finding Finn alive. Sheila chases Li in her car as she tries to flee. Sheila loses her, so she must take care of Finn alone.
6/21 Paris makes sure to argue with her mom about Carter. 6/22 Ridge is shocked to hear what Carter has to say about Quinn. 6/23 Quinn has to come to terms with the fact that she's lost both Eric and Carter.
The show is given a "Thumbs Down!" for the way Carter, Quinn and Paris have been acting lately.
An article focuses on each of the Emmy nominees.
What Will Happen: Donna has a lovely future to look forward to, thanks to Eric. When Carter and Paris announce their engagement, the reaction is not great. Sheila and Li have a fight.
SOD 6/20/22
Sheila learns that Finn is alive. Li visits Sheila in jail and gives her a tongue-lashing. Sheila escapes and wants to find Finn's burial site. She goes to see Li about it and is shocked to find out that he's in a coma but alive. The two moms have a "confrontation" about it.
Early Editions: Wyatt hears something from his mom about how she feels. Sheila targets Li. Someone proposes marriage.
Ratings, week of 5/16: 2.15.
Eric and Donna get called out by Hope when she sees them having a pillow fight. She tells them that they should do what they need to be together rather than sneaking around and lying. She doesn't want to be the one to tell Quinn, though (Can't blame her there).
6/15 Sheila attacks Li for her big secret. 6/16 Taylor and Ridge try to get in touch with Li, to warn her that Sheila escaped prison. 6/17 Sheila and Li learn something unexpected that shocks them.
The show is given a Thumbs Up! for Finn being alive.
Darin Brooks (Wyatt) talks about what he's been up to in a short interview.
In honor of Father's Day, soap stars' dads brag about their kids, including Tanner Novlan (Finn)'s dad.
What Will Happen: Taylor feels Li's fury. When Eric finds out that Quinn has asked Bridget for help with his health, it shocks him. Ridge is completely taken aback by Carter's news.
SOD 6/13/22
Ridge moves home with Brooke, since Sheila is in jail and Steffy has left for Paris. Ridge leaves it up to Brooke, but he does insist that Deacon get out of their lives. Bill gives unwanted advice to Ridge about his moving back in there. Bill supports Ridge, for once. He advises him not to screw things up with Brooke again. However, Ridge may still have feelings for Taylor, even though he's dedicated to Brooke.
Quinn gets Bridget's help when she worries about Eric. Hope finds out someone's scandalous secret by accident. Taylor and Ridge get some disturbing news from Deputy Chief Baker.
Ratings, week of 5/9: 2.19.
Dan Martin returns as Baker, starting 6/8.
Jacqueline MacInnes Wood (Steffy) gave birth to her third son, Brando, on May 24th.
Adrienne Frantz (Amber)'s baby was rushed to the hospital with an elevated fever and white blood count and then later released (but they don't know what caused it). There is no news yet on whether he's OK or not.
6/6 Eric decides between Quinn and Donna in a surprising way. 6/8 When Sheila is confronted by Li about what she did, she cries and gets upset. 6/10 Quinn monitors Eric's heart while he's with Donna, which freaks her out because his heart rate increases.
The story about Sheila being confronted for her crimes is this week's Editor's Choice.
Stars talk about their past real-life weddings, including Scott Clifton (Liam) and John McCook (Eric).
What Will Happen: Grace files a sexual harassment complaint against Carter for how he's treated Paris. When Ridge insists that Bill not talk about Brooke, he can't help it. Brooke is pleaded with by Hope and Deacon.
SOD 5/23/22
Brooke finally learns (from Ridge) that Sheila is the one responsible for her getting drunk on New Year's Eve. She asks him to move back in with her, but he's still upset that she was there with Deacon. He agrees to move into Eric's guest house (out of Steffy's house and away from Taylor).
Quick Take: John McCook (Eric) is interviewed briefly about his current triangle with Quinn and Donna. He's also featured in the short, one-page "Take Five."
Early Editions: Steffy is comforted by Liam. Taylor and Ridge decide not to share a secret. Steffy gets a visit from Li about Finn.
Ratings, week of 4/18: 2.17.
Wyatt (Darin Brooks) is seen again 5/17 and 5/18.
Sheila is arrested, much to her dismay. She vows that she'll have revenge on the Forresters.
Sneak Preview: 5/17: Taylor has a heart-to-heart talk with Steffy about her future with Ridge. 5/18: Ridge decides whether to stay with Taylor or Brooke. 5/20: Ridge hears Thomas' confession about what he knew about Sheila.
Cassandra Creech (Grace) is featured in an interview.
The head of the prop department is interviewed about the show.
What Will Happen: Brooke gets to visit with Sheila, thanks to Baker. Hope, Liam and Wyatt listen to Bill rant and rave about how Ridge doesn't really love Brooke. Eric and Quinn put aside their problems to help their family.
SOD 5/16/22
Late-Breaking News: Steffy's home from the hospital and trying to remember her shooting. She's having little flashes. Sheila drops by, and Steffy tells her to leave. After that, Steffy remembers arguing with Sheila, and Sheila shooting Finn, once she's with her parents. They want to phone Baker to have her arrested, but Steffy comes up with a plan to bring Sheila down. Steffy phones Sheila to have her come over, and then she attacks Sheila when she arrives. Taylor and Ridge are also there. Baker is waiting close by. Sheila is urged by Deacon to give Steffy space, but she ignores him. Steffy accuses her of murder.
Early Editions: Steffy starts the grieving process for Finn. Brooke is defended by Bill. After some sleazy news comes out, Brooke, Ridge and Taylor have to deal with the fallout, which makes their relationships more complex.
Ratings, week of 4/11: 2.10.
Sneak Preview: 5/9 Carter is rescued from a tense moment with Paris by Quinn. 5/10 Someone who was unfaithful feels bad for cheating on their spouse. 5/13 While fighting with Sheila, Steffy remembers something shocking.
What Will Happen: Sheila's fake persona stops fooling people. Eric gets a special present from Quinn. The Forresters plot to make Sheila show her true colors.
SOD 4/18/22
Tanner Novlan talks about Finn's death. Brad Bell let him know what was coming (so it was definitely story-determined and not his choice.). Novlan has left the show.
Sheila visits Steffy in the hospital to see what she has to do next as she deals with the grief of losing her son. Sheila ends up climbing up on a ledge, but Taylor talks her into not ending her life.
Something big and shocking happens during Steffy's recovery. Quinn and carter share a special moment. Taylor and Ridge argue about whether Sheila should stay in their family or not.
Ratings, week of 3/14: 1.94.
Ashley Jones is back to stay as Bridget.
Bridget tries to save Steffy's life despite being emotional about it, since Steffy is her step-sister.
4/11 Taylor, Ridge and Brooke get along for a few minutes. 4/13 Steffy, in a coma, is encouraged by Hope to fight for her life. 4/15 Ridge pledges that he will find out who shot Steffy and Finn and make them pay.
Brad Bell is interviewed in an article about why he killed off Finn.
Matthew Atkinson (Thomas) talks about playing a businessman on the show.
What Will Happen: Liam, upset about Steffy, is comforted by Bridget. Steffy's family rallies around her. Thomas is threatened again by Sheila to keep quiet.
Our other pages for news, scoops, and spoilers:  AMC, ATWT, AW, Days, GH, GH: Night Shift, GL, Loving/The City, OLTL, PC, Passions, Y&R, General Daytime, and Primetime News.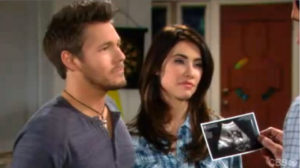 Follow Us!