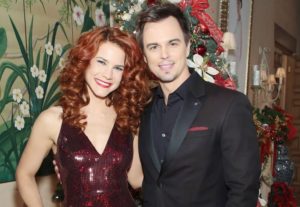 B&B News and Information! SOD Scoops, & Spoilers Below
Bold & Beautiful will be pre-empted Thursday, 11/24 and Friday, 11/25 due to Thanksgiving!
Sorry for the lack of updates..we've been busy. More coming soon!
OLDER NEWS
The show didn't air today, Thursday, 10/13, due to the Jan. 6 hearings. It will air tomorrow.
Happy Memorial Day! No re-runs or pre-emptions for the soaps today, Sept. 5!
Rena Sofer is leaving the show! Her last airdate is 8/29.
THE BOLD & THE BEAUTIFUL Spoilers: Finn Prepares to Reunite With Steffy!
The show did not air today, 7/12, due to the hearings. It will air tomorrow!
THE BOLD & THE BEAUTIFUL Spoilers: Sheila Holds Finn Prisoner!
All of the soaps will air Monday, July 4th!
Congratulations to Ted King, who won the Emmy for "Outstanding Guest Performance in a Drama Series," and John McCook (Eric), who won the Emmy for "Outstanding Lead Performance In A Daytime Drama, Actor." See the full list!
You can watch The 49th Daytime Emmys Creative Arts & Lifestyle Ceremony here! (It wasn't televised)
The show was pre-empted Tuesday, 6/21 due to the hearings.
The Daytime Emmy Awards telecast will be presented live at 9 p.m. on Friday, June 24, on CBS and on Paramount+.
The show was nominated for a Daytime Emmy for: Outstanding Daytime Drama Series; Outstanding Lead Actor (John McCook-Eric); Outstanding Supporting Actress (Kimberlin Brown-Sheila); Outstanding Supporting Actor (Aaron D. Spears-Justin); Outstanding Guest Performer (Ted King-Jack and Naomi Matsuda-Li); Outstanding Multiple Camera Editing; and Outstanding Hairstyling. Also, Wayne Brady (ex-Reese) is nominated again for Outstanding Game Show Host, and his show "Let's Make a Deal" was nominated for Outstanding Game Show. See the full list!
Find many links to other B&B news/scoops/spoilers here!
CBS is posting B&B Bonus Scenes which haven't aired in the US. Go to their website and scroll down to the Bonus Scenes section toward the bottom.
B&B has disbanded its official fan club. "The Official The Bold and The Beautiful Fan Page" is now on  Facebook, and all the latest news can be found on Twitter.
For an autographed headshot, you may write directly to the specific actor
c/o "The Bold and the Beautiful"
7800 Beverly Blvd.
Los Angeles, CA   90036
B&B Scoops and Spoilers
Note: Dates mentioned may not be accurate due to pre-emptions.
By Suzanne
SOD 8/1/22
Finn plans to escape from Sheila and Mike's clutches. He believes that he knows Sheila now and how her mind works. He doesn't think that she'll hurt him badly. He tries to manipulate her by first saying that she should let him go if she loves him, and then by calling her names and hitting her sore spots. Then he says that she'll never be his mother and will go to prison. He hopes to wear her down.
Early Editions: Taylor posts a revealing photo. Deacon gets involved with Sheila, even though he doesn't want to. Finn and Steffy get together in Monte Carlo.
Ratings, week of 6/27: 2.00.
The Forrester pilot is now played by Ryan Stroud starting 7/25. He previously played a rescue worker in 2017.
Tanner Novlan (Finn) and wife Kayla's son came home 7/11 after being born prematurely and being in the hospital for a month. Kayla Ewell played Caitlin on the show years ago.
Steffy is in a mental health clinic in Monaco, grieving the loss of Finn and depressed. She's trying to get strong for her children.
7/25 As previously reported, Steffy gets a visit in Monaco by her parents. 7/28 Someone "extraordinary" gets a great gift from Bill. 7/29 Sheila, desperate, forces her way in to see Deacon and try to get him to help her.
Rena Sofer (Quinn) is chosen as Performer of the Week.
Various actors share their preferences, including Rena Sofer (Quinn) and Ted King (Jack).
What Will Happen: Someone discovers something shocking. It looks like the end for Sheila's crime spree. Taylor and Ridge look for Steffy, getting desperate.
SOD 7/25/22
Finn tries to get Mike to help him escape Sheila's clutches. Mike knows that Sheila can't keep Finn there forever. Finn tries to find out from Sheila what happened to Li. He knows that Sheila, a nurse, couldn't have revived him by herself. He wants more information about his family. She tells him after a long while, upset, that Li died in a "fiery car crash." Finn doesn't take it well, since Li is the only mom he's ever known. He's also very worried about Steffy.
Early Editions: Finn plans to escape. Bill realizes something, much to his surprise. Steffy needs help with getting over Finn's death, so her parents fly to Monaco to help her.
Ratings, week of 6/20: 2.03.
Deacon is having trouble coping after finding Finn and Steffy in the alley. He tells Hope how horrifying it is and ends up talking to Taylor professionally. They chat at Il Giardino, and then he goes to her office. Then she turns the tables on him and tells him about her feelings about Ridge and Brooke. They "share an unlikely connection."
7/18 Baker hears from Brooke and Ridge who Mike is. 7/19 Mike gets questiond by Ridge at the police station about his past with Sheila. 7/20 Wyatt hears from Bill about what's going on with Katie.
The show is given a Thumbs Down! for what happened with Eric, Quinn, Donna, Carter and Paris.
Actors were asked to compare themselves to their characters, including Delon de Metz (Zende) and Ashley Jones (Bridget).
What Will Happen: Liam and Wyatt catch up with what's happening with Hope, Bill and Steffy as they share a brotherly moment. Ridge and Taylor learn that Steffy is feeling very fragile coping with her loss. Finn gets sorrowful news from Sheila.
SOD 7/18/22
Finn isn't too happy to wake up and see Sheila. Mike and Sheila don't know that Finn is awake and can hear them. He doesn't know who Mike is, but he's trying to figure out what's going on. Finn can tell that Sheila is being evasive when he questions her. Finn insists on going to the hospital to see Steffy and Hayes. He knows that Sheila has lost it but is worried what she will do. Sheila knows that he needs medical attention. She tells him that everyone thinks he's dead, and she shows him the death certificate. This worries him because he thinks this means Sheila will go to any lengths to get him to herself.
Early Editions: Now that Justin, Katie and Will are gone from Bill's life, Liam and Wyatt worry about their dad. Steffy goes to a mental hospital to get over the loss of Finn. Finn suffers while being Sheila's prisoner.
Ratings, week of 6/13: 1.92.
Alley Mills (Pam) returns 7/12. Dan Martin (Baker) comes back 7/11. Ken Hanes is still seen as Mike this week.
Even though Carter and Quinn are happy now, Quinn can't forgive Donna for cheating with Eric. Donna gets scared by what Quinn could do, but Carter saves her.
Sneak Preview: 7/12 Baker gives some news to Ridge and Brooke; 7/14 Using a fake name, Deacon makes an appointment with Taylor; 7/15 Deacon hears Taylor's feelings about Ridge and Brooke after she decides not to be cautious with what she tells him.
The show is given a Thumbs Up! for Sheila breaking out of jail, with help from Mike, and what happened between her and Li.
An article with many photos looks back on the behind-the-scenes events at the Daytime Emmys last month.
What Will Happen: Baker gets filled in by Ridge and Brooke about Mike's past with Sheila. Donna is very uncomfortable when Quinn confronts her. Finn tries to fight back against Sheila.
SOD 7/11/22
Jack (Ted King) returns to L.A. July 5, but it's hard for him because feels that he lost both his son and his wife. He gets very angry when he learns that Sheila shot his son. His portrayer, Ted King, is glad to be back.
Early Editions: Donna is shocked when Quinn closes in on her. Ridge and Brooke get closer to finding Mike. Finn fights Sheila off, which upsets her.
Ratings, week of 6/6: 2.07.
After Eric and Donna's love affair is no longer a secret, Eric hires her back at Forrester. He's choosing her over Quinn.
7/6 Finn wakes up and is shocked to find out where he is. 7/7 Taylor and Thomas get a visit from Jack. He hopes to learn more about Li and Finn. 7/8 Eric announces something to everyone.
Naomi Matsuda (Li) is chosen as Performer of the Week.
What Will Happen: When Finn learns that someone is helping Sheila, he's shocked. Ridge has a hard conversation with Taylor about Brooke. As Finn remembers what happened, Sheila tries to calm him down.
Rena Sofer (Quinn) is featured in the short, one-page "Take Five" interview.
SOD 7/4/22
Quinn rushes to stop Carter from marrying Paris, in a fairly humorous chase scene. First, Eric dumps her for Donna. Amazingly, Eric is the one who suggests that she try to stop the wedding. Eric and Quinn still love each other, despite the pain. She ends up using a bicycle to get to the beach and tries to avoid people. She crashes in the sand but gets there, anyway. Then she has to decide how to stop their nuptials.
Early Edition: Thomas and Taylor try to help Jack find Li. When the power goes out, Brooke and Ridge share an intimate moment. When Finn gets his memory back, Sheila begs him to forgive her.
Ratings, week of 5/30: 2.04.
We see Charlie 6/27 and 6/28, investigating. Grace attends Paris and Carter's wedding, of course June 27-29. Mike appears 6/29 and 6/30 to help out Sheila.
Tanner Novlan (Finn) and his wife, Kayla Ewell (ex-Caitlin) welcomes their second baby, Jones, June 6.
Ken Hanes (Mike) speaks briefly about his return, which was a big surprise.
Mike is shocked to find that Sheila is caring for Finn. He helps her, even though he wonders if it was really an accident, as she claims.
6/28 Brooke hears from a very happy Donna about her relationship with Eric. 6/30 Steffy thinks back on her relationship with Finn. 7/1 Taylor and Ridge decide they won't let Sheila escape her fate.
The show is given a Thumbs Down! for not doing much with Zende.
An article has stars from each show talking about their summer preferences, including Annika Noelle (Hope), Tanner Novlan (Finn) and Naomi Matsuda (Li).
What Will Happen: Finn wakes up and is alarmed. Quinn admits something that shocking. Finn and Steffy share an otherworldly connection.
Our other pages for news, scoops, and spoilers:  AMC, ATWT, AW, Days, GH, GH: Night Shift, GL, Loving/The City, OLTL, PC, Passions, Y&R, General Daytime, and Primetime News.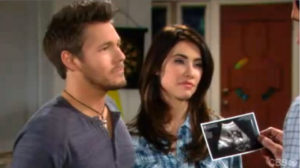 Follow Us!