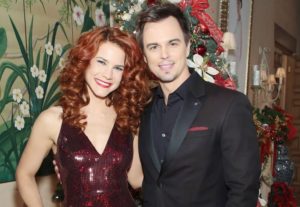 B&B News and Information! SOD Scoops, & Spoilers Below
B&B did not air today 4/19/21 due to news
Sorry for the lack of updates on this page…we've been very busy with interviews and other work on the site.
SID Spoilers: Zoe Begs Forgiveness
OLDER NEWS
SID Spoilers: Hope Tells Liam It's Over!
B&B will be preempted on Friday, March 19, and Monday, March 22, due to NCAA March Madness basketball coverage on CBS.
Jacob Young (ex-Rick) Talks About His New Podcast
SOD: B&B has been renewed through 2022
Find many links to other B&B news/scoops/spoilers here!
CBS is posting B&B Bonus Scenes which haven't aired in the US. Go to their website and scroll down to the Bonus Scenes section toward the bottom.
The Bold and the Beautiful Fan Community is online at www.boldandbeautiful.com. This free and revamped group includes a weekly "Ask Cathy" column where fan club director Cathy Tomas will answer the most asked question of the week, as well as "B&B's Fan of the Month" starting in August!
B&B has disbanded its official fan club. "The Official The Bold and The Beautiful Fan Page" is now on  Facebook, and all the latest news can be found on Twitter. Also, at www.boldandbeautiful.com fans can find live streaming of special events and info. that will keep you informed daily of what's going on behind the scenes, sneak peeks at things to come, locations and dates of public appearances as well as how to independently network with your favorite actors from B&B.
For an autographed headshot, you may write directly to the specific actor
c/o "The Bold and the Beautiful"
7800 Beverly Blvd.
Los Angeles, CA   90036
B&B Scoops and Spoilers
By Suzanne
SOD 4/26/21
Bill tries to keep Liam from falling apart and spilling the beans about running over Vinny. Liam almost tells Hope the truth. Bill suggests that Liam get away for awhile.
Paris tries to help Zoe win back Carter. Liam and Hope grow closer. Thomas vows that he'll get justice for Vinny.
Ratings, week of 3/22: 1.90.
Detective Alex Sanchez returns 4/22 and 4/23 for Vinny's case.
The Daytime Emmys will air June 25th on CBS and will air on the network in 2022 as well.
Zoe tells Eric and Ridge how much she loves Carter and wants him back. Eric tells Ridge that things are not great between him and Quinn.
4/19 Carter hears Quinn make a plea for Zoe. 4/22 Baker and Sanchez come up with an idea about Vinny's death. 4/23 Baker interrupts Bill with Katie, which annoys Bill.
The show was given a Thumbs Down! for neglecting Ridge and Brooke while concentrating on the younger characters.
Katrina Bowden (Flo) talks about her average day.
What Will Happen: Hope asks Liam for something special. Quinn tries to get Eric to revive their marriage. Hope wonders why Liam is acting so strange.
SOD 2/15/21
This week, Hope tries to work on her marriage as they wait for the paternity results. She isn't sure what she'll do if the baby is Liam's.
Bill tells Liam about his trip to Genoa City. Paris gets a strong warning from Carter about Zende. Katie sees that Donna and Brooke are united in their support.
Ratings, week of 1/11: 2.0
Ashley Jones (Bridget) and Kelly Kruger (Eva) return this week. Eva is working with Paris and Katie at the Forrester Foundation. The two actresses are interviewed about their stint. The actresses are good friends in real life. Bridget returns 2/11 and Eva 2/12 (dates approximate).
Bill asks Donna and Brooke for help in winning Katie back. Brooke and Bill are definitely a thing of the past.
Zoe begs Carter for forgiveness and confesses that she flirted with Zende. Carter doesn't want to hear it. He confronts Zende about going after Zoe and learns about the text he sent.
Bill visits Jack and Lauren in Genoa City when Sally happens by. She is shocked to see Bill and abruptly leaves.
2/10 Steffy, Liam, Hope and Finn learn who the father is. 2/11 Thomas tells Vinnie that all he cares about is Hope's happiness. 2/12 Liam hears all about Bill's trip.
Scott Clifton (Liam) is chosen as Performer of the Week.
Katherine Kelly Lang (Brooke) and Thorsten Kaye (Ridge) discuss their characters' history.
Don Diamont (Bill), Denise Richards (Shauna) and Jacqueline MacInnes Wood (Steffy) answer questions about Valentine's Day.
What Will Happen: Finn and Liam have to deal with what fate has brought them. Thomas really wants to get Ridge and Brooke to believe in him again. Finn tells Steffy what she's meant to him, which makes her very emotional.
Our other pages for news, scoops, and spoilers:  AMC, ATWT, AW, Days, GH, GH: Night Shift, GL, Loving/The City, OLTL, PC, Passions, Y&R, General Daytime, 24, Battlestar Galactica, Heroes, Jericho, Lost, Smallville, and Star Trek.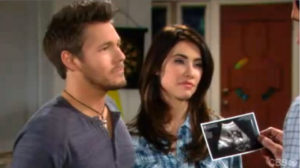 Follow Us!