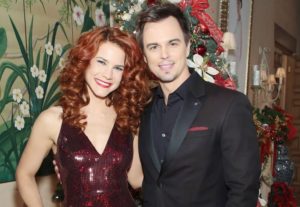 B&B News and Information! SOD Scoops, & Spoilers Below
OLDER NEWS
THE BOLD & THE BEAUTIFUL Spoilers: Will Quinn and Carter Give in to Temptation?
THE BOLD & THE BEAUTIFUL Spoilers: Sheila's Threats Intensify!
Ingo Rademacher (ex-Thorne) is fighting with fans and co-workers about vaccines. According to fans on Twitter, some actors were clicking "Like" on Ingo's Instagram video, including Jaqueline MacInnes Wood (Steffy), which has shocked quite a few people.
Congratulations to Jacqueline MacInnes Wood (Steffy) for winning a Daytime Emmy for Outstanding Special Performance By a Lead Actress in a Drama Series!
Jacob Young (ex-Rick) Talks About His New Podcast
SOD: B&B has been renewed through 2022
Find many links to other B&B news/scoops/spoilers here!
CBS is posting B&B Bonus Scenes which haven't aired in the US. Go to their website and scroll down to the Bonus Scenes section toward the bottom.
B&B has disbanded its official fan club. "The Official The Bold and The Beautiful Fan Page" is now on  Facebook, and all the latest news can be found on Twitter.
For an autographed headshot, you may write directly to the specific actor
c/o "The Bold and the Beautiful"
7800 Beverly Blvd.
Los Angeles, CA   90036
B&B Scoops and Spoilers
By Suzanne
SOD 9/27/21
Ridge and Brooke are worried about Eric forgiving Quinn. He hires Justin to follow Quinn, hoping to get some dirt on her.
Steffy and Sheila argue. Eric and Katie have a serious chat. Carter and Quinn get found out.
Ratings, week of 8/23: 2.05.
Douglas (Henry Samiri) is seen again 9/23.
Darin Brooks (Wyatt) voices a character named "Guy" in the series "Croods Family Tree" on HULU and Peacock 9/23.
Anna Marie Horsford (Ex-Vivienne) has a recurring role on the second seas on of "B Positive" 10/7 on CBS.
Steffy and Finn get their marriage back on track, focusing on their happy family. They make love. Sheila's stunt at the hospital made Finn realize what she could do. He's prepared to fight for his family if he needs to.
9/20 Carter and Quinn go at it again. 9/21 Quinn spills a big shocker secret to Shauna. 9/24 Eric and Ridge each try to keep secret information from each other.
Jacqueline MacInnes Wood (Steffy) is chosen as Performer of the Week.
What Will Happen: When Sheila drops by again, Steffy gets angry. Parise figures something out about where she's been living. Eric makes a cover story for Quinn when she gets caught.
SOD 9/20/21
Everyone is upset about Eric taking Quinn back, including Donna. She admits to Katie and Brooke that she still loves Eric. They encourage and support her.
Quinn and Carter hit the sheets again. Katie and Brooke wonder what Quinn is up to. Finn and Steffy go to bed together.
Ratings, week of 8/16: 2.09.
Paris admires Finn and has troubled keeping her feelings for him quiet, even though she also cares about Zende. She sees Finn and Steffy in a moment of passion by accident, and then she has a fantasy about him. She needs to sort out her feelings.
9/14 Eric struggles with his feelings about Quinn and their marriage. 9/15 Carter and Quinn try to keep their emotions in check. 9/16 Ridge and Brooke interrogate Eric about why he's back with Quinn after she cheated.
The show is given a Thumbs Up! for the return of Sheila, and the addition of Jack, but given a Thumbs Down! for Finn confiding in Paris.
What Will Happen: Something surprises Paris. Liam and Wyatt bond as brothers. Steffy does her best to keep Sheila away from her family.
SOD 9/13/21
Sheila goes to visit Finn, to apologize for getting him in trouble with Steffy. After Finn explains that he plans to honor Steffy's wishes to cut off contact, Sheila collapses. She is rushed to the hospital and stays unconscious for awhile, worrying him. Steffy thinks Sheila is faking it. Sheila awakens, determined to stay in her grandson's life. What happens next will be interesting to fans, the actress teases.
Quinn and Carter keep fighting their feelings. Eric is urged by Ridge to open up. Donna confides in Brooke and Katie about her feelings for Eric.
Ratings, week of 8/9: 2.07.
Lisa Canning returns as Dr. Joyce Griffith for several episodes starting 9/6. She played the same character last year and was also playing a character named Chanel in 2009. She also played Adrienne on Y&R.
Zende worries that Paris might have a crush on Finn. Zende understands Finn's P.O.V. at first because he's adopted, too. However, he doesn't know why he's not putting Steffy first. Zende and Paris don't agree about how Finn is acting, which causes trouble between them.
When Eric listens in on Quinn's conversation with Shauna, he sees things from a different point of view. 9/9 Eric sees Carter and Quinn in a personal chat. 9/10 Quinn is romanced by Eric.
Fall spoilers: Executive Producer and headwriter Brad Bell shares that they're going to be highlighting romance and mystery. There will be new faces and new couples, and it will be "hot." The conflict continues between Steffy, Sheila and Finn. Jack also has his own secret about being Finn's real father. …. A returning, mysterious (shocking) person comes into Hope and Liam's life, challenging their marriage and family. (I hope it's Caroline or Deacon!)….Paris will have men interested in her besides Zende. She will keep being involved in Finn and Steffy's drama. …. Thomas will get a new love as he tries to stay away from Hope and her marriage. …. Justin will return, but in a new place. … Bill will try to get Katie back….. With Eric, Quinn and Carter, there will be a controversial new storyline twist, never before seen on daytime. Ridge and Brooke stay happy for the first time in awhile. They will both be trying to protect Steffy from Sheila. Brooke also continues to be suspicious of Quinn. She doesn't think she should be the Forrester matriarch and will be involved in story with Eric, Carter and Quinn.
Soap actors look back on their school days, including Darin Brooks (Wyatt), Lawrence St. Victor (Carter) and Rena Sofer (Quinn).
What Will Happen: Finn decides what to do about Steffy and Sheila. Paris is asked by Zende how she feels. Sheila and Steffy argue more.
Anikka Noelle (Hope) is featured in the one-page, short "Take Five" interview.
SOD 9/6/21
Executive Producer Brad Bell talks about having new characters like Finn and Jack on the show, and his plans for Sheila.
When Jack finds out that Sheila was found holding Hayes, he threatens her. Sheila doesn't back down because she has more secrets to hold over him. Sheila is very angry that the Forresters refuse to see that she's changed, and she thinks that Steffy is acting just like Stephanie.
Ted King talks about working on the show as Jack.
Steffy tries to convince Finn that Sheila is playing him. She's desperate for him to believe it. Paris and Zende don't agree on what's happening with Finn, Steffy and Sheila. Sheila gets closer to Finn because of her machinations.
Ratings, week of 8/2: 2.12
Real-life model Emma Smith appears as Charlene September 1.
Karla Mosley (ex-Maya) and her husband have welcomed their second child, Willa, as of 7/18.
Steffy refuses to sign the marriage license and makes Finn sleep in the guesthouse because he allowed Sheila to have contact with Hayes. Finn doesn't know what to do and uses Paris as a shoulder to lean on.
8/31 Ridge gets angry when he finds out that Finn let Sheila hold Hayes. 9/2 Carter figures out that he and Quinn are over, and he looks back fondly on their days together. 9/3 Eric tells Brooke and Ridge to butt out of his marriage.
The show is "Editor's Choice" for the storyline involving Sheila showing up at the wedding and spilling that she's Finn's mom. Courtney Hope (Sally, now on Y&R) is chosen as Performer of the Week.
Kimberlin Brown (Sheila) is featured in an interview.
Soap stars show their vacation photos, including Delon de Metz (Zende).
What Will Happen: Sheila gets angrier at Steffy. Quinn hears Carter's surprising confession. Finn gets sympathy from Paris.
Our other pages for news, scoops, and spoilers:  AMC, ATWT, AW, Days, GH, GH: Night Shift, GL, Loving/The City, OLTL, PC, Passions, Y&R, General Daytime, and Primetime News.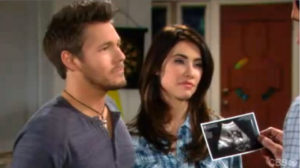 Follow Us!