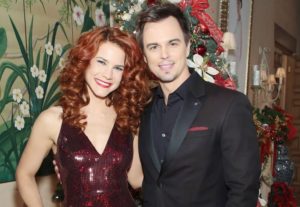 B&B News and Information! SOD Scoops, & Spoilers Below
SID Spoilers: Ridge Tells Brooke the Shocking Truth!
OLDER NEWS
SID Spoilers: Ridge and Shauna are married!
Monday's episode 7/27 was pre-empted in most areas of the U.S., so the show will be seen on Tuesday instead.
SID Spoilers: Wyatt Confronts Sally
SID Spoilers: Steffy's Deadly Accident
THE BOLD & THE BEAUTIFUL Returns With New Episodes July 20!
SID: Classics – Fan Favorite Showdowns
Heather Tom Opens up About Her Historic Daytime Emmy Win
Congratulations to all the winners! The show won for Outstanding Writing Team for a Drama Series and Heather Tom (Katie) won for Outstanding Lead Actress in a Drama Series.
If you missed the Daytime Emmys, you can watch it on CBS.com or HULU Live TV if you're subscribed to either of those…the first has a free trial. Also, CBS has a lot of clips of it on YouTube.
The show is back to taping after a short delay!
This week's episodes celebrates past Emmy Wins. More
The show paused production after one day back to adjust safety protocols. More
They will be using blow-up dolls and other methods to stay safe during love scenes. More
The show is back in production and might return on the air in mid-July! More
See the Emmy reels for Outstanding Daytime Drama that were submitted.
The B&B actors were informed that they would need to get a COVID test before returning to work.  More
Daytime Emmy Nominations: B&B is nominated this year for Outstanding Drama Series, for Outstanding Writing Team for a Drama Series, and for Outstanding Directing Team for a Drama Series; Katherine Kelly Lang (Brooke) and Heather Tom (Katie) are nominated for Outstanding Lead Actress in a Drama Series; Thorsten Kaye (Ridge) is nominated for Outstanding Lead Actor in a Drama Series; and Annika Noelle (Hope) is nominated for Outstanding Supporting Actress in a Drama Series. Also, Wayne Brady (ex-Reese) is nominated for his game show, "Let's Make a Deal," for Outstanding Game Show Host. See the Full List The Daytime Emmys air June 26 on CBS. More Info
This week's shows feature crossovers from Y&R characters. More
The governor of California is allowing all TV series and movies to resume filming, starting June 12, but it depends on where they're filming and what they work out with the unions. More
SOD: B&B has been renewed through 2022
Find many links to other B&B news/scoops/spoilers here!
CBS is posting B&B Bonus Scenes which haven't aired in the US. Go to their website and scroll down to the Bonus Scenes section toward the bottom.
The Bold and the Beautiful Fan Community is online at www.boldandbeautiful.com. This free and revamped group includes a weekly "Ask Cathy" column where fan club director Cathy Tomas will answer the most asked question of the week, as well as "B&B's Fan of the Month" starting in August!
B&B has disbanded its official fan club. "The Official The Bold and The Beautiful Fan Page" is now on  Facebook, and all the latest news can be found on Twitter. Also, at www.boldandbeautiful.com fans can find live streaming of special events and info. that will keep you informed daily of what's going on behind the scenes, sneak peeks at things to come, locations and dates of public appearances as well as how to independently network with your favorite actors from B&B.
For an autographed headshot, you may write directly to the specific actor
c/o "The Bold and the Beautiful"
7800 Beverly Blvd.
Los Angeles, CA   90036
B&B Scoops and Spoilers
By Suzanne
SOD 8/17/20
Shauna breaks the news to Ridge (and Eric and Shauna) that they got married in Vegas. She has a marriage license and photos to prove it. What's more, he filed the divorce papers. Ridge then has to go tell Brooke. She's waiting for him in lingerie.
Quinn feels like she won against Brooke when she learns that Ridge married Shauna. She can't wait for her to find out. Quinn had something to do with Ridge and Shauna's wedding, so she hopes Eric doesn't find out.
Ridge remembers his wedding 8/11, and the man who married them, played by David Lawrence XVII.
This week, Steffy is leaned on by Thomas to take her pain pills. Zoe and Hope decide to put the past behind them for good and work together on Hope for the Future. Donna finds out from Eric what happened with Shauna and Ridge. Ridge works later in order to figure out his next move.
The show is given a Thumbs Up! for its successful return.
Actors on each show talk about their favorite charities, including Don Diamont (Bill) and Annika Noel (Hope).
Ingo Rademacher (ex-Thorne) is featured in the short, one-page article "Take Five."
SOD 8/10/20
Thomas returns after spending time "soul-searching." He feels bad about Steffy and blames himself for not being there when she had her accident. They make up after the whole Hope debacle. Thomas has kept in touch with Ridge, and with Hope and Liam about Douglas. Matthew Atkinson talks about this and how he hopes Thomas has learned his lesson and will find love again.
Lisa Canning plays Dr. Joyce Griffith. She previously played Adrienne on Y&R.
Detective Alex Sanchez has returned and is played by Jeremy Ray Valdez.
Steffy stubbornly refuses to take many pain meds. She's angry at herself for the accident but determined to carry on. All of this makes Steffy take a good look at her life.
8/1 Sally gets a stern talking-to from Katie about using her in her plot. 8/4 Ridge starts to remember parts of his night with Shauna, making him uneasy. 8/5 Shauna returns and has a big surprise for Ridge. 8/6 When Thomas sees Steffy hurting, he suggests that she take her pain medication.
Brad Bell is featured in an interview. As revealed in last week's first episode, Ridge and Shauna got married in Vegas. The Avant family, including Nicole, will be returning in the fall.
What Will Happen: Shauna is forced to promise not to spill the beans about what she and Quinn did. Flo and Wyatt are happy to be back as a couple. Brooke and Ridge are reunited. Steffy has a crush on Dr. Finn, who also stops by her house to make sure she's OK.
Jacqueline MacInnes Wood (Steffy) is featured in the short, one-page interview "Take Five."
SOD 8/3/20
Newcomer Delon de Metz will play Zende now. He talks about getting the role. His mom is a big fan of the show.
Tanner Novlan plays Dr. John Finnegan, known as "Finn," Steffy's new doctor. He's married to Kayla Ewell, who used to play Caitlin. He's playing a new love interest for Steffy. He, too, has a mom who's a lifelong fan of the show.
Now that Sally's lies have been exposed, actress Courtney Hope talks about how Sally is feeling. She hopes that Sally can be saved.
Don Diamont (Bill) is featured in a short interview. He talks about his current story (where he's hit Steffy with his car), but he doesn't say anything revealing.
Adrienne Frantz (ex-Amber) shared a photo of her new baby Lion Michael Bailey on social media.
7/28 (probably 7/29 now, since Monday's episode was pre-empted) Sally begs Wyatt to forgive her and then has an actual medical emergency. 7/29 (or probably 7/30) Bill is blamed by Ridge for Steffy's severe injuries.
Actors talk about their first soap job, including Scott Clifton (Liam) and Linsey Godfrey (ex-Caroline).
Our other pages for news, scoops, and spoilers:  AMC, ATWT, AW, Days, GH, GH: Night Shift, GL, Loving/The City, OLTL, PC, Passions, Y&R, General Daytime, 24, Battlestar Galactica, Heroes, Jericho, Lost, Smallville, and Star Trek.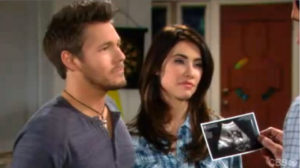 Follow Us!