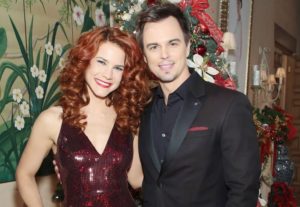 B&B News and Information! SOD Scoops, & Spoilers Below
SID Spoilers: Is Liam right about Finn?
OLDER NEWS
Karla Mosley (Maya) confirms that she has left the show.
SID Spoilers: Can Steffy Be Saved?
Zoe's sister, Paris, will be played by Diamond White starting 11/2.
SID Spoilers: Steffy Kisses Finn
B&B will air a new episode Monday, September 7 – no pre-emptions for Labor Day.
SID Spoilers: Quinn Wants Revenge
Coronavirus outbreak at the studio
SID Spoilers: Ridge Tells Brooke the Shocking Truth!
SID Spoilers: Ridge and Shauna are married!
Monday's episode 7/27 was pre-empted in most areas of the U.S., so the show will be seen on Tuesday instead.
SID Spoilers: Wyatt Confronts Sally
SID Spoilers: Steffy's Deadly Accident
THE BOLD & THE BEAUTIFUL Returns With New Episodes July 20!
SID: Classics – Fan Favorite Showdowns
Heather Tom Opens up About Her Historic Daytime Emmy Win
Congratulations to all the winners! The show won for Outstanding Writing Team for a Drama Series and Heather Tom (Katie) won for Outstanding Lead Actress in a Drama Series.
If you missed the Daytime Emmys, you can watch it on CBS.com or HULU Live TV if you're subscribed to either of those…the first has a free trial. Also, CBS has a lot of clips of it on YouTube.
The show is back to taping after a short delay!
This week's episodes celebrates past Emmy Wins. More
The show paused production after one day back to adjust safety protocols. More
They will be using blow-up dolls and other methods to stay safe during love scenes. More
The show is back in production and might return on the air in mid-July! More
See the Emmy reels for Outstanding Daytime Drama that were submitted.
The B&B actors were informed that they would need to get a COVID test before returning to work.  More
Daytime Emmy Nominations: B&B is nominated this year for Outstanding Drama Series, for Outstanding Writing Team for a Drama Series, and for Outstanding Directing Team for a Drama Series; Katherine Kelly Lang (Brooke) and Heather Tom (Katie) are nominated for Outstanding Lead Actress in a Drama Series; Thorsten Kaye (Ridge) is nominated for Outstanding Lead Actor in a Drama Series; and Annika Noelle (Hope) is nominated for Outstanding Supporting Actress in a Drama Series. Also, Wayne Brady (ex-Reese) is nominated for his game show, "Let's Make a Deal," for Outstanding Game Show Host. See the Full List The Daytime Emmys air June 26 on CBS. More Info
This week's shows feature crossovers from Y&R characters. More
The governor of California is allowing all TV series and movies to resume filming, starting June 12, but it depends on where they're filming and what they work out with the unions. More
SOD: B&B has been renewed through 2022
Find many links to other B&B news/scoops/spoilers here!
CBS is posting B&B Bonus Scenes which haven't aired in the US. Go to their website and scroll down to the Bonus Scenes section toward the bottom.
The Bold and the Beautiful Fan Community is online at www.boldandbeautiful.com. This free and revamped group includes a weekly "Ask Cathy" column where fan club director Cathy Tomas will answer the most asked question of the week, as well as "B&B's Fan of the Month" starting in August!
B&B has disbanded its official fan club. "The Official The Bold and The Beautiful Fan Page" is now on  Facebook, and all the latest news can be found on Twitter. Also, at www.boldandbeautiful.com fans can find live streaming of special events and info. that will keep you informed daily of what's going on behind the scenes, sneak peeks at things to come, locations and dates of public appearances as well as how to independently network with your favorite actors from B&B.
For an autographed headshot, you may write directly to the specific actor
c/o "The Bold and the Beautiful"
7800 Beverly Blvd.
Los Angeles, CA   90036
B&B Scoops and Spoilers
By Suzanne
SOD 10/26/20
Hope helps Liam to see that his jealousy of Finn is why he's trying to get in the way of Finn and Steffy's relationship. Liam also realizes that anyone that Steffy dates is a potential step-father for Kelly. Liam realizes that he's been acting stupidly when Hope tells him that he's disrespecting her as well as Steffy.
Flo invites Quinn to stay with her and Wyatt after Eric kicks her out. Wyatt is not real happy about that. Eric hears the good news from Brooke and Ridge. Carter and Zoe have sex.
Ratings, week of 9/21: 1.95
Charlie (Dick Christie) is seen again 10/20.
Zoe and Zende continue to flirt, even though Zende is Carter's best friend. She sings a song for him, "I'm Just Fine," which Kiara Barnes (Zoe) wrote. Zoe offers to help her further her singing career, but he's clearly interested in her personally as well.
10/20 Finn and Steffy grow closer. 10/21 Finn assures Steffy that he will love and take care of her in the way she deserves. 10/23 When Hope shows Brooke Thomas' latest designs, she's worried.
The show is given a Thumbs Up! for not only showcasing Jacqueline McInnes Wood's talents, but bringing in a lot of the cast, in the addiction story.
Don Diamont (Bill) talks about highlights of his time on the show.
Matt Borlenghi (ex-Ziggy) talks about what he's been up to.
What Will Happen: Someone visits Zende unexpectedly. Liam confesses to something about Thomas to Hope. When Zoe gives Zende a fashion show, he's impressed.
SOD 10/19/20
When Liam visits Steffy in rehab, he's happy to see that she's doing well and that Kelly is her motivation for getting better. Finn drops by, delighting Steffy, which annoys Liam. Liam and Finn clearly don't like each other. Finn suggests to Steffy that she record a testimonial, similar to another one that he shows her, about her journey (to help others). Finn takes Steffy home to Kelly. Liam worries about her being back so soon.
Carter makes a big romantic gesture for Zoe. Hope is not happy to hear that Liam is getting so involved in Steffy's life and takes him to task for it. Zoe and Zende fight their attraction.
Ratings for 9/14: 1.92
Jarvis George plays Michael Turner, a case worker (probably Steffy's). He's actor Jason George's younger brother.
Zende enjoys Carter, who has been taking his time with her. However, she's also attracted to Zende, who likes to flirt. Carter gives Zoe a key to his place and asks her to move in, but she's not ready for that.
Thomas finds something in common with Liam when he sees that Liam is worried about Steffy and Finn's relationship. He likes Finn but is concerned about his attraction to Steffy.
10/13 While still in recovery, Steffy agrees to do something to help others. 10/14 Thomas feels that Zende's return is putting pressure on him. 10/16 Liam can't believe that Hope is not happy that he's worried about Steffy.
Jacqueline MacInnes Wood (Steffy) is chosen as Performer of the Week.
What Will Happen: When Liam tries to tell Steffy what to do with regard to Finn, she stands up for herself. Liam gets way too involved with Steffy's recovery. Hope offers Zende something, which upsets Thomas.
Rena Sofer (Quinn) is feautured in the one-page "Take Five" interview.
SOD 10/12/20
Ridge and Brooke reunite. Quinn is busted when Eric overhears everything she says. Before that, Brooke goes looking for Ridge but finds Quinn. She knows that Quinn has been behind Shauna and Ridge getting together. Someone overheard Quinn and Shauna talking about what they did, so that person tells Ridge. Shauna then calls him and tells him the whole truth. Then Ridge surprises Brooke with rose petals leading to her bedroom. Quinn is upset when Shauna tells her that things are over for her and Ridge and that she told him everything. Eric is furious when he hears what Quinn did. This may be the end of them.
Jacqueline MacInnes Wood (Steffy) is interviewed about Steffy's pill addiction.
Carter suggests to Zoe that they go further in their relationship. Zende and Thomas compete. Steffy is helped in her recovery by Finn.
Ratings, week of 9/7: 1.98
Zende returns home this week, now played by Delon de Metz. Everyone is surprised to see him. He connects with Zoe.
Zoe's sister Paris (Diamond White) arrives in L.A. to stir up trouble. She previously played Lola on "Empire" on FOX.
10/6 As Shauna prepares to marry Ridge, she has qualms about her deception. 10/7 Zende returns and fills some Forrester employees in on what's going on. 10/8 Because of Carter, Ridge and Brooke share a sweet moment.
Actors from each show were polled to share what they've been into lately, including Delon de Metz (Zende) and Jacqueline MacInnes Wood (Steffy).
What Will Happen: When Zoe models a sexy outfit on the runway, she makes an impression. Things don't go as Quinn had hoped with regards to her latest scheme. Eric hears someone saying something steamy on the phone.
SOD 10/5/20
Steffy's world is crumbling this week as she faces up to her drug addiction (wow, that was fast!). Her physical pain is now her emotional pain as well as she lashes out at everyone.
True love's bond triumphs. Someone that everyone loves comes home. Something unexpected happens with Quinn's plan to get rid of Brooke.
Ratings, week of 8/31: 1.89.
Denise Richards (Shauna) is leaving "The Real Housewives of Beverly Hills."
Under pressure from Quinn, Ridge decides to give Shauna a real marriage ceremony. They prepare for the wedding, but Ridge is still thinking about Brooke and how she's going to react.
9/28 Liam fills in Finn about Steffy's pill habit. 9/30 Brooke is stunned to learn from Ridge that he's marrying Shauna in a ceremony. 10/1 Carter gets a promotion, which he deserves.
The show is given a ThumbsDown! for the way that Bill and Katie's on-again, off-again relationship has been written.
Ian Buchanan (ex-James) is featured in an interview, taken from their podcast.
An article features soaps' young "rising stars," including newcomers Tanner Novlan (Finn) and Delon de Metz (Zende).
What Will Happen: Someone mysterious will affect the lives of many people. Eric speaks with Ridge in a deep convo about Shauna. Brooke is torn apart by Ridge's news.
Our other pages for news, scoops, and spoilers:  AMC, ATWT, AW, Days, GH, GH: Night Shift, GL, Loving/The City, OLTL, PC, Passions, Y&R, General Daytime, 24, Battlestar Galactica, Heroes, Jericho, Lost, Smallville, and Star Trek.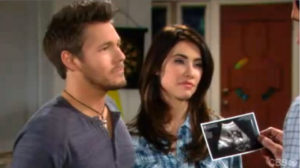 Follow Us!