What People Are Saying and What We Think Might Happen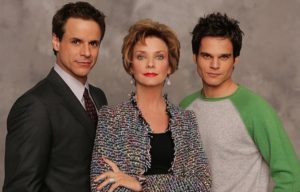 By Suzanne 6/17/20
Predictions: Gloria will return to cause trouble for her sons with some big news.  The Newmans will try to help Adam, but he'll still be in denial until something drastic happens that makes him remember what happened when he was 11. Chelsea will stand by him.  Victoria and Victor will still have a strained relationship for awhile. Mariah and Theo grow closer. Billy hires Theo at Chancellor.
Rumors: Chadam wedding that may or may not come off. Gina Tognoni (ex-Phyllis) may return as another character. Hope was really the one who killed the man, not Adam. The show will skip ahead a few months when it returns. Kyle and Lola will reunite.  Summer and Kyle get married.  Lola tries to wreck the wedding day. Summer will get pregnant.  Theo will also cause trouble for Skyle. Things will turn passionate for Billy and Amanda.
Please check out our predictions and rumors pages for AMC, ATWT, B&B, Days, GH, GL, OLTL, Passions, and PC!
Follow Us!