DVD Review!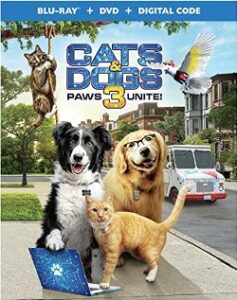 "Cats & Dogs 3: Paws Unite!" Review by Suzanne 9/10/20
Warner Bros. Home Entertainment provided me with a free copy of the Blu-ray I reviewed in this post. The opinions I share are my own.
This is a fun family movie. I enjoyed watching it. It has a lot of humor and action. I didn't see the first two movies, but it didn't matter at all.
This is a live action movie, not a cartoon. The human drama involves two single-parent families who live in an apartment building. One family is a mother and her teen boy. He's a tennis phenom, and she's a bit of a stage mother.  He owns the dog named Roger (voiced by Max Greenfield).  The other family is a musician and his teen daughter.  She owns a cat, Gwen (voiced by Melissa Rauch). The cat and dog are secretly members of a worldwide organization that makes sure that cats and dogs stay out of trouble.
A criminal mastermind causes cats and dogs to start fighting again, despite a decades-long truce. It's up to Roger, Gwen and their friends to figure out who's doing it and stop them.  There are some other animals in this one, including a parrot (George Lopez), an alligator, a frog, a spider, snakes and more.  It's a very enjoyable movie.
There is a "behind the scenes" feature on the DVD, a short "deep animal thoughts" feature and a gag reel that really isn't a gag reel. I was very glad to see that the closed-captioning is available in the extras as well as the movie itself. That isn't always the case with DVD's.
You should rent or buy this DVD if you love animals or have children or grandkids.
MORE INFORMATION:
Cats
&
Dogs
3: Paws Unite! – the all-new original movie from Warner Bros. Home Entertainment – is NOW available on Digital – and is coming to Blu-ray™ Combo Pack and DVD on October 13!
Cats
&
Dogs
3: Paws Unite! features an all-star comedy lineup lending their voices to this new generation of four footed and two winged friends including Melissa Rauch ("The Big Bang Theory") as Gwen the
cat
, Max Greenfield ("The Neighborhood," "New Girl") as Roger the
dog
, and George Lopez as Pablo the Cockatoo. The film is directed by Sean McNamara (Soul Surfer) and written by Scott Bindley (The Last Summer). Producers are Andrew Lazar (
Cats
&
Dogs
, Get Smart) and David Fliegel.
If you haven't seen the trailer yet – you are missing out! But don't fret my pet – we have you covered:
In honor of our Blu-ray and DVD release we got our paws on some never-before-seen interview clips with Melissa Rauch, Max Greenfield and George Lopez!
You can check them out here:
In this clip, Melissa Rauch (who plays Gwen) reveals that this film is fun and has heart – and how she loves the social commentary about technology – how it can both help and hurt us.
Max Greenfield (who plays Roger) talks about his need to see a photo of the
dog
before voicing him – in this clip about his character in the film.
George Lopez (who plays Pablo) reminds us to watch
Cats
&
Dogs
3: Paws Unite with our family – including our pets! He reveals that fans will enjoy what they have always loved about the
Cats
&
Dogs
movies.
We have also included a funny clip from the film – featuring all 3 characters here:
In this clip a new threat to F.A.R.T. and the Great Truce is revealed!
About
Cats
&
Dogs
3: Paws Unite!
It's been 10 years since the creation of the Great Truce, an elaborate joint-species surveillance system designed and monitored by
cats
and
dogs
to keep the peace when conflicts arise. But when a tech-savvy villain hacks into wireless networks to use frequencies only heard by
cats
and
dogs
, he manipulates them into conflict, and the worldwide battle between
cats
and
dogs
is BACK ON. Now, a team of inexperienced and untested agents will have to use their old-school animal instincts to restore order and peace between
cats
and
dogs
everywhere!
Proofread and Edited by Brenda
The opinions in these articles are those of the writer and do not necessarily reflect the opinions of The TV MegaSite or its other volunteers.
Follow Us!