What's New!
Christopher Eccleston (9th Doctor) and Jodie Whittaker (13th Doctor) starred in this 2012 production of Antigone, which you can now rent for only $8!
John Barrowman returns to Doctor Who Christmas special
Trailer for new Christmas episode
Doctor Who Festive Special: Revolution of the Daleks
Premieres this Holiday Season
This one-off holiday season special, entitled Revolution of the Daleks, will see the return of one of the Doctor's biggest and most feared enemies – the Daleks. Doctor Who stars Jodie Whittaker as the Doctor, Tosin Cole as Ryan, Bradley Walsh as Graham and Mandip Gill as Yaz.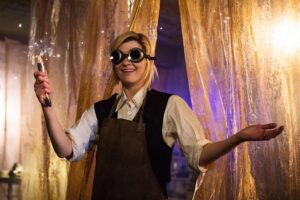 Back to the Main Doctor Who Page