TV Review!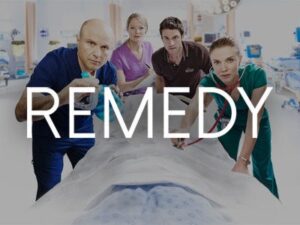 "Remedy" on Ovation Review by Eva 1/11/2021
I wanted to watch Remedy because I like medical shows. Ovation offers a variety of shows on TV because they buy the rights to programming from Canada. The latest Canadian show they're airing is called Remedy.
The show centers around Griffin Connor (Dillon Casey), who returns home after two years of having no contact with his family. Griffin dropped out of medical school because he was a drug addict who was accused of writing prescriptions for himself, using his father's prescription pad. The charges were never proven, so they were dropped.  When he returned home, he was working as a bouncer at a strip club. Griffin tried to keep a customer from touching one of the strippers, and he accidentally stabbed the guy while trying to take it away from him. Griffin and the man were taken to the hospital, where his father, Allen Connor (Enrico Colantoni) is the chief of staff. Griffin's sisters Sandy Conner (Sarah Allen) work there as a doctor, and his other sister, Melisa Connor (Sarah Canning) works as a nurse. The family decided to get Griffin a job as an orderly at the hospital to help his court case.
I enjoyed this show because it's different to see how a family's life is affected by working together. I like how the show lets people see both the work and personal lives of this family. The show is serious but can be very funny at times. My favorite part of the episode was the scene of the family eating together at the hospital cafeteria and discussing family problems with each other, as well as joking and laughing with each other. The show airs on Ovation on Friday at midnight Eastern time.
I really think that if you like medical shows, or family shows, you'll enjoy this show very much. You should watch it if you have Ovation as part of your channel lineup. I give this show a 5 out of 5 stars.
MORE INFORMATION:
Proofread and Edited by Brenda
The opinions in these articles are those of the writer and do not necessarily reflect the opinions of The TV MegaSite or its other volunteers.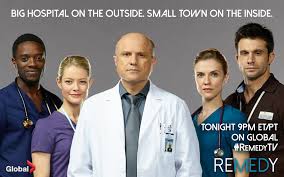 Follow Us!