Who does the voices on the show?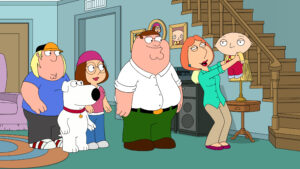 CURRENT MAIN CHARACTER
ACTOR (VOICE)
Peter Griffin/Stewie/Brian/Carter Pewterschmidt/Glenn Quagmire/

Tom and Jake Tucker/Dr. Elmer Hartman/Kool-Aid Man/God/Jasper

Seth MacFarlane
Lois Griffin/Tricia Takanawa/Loretta Brown/Barbara Pewterschmidt
Alex Borstein
Chris Griffin/Neil Goldman
Seth Green
Meg Griffin
Mila Kunis
Cleveland Brown
Arif Zahir
Joe Swanson
Patrick Warburton
Recurring and past characters
various characters…Mike Henry
Mayor Adam West…Adam West
Jim Kaplan…Danny Smith
TV Announcer…John Viener
Bonnie Swanson…Jennifer Tilly
Mort Goldman…John G. Brennan
Jesus Christ…Alec Sulkin
Diane Simmons…Lori Alan
Ollie Williams…Phil LaMarr
George W. Bush…Chris Cox
Barbara…Rachael MacFarlane
Jerome…Kevin Michael Richardson
Principal Shepherd…Gary Cole
Girl…Alexandra Breckenridge
Opie…Mark Hentemann
James William Bottomtooth III…Chris Sheridan
Customer…Steve Callaghan
Muriel Goldman…Nicole Sullivan
Joyce Kinney…Christine Lakin
Jeremy Miller…Patrick Meighan
Amanda…Tara Strong
Apple…Gary Janetti
Angela…Carrie Fisher
Annaleigh Quagmire…Mae Whitman
Kid…Max Burkholder
Carl…H. Jon Benjamin
Fred Flintstone…Jeff Bergman
Blackjack Dealer…Emily Osment
Baby Susie Swanson (Inner Voice)…Patrick Stewart
Connie D'Amico…Lisa Wilhoit
Rita…Nana Visitor
Ben Franklin Bear…Mike Barker
Kevin Swanson…Scott Grimes
Death…Adam Carolla
Boy…Jonathan Morgan Heit
Meg Griffin (1999-2012)…Lacey Chabert
Various characters…Ralph Garman
Various characters…Fred Tatasciore
Various characters…Wally Wingert
Various characters…Megan Grano
Asian Man…Robert Wu
Amusement Park Manager…Lucas Grabeel
Aziz Ansari…Josh Robert Thompson
Kid…James Burkholder
First Caterpillar…Kirker Butler
Mr. Weed…Carlos Alazraqui
Jillian Russell…Drew Barrymore
Jason Voorhees…Jackson Douglas
James Woods…himself
Ryan Reynolds…himself
See our many other TV Cast Lists!