Where you can see your favorite actors!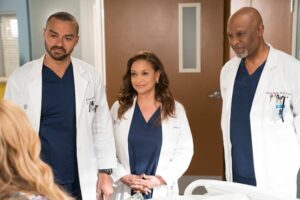 Here is where we'll put any upcoming appearances we hear about the Grey's Anatomy and Private Practice actors on talk shows, live appearances, other shows, movies, etc.
Sara Ramirez (Callie) appears on "The Today Show" Thursday, December 9 on NBC.
Sylvia Kwan (Mabel) stars  in "List of a Lifetime" Sunday 10/10, also on Lifetime. Read Our Interview With Her  and some of the rest of the cast!
Ellen Pompeo appears Thursday, 10/7 on "Jimmy Kimmel Live" on ABC.
Chandra Wilson appears Wednesday, Sept. 29 on "Good Morning America" on ABC and on "Live with Kelly and Ryan" the same day.
Abigail Spencer (ex-Megan) stars in an upcoming movie, "One Heart." She has a recurring role on "Rebel" Thursdays on ABC.
Katherine Heigl stars in a new series "Firefly Lane" on Netflix and in the new miniseries "Woodhull."
Mitch Pileggi (Larry) appears in the new CW series "Walker" Thursdays.
Isaiah Washington (Preston) appears in P-Valley on Starz.
Mitch Pileggi (Jennings) appears in "Walker" on The CW.
Taye Diggs stars in the new series "All American" Wednesdays on The CW and has many new movies coming out this year. He stars in the special "The Black Pack: We Three Kings" Monday, November 29 on The CW.
Sandra Oh (ex-Cristina) stars in "Killing Eve" on BBC America and has a new movie coming out and stars in "The Chair" on Netflix.
James Pickens Jr. has a recurring role on the new "Roseanne" revival on ABC (now called "The Connors"). He also has a new series in production called "Kick" and appears on "Celebrity Wheel of Fortune" Sunday, 12/12 on ABC.
Patrick Dempsey stars in a new series "Devils" on The CW.
Cress Williams (ex-Tucker) stars in "Black Lightning" Tuesdays on The CW. Although the show is finished, his character will probably appear in upcoming episodes of other CW superhero series.
Jason George stars in "Station 19" on ABC.
The "Grey's Anatomy" spin-off "Station 19" airs Thursdays after "Grey's" on ABC, and they have many cross-overs from the "Grey's" actors.
Chyler Leigh (ex-Lexie) stars in "Supergirl" Mondays on The CW.
T.R. Knight (ex-George) appears in "The Comey Rule" on Showtime and in "The Flight Attendant" on HBO Max.
Martin Henderson (Nathan) has 3 new movies coming out.
Tessa Ferrer (ex-Leah) has a lot of new films coming out in the next two years.
Grant Show (ex-Archer) stars in the CW show "Dynasty" on Wednesdays.
Leven Rambin (ex-Sloane) appears in the new WGN series "Gone." More Info We don't know if or when the series is returning because of changes in the network. It hasn't yet been official canceled, though. She has 2 new movies coming out.
Jeffrey Dean Morgan stars in "The Walking Dead" Sundays on AMC and in many movies.
Jesse Williams and many other celebrities star in this campaign ad.
Stephen Amell (ex-Scott) stars in the new wrestling drama "Heel" on Starz.
Eric Dane appears in "Euphoria" on HBO and has movies coming out.
Kate Walsh (ex-Addison) stars in "Emily in Paris" on Netflix and also has a recurring role in "The Umbrella Academy" this season on Netflix.
Hector Elizondo (ex-Carlos) has some new movies coming out and a recurring role on "B Positive" on Thursdays on CBS.
Audra McDonald (ex-Naomi) stars in "The Good Fight" on CBS All Access.
Visit all our other TV appearances pages!