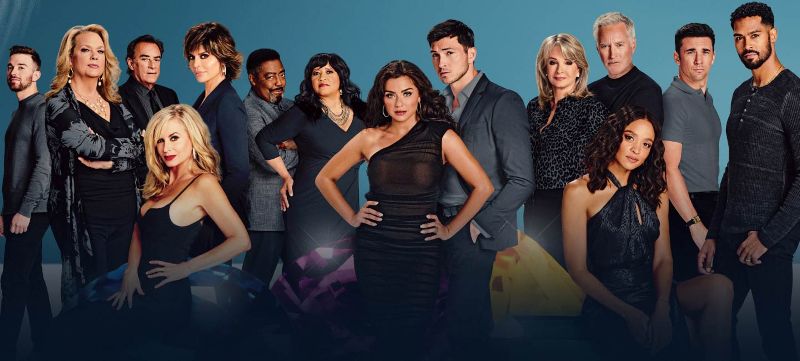 Days News and Information! SOD Scoops, & Spoilers Below
Congratulations to Days of Our Lives for winning the Daytime Emmy for "Outstanding Writing Team For a Daytime Drama." See the full list!
New episodes of Beyond Salem will drop daily from July 11-15 on Peacock.
OLDER NEWS:
The Daytime Emmy Awards telecast will be presented live at 9 p.m. on Friday, June 24, on CBS and on Paramount+.
The show was nominated for a Daytime Emmy for: Outstanding Daytime Drama Series (as was "Beyond Salem"); Outstanding Lead Actress (Marci Miller-Abby and Arianne Zucker-Nicole); Outstanding Lead Actor (Eric Martsolf-Brady, and James Reynolds-Abe); Outstanding Supporting Actress (Stacy Haiduk-Kristen); Outstanding Younger Performer (Lindsay Arnold-Allie); Outstanding Guest Performer (Michael Lowry-Dr. Clay Snyder); Outstanding Writing Team (as was "Beyond Salem"); Outstanding Directing Team (as was "Beyond Salem"); Outstanding Casting (only for "Beyond Salem"); and Outstanding Live Sound Mixing and Editing. See the full list!
You can watch The 49th Daytime Emmys Creative Arts & Lifestyle Ceremony here! (It wasn't televised)
New "Beyond Salem" on Peacock this summer!
Days will not air Thursday 6/16/22 and Friday 6/17/22 due to the U.S. Open.
The show was pre-empted Monday for Memorial Day and also Thursday, June 2 and Friday, June 3 for tennis. Tune in Monday for all new episodes!
Eric Martsolf and others Zoom Christmas Event 12/12/21
Michael Easton (Silas, GH; ex-McBain, OLTL; ex-Caleb, PC; ex-Tanner, Days) has written the graphic novel "Credence: Lose This Skin." Check out the trailer here! Buy his novels here.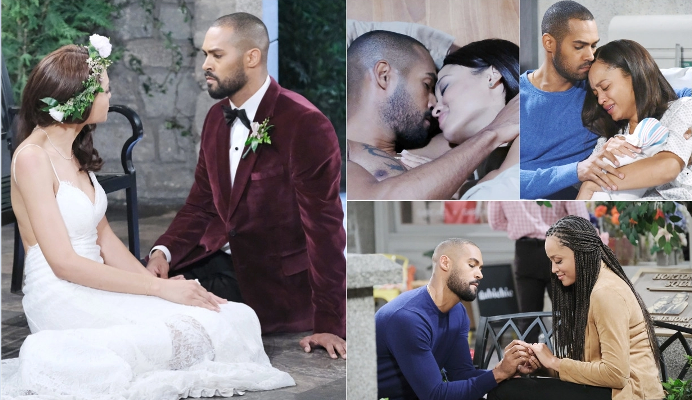 Note: Dates mentioned may not be accurate due to pre-emptions.
By Suzanne
SOD 6/27/22
Marci Miller (Abigail) talks about leaving the role. She wants to try other roles in movies and shows, and they couldn't make it work with her schedule. She wishes they hadn't killed Abby off. It was upsetting for her to lie there as a corpse while the actors visited her and poured their hearts out (particularly Chad and Jennifer).
Billy Flyn (Chad) is featured in a very short interview about what's going on with Chad in the show.
Early Editions: Ciara and Ben get an apology from Allie. John attempts to comfort Chad. Eric is asked about Nicole by Roman. EJ tries to reach Sami.
Lani is haunted by TR (William Christian) this week. Marla Gibbs (Olivia) and Cameron Johnson (Theo) return for Abe and Paulina's wedding. Sami returns to town 6/23.
Chrishell Stause (ex-Jordan) won the MTV awards for Best Reality Show for her Netflix series, "Selling Sunset."
Lucas worries that he may have murdered Abby after he wakes up from a night of binge-drinking. Abigail found out that Lucas was trying to mess with hospital records. He feels horrified that he may have done something terrible to her. Lucas finds out from Brady that there is jewelry and cash missing as well, so Lucas tries to find if he has any of it.
6/20 Gwen is cornered by Ava, who demands answers. Nicole is attacked by Sarah. 6/21 Chanel gets an offer of help from Johnny. 6/22 Allie and Johnny fight over Chanel. Eric and Nicole share a moment of closeness. Julie comes up with a way to save things. 6/23 Chad gets support from EJ. Clyde and Leo form a partnership. 6/24 Victor and Bonnie find that have something in common. Leo has an uncomfortable run-in with Brady and Chloe.
The show is given a Thumbs Up! for finally reuniting Xander and Sarah.
An article focuses on each of the Emmy nominees.
What Will Happen: Lucas is surprised by Sami. Jan names the son that she and Shawn are having. Clyde and Leo run into each other.
Camila Banus (Gabi) is featured in the short, one-page interview "Take Five."
SOD 6/20/22
Lucas Adams (Tripp) talks about leaving the show now that his character is being written out. He will appear in the next "Beyond Salem" special. He's been auditioning for other roles and planning his wedding with his fiance. He's also writing a comic book.
Early Editions: Chloe is Belle's confidante. Olivia comes back to town. Sarah hallucinates, which causes some worry. Paulina gets bailed out.
Ratings, week of 5/16: 1.19.
Cady McClain returns as Jennifer. Jenn and Jack come back to town after Abby's death.
Tripp moves to Seattle to spend time with his half-siblings, Joey and Stephanie.
Abigail (Marci Miller) was murdered, so the actress has left the show.
Tripp says goodbye to everyone this week – Steve, Kayla, Allie, Chanel and Ava.
Headwriter Ron Carlivati talks about why they're killing off Abigail. The basic reason is that Marci Miller wouldn't commit to a long-term contract, and it makes it difficult to write story for Chad when she's always going out of town. The same is true of Abby's former portrayer, Kate Mansi. They decided that killing her off was better than recasting again. He feels that it's a permanent death, even though that doesn't mean much in Salem. It also kicks off a murder mystery. He talks about the various suspects, such as Gwen, Leo and Lucas. Carlivati praises the actors playing Jack, Jenn, and Chad as they deal with their characters' grief. He said that the death will "have a big, long-lasting impact on the characters."
6/13: Chanel and Allie bond. Belle and EJ grow closer. 6/14 Kate gets an earful from Chad. Gwen and Leo each think the other murdered Abby. 6/15 Jenn is consoled by Lucas, who feels guilty. Gabi hears some tough news from Li. The show is pre-empted 6/16 and 6/17.
The show is given a Thumbs Up! for putting EJ into the Belle/Jan/Shawn triangle.
Brandon Barash (Jake) is featured in an interview.
In honor of Father's Day, soap stars' dads brag about their kids, including the dad of Raven Bowens (Chanel).
What Will Happen: Kate has a chat with Chad. Gwen feels very guilty about what happened to Abby. Jenn and Jack come home.
SOD 6/13/22
Sonny is angry at Leo for drugging him and has Kayla run a blood test. He almost punches Leo. Leo is out for revenge on everyone. He started with Chad, and Abigail is his next victim. Thomas finds Leo hiding in the closet, so Leo is forced to come up with a lie. He's also trying to find the secret room that Gwen told him about because he doesn't have anywhere to stay.
Gabi learns something important from Li. Gwen gets a visit from her pal, Leo. Lucas wakes up after a long night of drinking too much. Tripp decides something about the future.
Ratings, week of 5/9: 1.18.
Chandler Massey returns when Will supports Sonny and gives Allie advice.
Adrienne Frantz (ex-Sophie)'s baby was rushed to the hospital with an elevated fever and white blood count and then later released (but they don't know what caused it). There is no news yet on whether he's OK or not.
Allie confides to Will that she's ready to choose between Chanel and Tripp. Allie also doesn't want to hurt Johnny any more, since her twin is still in love with Chanel. Allie, Johnny and Chanel run into each other in Horton Square, so they all share their feelings.
6/6 When Abby tells Chad what she plans to investigate next for her story, it worries him greatly. Johnny is urged by his dad to fight for Chanel. 6/7 EJ and Lucas have a fist fight. Belle and John argue about EJ. Marlena gets an earful from Jan. 6/8 Roman hears Lucas' confession. EJ has a dream about Belle that lets him know how he feels. Abby starts to find out the truth. 6/9 Lucas hears a recruitment pitch from Clyde. Marlena tries to give Jan therapy, but it doesn't last long. Gwen and Abby fight again. 6/10 Jan and Shawn worry about their unborn baby's survival. Lucas gets more desperate and worries that he might get caught. Chad discovers something horrific.
Peter Reckell talks about his appearance in "Beyond Salem." He and his wife have moved back to the U.S. – to Alaska. Originally, he was just going to do a voice-over for the show, but then once he was back in the states, he just shot it. The other actors in the scene with him (Ciara, Ben and Steve) were not actually with him. They were edited in later.
Stars talk about their past real-life weddings, including Camila Banus (Gabi) and Carson Boatman (Johnny).
What Will Happen: EJ has a sexy dream about Belle. Sonny is comforted by Will. EJ and Lucas run into each other, which leads to their fight.
SOD 5/23/22
Melissa Archer (ex-Serena)) and other actors talk about the late actor Jerry verDorn (ex-Clint, OLTL; ex-Ross, GL), who passed away May 1st.
Tripp dies but is saved. Johnny chases after Allie, who is possessed by the devil, after Ciara manages to save her baby from being possessed. Johnny and Tripp track Allie down to St. Luke's loft, where the devil is about to set it on fire and threatens to kill to kill Allie when John, Eric and Marlena try an exorcism. Tripp offers his own life in place of Allie's. The devil goes in to Tripp but demands he kill Allie. Tripp throws himself out the church window rather than do that. Allie goes home with Johnny and Marlena, while John goes with Tripp to the hospital. When Kayla can't revive Tripp, Ava is stricken with grief. She lashes out at Steve and Kayla while she does that.
Early Editions: Nicole is in for a big surprise from Rafe. Nancy and Leo have it out. Jan has an ER visit, thanks to Shawn. EJ and Chad get very angry at Kristen.
Ratings, week of 4/18: 1.21.
Lucas (Bryan R. Dattilo) returns 5/17.
Eric is begged by Xander not to tell Sarah about her daughter, Mickey, but Eric won't lie, so he has to tell her everything.
Sneak Preview: 5/16 Ben and Ciara try to get their baby back from the devil. 5/17 When Lucas returns to Salem without Sami, he's interrogated by his mom. 5/18 Eric disappoints Nicole. Abe gets suspicious about something Steve says. Eli and Abe are kept in the dark by Paulina and Lani. 5/19 Abe is urged by Julie to tell Paulina about his feelings. 5/20: Chanel hears from Johnny, who insists that he still loves her. Belle is unnerved by Jan. Chad and EJ join forces to get Gabi out of their company.
The disastrous double wedding is this week's Editor's Choice.
The head of the prop department is interviewed about the show.
What Will Happen: Kate considers telling the truth. Lucas comes back to town with news about Sami. Eric is filled in by Belle about what's been going on.
SOD 5/16/22
Late-Breaking News: Lani shoots TR after finding out from Eli that he's the one who shot him! Lani doesn't believe Eli at first but then realizes that TR has been lying to her. She goes to Paulina's place after trying to warn her by phone and finds that Abe is injured and TR is about to shoot Paulina. She shoots TR, who tells her that he loves and forgives her before he dies. Lani is in shock at first. Steve arrives, having been called by Eli, and Paulina tells him that she shot TR. Lani is in a daze, so she doesn't correct her.
Early Editions: Sarah is shielded from the truth by Xander, for now. Lani feels guilty for killing her bio dad. Tripp saves Allie, risking his life. Jan gets warned by John.
Ratings, week of 4/11: 1.12.
Comings and Goings: Hospital administrator Seth Burns is played by Bruce Beaty. He gives Kayla some good news May 10.
William Christian (JR) has finished his time on the show.
Steve Burton (ex-Jason, GH) will be reprising his role of Harris Michaels, which he played in 1988, on the next chapter of "Beyond Salem" on Peacock.
Hot Plots Preview: Sarah goes catatonic, and they're told that her health is getting worse. Maggie uses the antidote on Sarah, urged on by Xander. Sarah returns to herself, saying Xander's name. They explain what happened to her. She and Xander kiss, but then she says something that lets Xander realize that she's not completely back to normal.
Sneak Preview: 5/9 Evan is shocked when Allie tells him what she has planned for the baby. 5/10 Kayla gets good news. Kate is told by Roman that he's worried for Sami and what has happened to her. Chad gets a proposal from EJ. 5/11 Sonny is nagged by Victor to give him an answer. Gwen is asked by Leo to help him get his revenge. Jake is unexpectedly intrigued by Gabi's offer. 5/12 Tony is informed by Anna that she's going on the lam. 5/13 Marlena, Johnny and Susan try to reach Allie before she goes too far.
What Will Happen: Gwen hears a proposal from Leo. Ava gets comfort from Jake. Lucas gets a call from Kate about Sami.
Raven Bowens (Chanel) is featured in the short, one-page "Take Five" interview.
---
Don't forget to sign up for our weekly scoops newsletter for more news and scoops
Our other daytime pages for news, scoops, and spoilers:  AMC, ATWT, AW, B&B, GH, GH: Night Shift, GL, Loving/The City, OLTL, Passions, PC, Y&R, General Daytime.
This page is dedicated to Hilary, our beloved late volunteer, who used to update the scoop pages.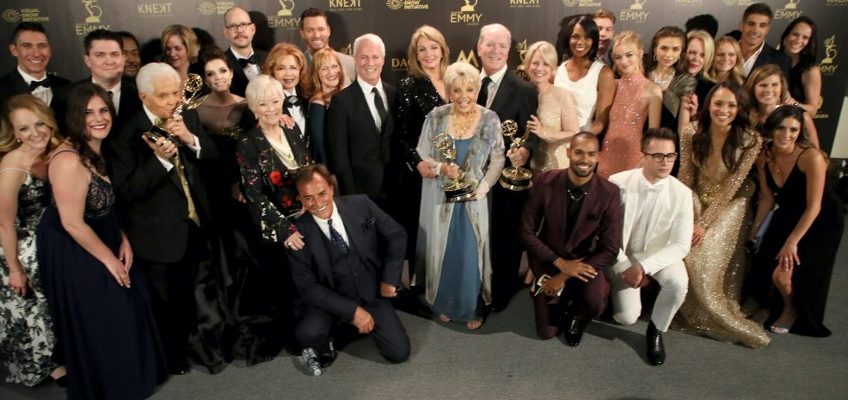 Follow Us!