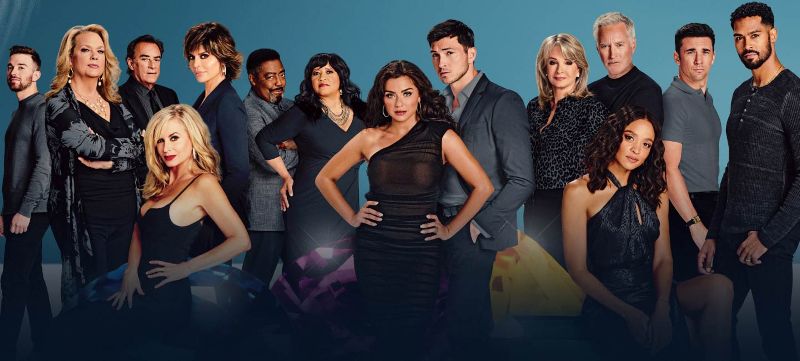 Days News and Information! SOD Scoops, & Spoilers Below
OLDER NEWS:
DAYS OF OUR LIVES Spoilers: Johnny's Movie Turns Salem Upside Down!
From NBC press release: Peacock DAYS OF OUR LIVES: BEYOND SALEM – Monday, September 6 The Original limited-series DAYS OF OUR LIVES: BEYOND SALEM begins streaming Monday, September 6 on Peacock. New episodes will be available daily culminating with the limited-series finale on Friday, September 10. Over a long weekend, John & Marlena travel to Zurich, Ben & Ciara have a romantic getaway in New Orleans, Chad visits some old friends in Phoenix, and Abe, Paulina, Lani, and Eli vacation in Miami. All find themselves embroiled in a mystery involving stolen jewels which, in the wrong hands, could cause dire consequences for Salem. It's a race against time for ISA agent Billie Reed as she crosses the globe in search of this missing treasure. Packed with all of the romance, action, drama, and surprises that only "Days of our Lives" can deliver, fans will spend a week with their favorite Salem supercouples and reconnect with many familiar faces along the way. The first original "Days of our Lives" limited-series brings past and present residents including, Lisa Rinna as Billie Reed, Deidre Hall as Dr. Marlena Evans, Drake Hogestyn as John Black, Jackée Harry as Paulina Price, James Reynolds as Abe Carver, Victoria Konefal as Ciara Brady, Robert Scott Wilson as Ben Weston, Billy Flynn as Chad DiMera, Lamon Archey as Eli Grant and Sal Stowers as Lani Price. Eileen Davidson is also set to appear in the limited-series. Promo
Camila Banus (Gabi) made a very controversial post about vaccines on her Instagram story.  The actress reportedly went partying in Florida last December and caught COVID as well.
Mike Manning (ex-Charlie) won a Daytime Emmy and shares that he's married!
Casey Moss (JJ, Days) and his band Inner Echo have a new video! More Info
Congratulations to Victoria Konefal (Ciara) for winning a Daytime Emmy for Outstanding Younger Performer In a Drama Series, and to Cady McClain (Jennifer) for winning a Daytime Emmy for Outstanding Guest Performer in a Drama Series!
Michael Easton (Silas, GH; ex-McBain, OLTL; ex-Caleb, PC; ex-Tanner, Days) has written the graphic novel "Credence: Lose This Skin." Check out the trailer here! Buy his novels here.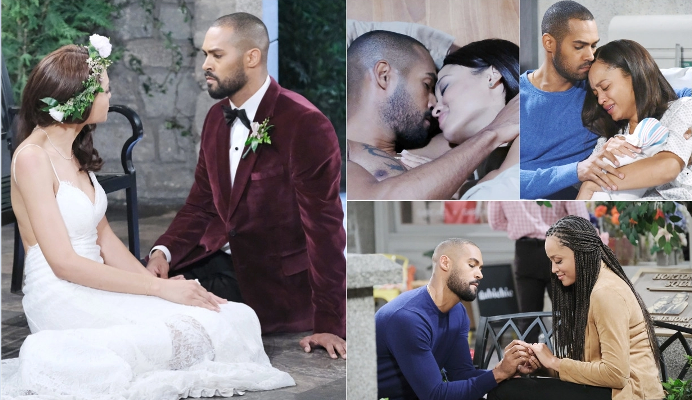 By Suzanne
SOD 9/27/21
Philip takes Chloe on a romantic picnic. He has a sapling for them to plant to remind them of the tree in which they once carved their initials (which he cut down). She hopes this is a sign that he's being more mature and no longer jealous. She wants to focus on the good things, but she also still has a pull to Brady.
Marci Miller (Abby) talks briefly about her new baby and coming back to work.
Lucas and EJ almost duke it out. Gabi observes that Chloe will mean Philip's downfall. Nicole is asked out to dinner by EJ. Johnny and Chanel smooch.
Ratings, week of 8/23: 1.19.
Darin Brooks (ex-Max) voices a character named "Guy" in the series "Croods Family Tree" on HULU and Peacock 9/23.
Camila Banus (Gabi) married her long-time boyfriend 8/28.
Johnny reads Will's script about Sami and learns that Marlena was once possessed. He shares it with Allie, who is also shocked. John confirms that it's true. Allie doesn't think Johnny should proceed with the film out of respect for their grandparents. She's also unnerved by the fact that it's the devil.
9/20 Kate is asked by Roman to give their romance another go. Kayla comforts Julie. 9/21 Paulina asks Lani if she would approve of her and Abe getting hitched. 9/22 Victor is warned by Brady that Philip's jealousy of him and Chloe is getting in the way of his Tital business. Abigail surprises Gwen with a visit. 9/23 Philip gets an earful from Ava that she heard Jake and Gabi conspiring against him. 9/24 Ben and Ciara keep blissfully enjoying their honeymoon in New Orleans. Marlena and John discuss his concerns about Johnny making his movie.
What Will Happen: Chloe is surprised by Philip's picnic date. Ava finds out someone's secret. Xander is quizzed by Jack about Gwen.
SOD 9/20/21
Charles Shaughnessy talks about joining GH as Victor.
Chad goes to Boston to beg Abby to come home, so she does. Marci Miller, who returns as Abigail, is ending her maternity leave. She and her husband had a daughter, Willet, in March 2020.
Ava and Gabi have a showdown. Marlena is asked for help by Julie. Allie gets information from Johnny. Roman pours his heart out to Kate.
Ratings, week of 8/16: 1.16.
Cady Huffman (Calista) left the show, since her character was killed by Bonnie.
Steve encourages Justin to help Bonnie after she fires her lawyer and didn't make bail. Rafe finds a letter that Calista left, implicating her in a murder. Bonnie tells Justin the truth when he shows up. Bonnie shocked that Justin is still determined to marry her after he gets her freed and that Steve was the one who gave him the idea. Bonnie has very little self-worth and doesn't think she deserves happiness.
9/13 EJ and Xander get into a fight. Johnny attempts to use his charm to manipulate Marlena. 9/14 Ava and Philip share their respective romantic drama. 9/15 Ciara and Ben have their honeymoon in Oak Alley in New Orleans, where they get a private tour. 9/16 Allie and Chanel pop the Champagne over their grand opening. Paulina shares her secret with Marlena. 9/17 Lucas tells Kate that she should give Roman another chance, after seeing them together.
The show is given a Thumbs Up! for the Chanel/Allie/Tripp story.
What Will Happen: Jake and Gabi celebrate their victory. Nicole does her best to stay away from Rafe. Ciara and Ben tour the Big Easy.
Lindsay Arnold (Allie) is featured in the short, one-page "Take Five" Interview.
SOD 9/13/21
The special miniseries "Days of Our Lives: Beyond Salem" premieres Monday, 9/6. Executive Producer Ken Corday shares that it was the network's idea, to bring more DOOL viewers from traditional TV to Peacock. Headwriter Ron Carlivati came up with the idea of the story overnight, and then they quickly rushed it into production. It's just for five nights and is self-contained, having nothing to do with the regular show. It's supposed to be faster-paced – a big adventure and caper with a lot going on, including humor. Actors Eileen Davidson (Kristen), Austin Peck (Austin), Chandlder Massey (Will) and Zach Tinker (Sonny) talked about filming it. Massey mentions that he has a regular data science job and that he was surprised to learn that Freddie Smith would not be playing Sonny.
Christie Clark (Carrie) is featured in a short interview. She talks about the Peacock series and what she's been doing.
Justin gets advice from Steve about Bonnie. Brady gets a meeting from Gabi and Jake. Abby is asked to come home by Chad. Kayla gets some tests run on Doug.
Ratings, week of 8/9: 1.20.
As previously reported, many DOOL characters, old and new, appear in this week's "Days of Our Lives: Beyond Salem" on Peacock. See the top of this page for a list.
Zach Tinker briefly talks about getting the role of Sonny, previously played by Freddie Smith.
Bonnie tries to keep Calista away before her wedding date, but she has to steal the million dollars from Xander to shut her up. Things don't go as planned.
9/6 Ben is shocked by Ciara suggests having a baby. Steve tries to find out more about Calista. 9/7 Xander tries to get Gwen to tell Jack the truth about her dead doctor. Julie is very worried about what's going on with Doug. 9/8 Philip writes an email to Brady with threats. 9/9 Rafe shares his personal problems with Eli. Gabi is confronted by Philip. Chloe and Brady bond further. 9/10 Chanel is asked by Allie to forgive her.
The show is this week's Editor's Choice for the stories right before the Olympic break when Sami and EJ – and Eric and Nicole – broke up, and Ben and Ciara were reunited.
Fall spoilers: Ben is reluctant to pass on his family DNA to his children when Ciara talks about having a baby. They will have a mature storyline instead of someone trying to kill them. … John and Marlena face a huge threat to their marriage.
… Chad finally convinces Abby to come home, but they'll still have problems. Johnny asks her to play the lead in his movie, which causes further problems. … Xander and Gwen will continue to build on their relationship. Gwen ends up in trouble when she tries to help Xander. … Philip, suspicious of Jake and Gabi, turns to Ava for help. … Nicole turns to EJ so that she can forget Rafe and move on. … Abe proposes, which makes Paulina feel even more guilty about not being honest about being Lani's mom. … Philip and Chloe keep growing closer, but he still has jealousy toward Brady, which might kill their relationship. … In an "impactful story," Doug shows signs of dementia, which worries Julie. … Allie decides to commit to Tripp and keep out of Chanel and Johnny's relationship. Johnny tries to prove his intentions to Chanel. He also makes a movie, which angers EJ.
Soap actors look back on their school days, including Lindsay Arnold (Allie), Raven Bowens (Chanel), Eric Martsolf (Brady) and James Reynolds (Abe).
What Will Happen: Doug is the source of Julie's anxiety. Ciara suggests something unexpected to Ben. Xander and EJ decide something.
SOD 9/6/21
Marla Gibbs (Olivia) talks about joining the show. She's a huge fan who watches it every day. She was previously on "Passions" as well. She recently wrapped her run on Days.
Brady and Chloe are stranded in a motel when their plane gets grounded during their business trip to Pennsylvania. They have to share a bed. Philip is not too happy when he finds them together.
Gabi is confronted by Philip. Paulina says something surprising that Abe overhears. Steve attempts to dig up information about Calista. When Julie is trapped, Jack saves her.
Tina Huang (Melinda) is back 8/30 to butt heads with EJ.
When Tripp invites Chanel and her new boyfriend for drinks, he and Allie are shocked to learn that it's her twin brother, Johnny. Things don't go well.
8/30 Gwen tells Xander goodbye. Chad pours his heart out to Jack. 8/31 Ciara and Ben tell Shawn that they're going to New Orleans for their honeymoon. 9/1 Rafe is shocked when Ava tells him that she's moving out. Johnny is teased by EJ about Chanel. 9/2 Anna tries to get Roman to help her save Austin and Carrie's marriage. 9/3 Gwen defends Xander to Jack. Calista is questioned by Justin. EJ touches base with Nicole.
Soap stars show their vacation photos, including Carson Boatman (Johnny).
What Will Happen: Nicole lends Allie an ear. Ben and Ciara head to New Orleans. Jack tells Chad that he'll talk to Abigail about coming home.
---
Don't forget to sign up for our weekly scoops newsletter for more news and scoops
Our other daytime pages for news, scoops, and spoilers:  AMC, ATWT, AW, B&B, GH, GH: Night Shift, GL, Loving/The City, OLTL, Passions, PC, Y&R, General Daytime.
This page is dedicated to Hilary, our beloved late volunteer, who used to update the scoop pages.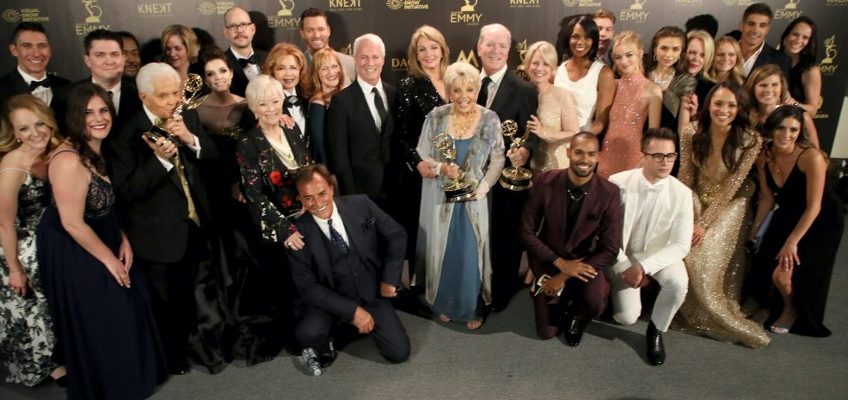 Follow Us!