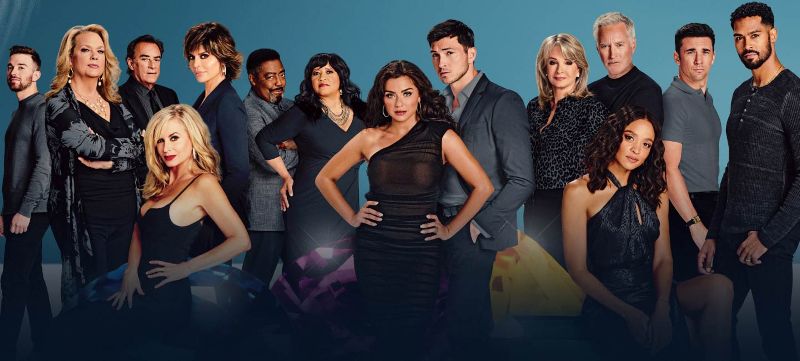 Days News and Information! SOD Scoops, & Spoilers Below
The Winter Olympics 2020 in Beijing are Fri, Feb 4, 2022 – Sun, Feb 20, 2022 on NBC.
According to celebratingthesoaps.com, Days of Our Lives won't be seen from February 4-18, with new episodes returning on February 21.
OLDER NEWS:
Days of Our Lives: A Very Salem Christmas airs 12/16 on Peacock!
Thursday, November 25, a re-run of the show will be aired. Friday, November 26, it will return for a new episode! More Info
New Days Christmas Movie on Peacock!
Michael Easton (Silas, GH; ex-McBain, OLTL; ex-Caleb, PC; ex-Tanner, Days) has written the graphic novel "Credence: Lose This Skin." Check out the trailer here! Buy his novels here.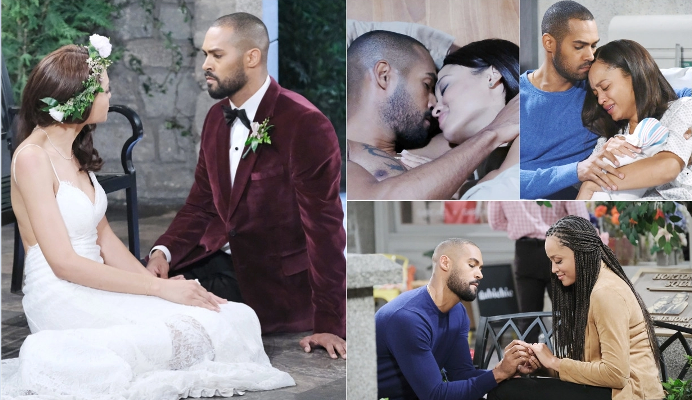 By Suzanne
SOD 1/31/22
Kevin Spirtas (Craig) talks about coming back to the show in a short article. He was last on the regular show in 2009 but could also be seen on the Last Blast Reunion special that they did on the app.
Rafe and Nicole figure that Ava is probably setting him up to be on the take. Rafe is first clued in to this when two of the people coming forward worked for the Vitali family. He can tell Ava hasn't been acting like herself, so he assumes she must have found out about him and Nicole and is getting her revenge. He decides to break up with Ava. However, first Shawn arrives to arrest him because a third person has come forward to back up the other two's stories. Ava arrives just then, which also looks bad. Nicole visits Ava, and they have a cagey conversation, neither admitting anything to the other. Rafe tells Shawn what he knows and what he suspects. Shawn says he'll look into Ava's connections with crime.
Roman hears about the big plans that Tripp has. Ciara gets surprised by Ben. Nancy and Craig have an important heart-to-heart talk. Kristen and Abby have a confrontation.
Ratings, week of 12/27: 1.21.
William Christian plays Paulina's abusive ex-husband, TR Coates (Lani's dad), starting 1/26. He played Derek years ago on AMC.
Craig comes to town and assures Nancy that there is no other woman in his life. She forgives him and they make up. However, there is more to the story, which he agonizes over. Chloe overhears her dad saying sweet things to someone over the phone, so she confronts him. He tells her the truth.
1/24 Tripp and Paulina encounter each other, which is very awkward. 1/25 Abby's in danger. 1/26 Movie producer TR Coates comes to town to demand that Johnny hand over his movie. Chanel and Abe have a nice chat. 1/27 Something from Paulina's past comes up to cause her trouble. 1/28 Xander and Gwen try to move forward. EJ prepares to get his sentence, with Belle's support.
The show is given a Thumbs Down! for all of the crimes people in Salem are committing that seem out of character.
Tina Huang (Melinda) is featured in an interview.
Linsey Godfrey (Sarah) is also interviewed.
What Will Happen: When Belle tells EJ a story, it shocks him. Xander is asked for a favor by Ned, the pilot. Allie gets a surprise from Chanel.
Stacey Haikuk (Kristen/Susan) is featured in the short, one-page "Take Five" interview.
SOD 1/24/22
Betty White passed away 12/31. She guest-starred as a nurse in 1988.
Kristen has a confrontation with Steve. Kristen hears them at the convent, where they're posing as a priest and nun. When Steve returns to his hotel room, he finds Kristen there with a gun. Kristen assumes they're there to look for Sarah, but she figures out pretty quickly that they think she had something to do with Philip's disappearance. She denies knowing anything about it. She's upset to find out that Brady hired him to track her down. Kristen can't let him go home and tell anyone that he found her there; she doesn't want to go back to prison. Kayla texts Steve, so Kristen (posing as Steve) lets her know that he's just fine. However, Steve is lying on the floor, but we don't know what's happened to him.
An informational conversation is overheard by Chloe. When Abby runs into "Sarah," she's shocked. Tripp gets an unexpected visit from Allie. Rafe gets more suspicious of Ava.
Ratings, week of 12/20: 1.20.
Kevin Spirtas returns as Craig 1/21 to see Chloe and Nancy.
Kyle Lowder (Rick) has left again.
Patrika Darbo (Nancy) talks about her return to the show.
Nancy returns to Salem to tell Chloe and Brady that Craig is cheating on her. They suggest that she talk to Craig rather than assuming the worse. Craig arrives in Salem, surprising them all.
1/17 Gabi is flirted with by Johnny and during EJ's trial, chaos ensues. 1/18 Brady has his ear bent by Nicole while Rafe is confused by Ava's games. 1/19 Kayla is tested. 1/20 Jake worries that Gabi is playing a dangerous game with Johnny and EJ takes the stand at his trial (even though Belle told him not to). 1/21 Chanel tells her mom about Allie.
Martha Madison (Belle) is chosen as Performer of the Week.
What Will Happen: EJ gets on the witness stand. Craig is left a phone message from Chloe. Chad sees an intimate moment between Abby and EJ.
SOD 1/17/22
At Johnny and Chanel's wedding reception, Johnny dumps Chanel in front of everyone assembled (because he's possessed by the devil). Allie goes to make sure Chanel is OK, but they end up having a deep kiss. This makes Allie more confused. Chanel asks her to stay, so they give in to their passion. It's spontaneous and wasn't planned by either of them. The next morning, Allie feels guilty for betraying Tripp. He phones her, so she lies that Chanel was upset, but she went home. She doesn't share their night together. Allie is torn between her two lovers – the safe Tripp and the passionate Chanel. Chanel suggests that Allie not let their one night together ruin her relationship with Tripp. Allie is determined to be honest with him.
Preview: Kayla and Steve get into trouble in Italy. Chad finds out something shocking. Nicole shares with Brady. Gwen dreams about Sarah.
Ratings, week of 12/13: 1.18.
Kayla and Steve see Mother Superior (Ellen Crawford) at the Italian convent when they try to track down Kristen Jan. 13.
Patrika Darbo (Nancy) comes back Jan. 14 to give Chloe some surprising news. Lucas (Bryan R. Dattilo) comes back Jan. 14 to testify at EJ's trial.
Chrishell Stause (ex-Jordan) has ended her long-term relationship with Jason Oppenheimer, whom she met last year on "Selling Sunset."
Susan is taken to the hospital by Marlena, but Susan says her illness may not be physical. She can tell that something is wrong and might be due to the supernatural. Johnny walks into the room later, and she can tell something is off with him. She senses that things aren't right, so she accuses him of being the devil instead of her grandson. Johnny denies it at first but then reveals that she's right. She goes after him with a cross, but he stops her and touches her forehead, making her forget everything. He then returns to being her sweet grandson, Johnny. Susan tells EJ that she's going back to Memphis. She thinks everything is fine, so she's going home.
1/10 Paulina almost dies. Belle is asked by EJ to be his lawyer. 1/11 Ciara and Ben have trouble deciding something about their baby. 1/12 EJ gets an offer he didn't expect from Johnny. Rafe gets stunning news while at work. 1/13 Kayla and Steve go undercover to find Kristen. Gwen finds out a secret from Ava. 1/14 Maggie makes a deal with Jake and Gabi. Chad decides not to tell the truth after all.
The show is given a Thumbs Down! for Philip's rapid descent.
Martha Madison (Belle) is featured in an interview where they discuss Belle's history, motivations, etc.
Krista Allen (ex-Billie, now Taylor on B&B) is featured in an interview.
Raven Bowens (Chanel) and Carson Boatman (Johnny) share their fitness and nutritional habits to help fans get healthier in the new year.
What Will Happen: Chad feels guilty but tries to ignore his feelings. Belle tells EJ that she'll be his lawyer. Abe spills his guts to John.
SOD 1/3/22
Greg Vaughan (Eric) talks about his return this week to the show. He's a priest again and Vaughan looks forward to his character's further growth. Sounds like he'll be around for more than a short visit.
The devil gets exorcised out of Marlena this week. Head writer Carlivati says they always imagined an exorcism around Christmas time as a sort of "Christmas miracle." This also gave them lots of time to play the story, with many twists and turns. The exorcism is a time for all of the characters to fight together against evil and for "love to triumph against darkness." Carlivati speaks at length about their process in developing the story. Marlena's family gathers at her place to start the exorcism process. Eric arrives just in time to literally answer John's prayers for guidance. There will be some "real life-and-death consequences" from the exorcism, some of which may reach far into the future.
Ava is confronted by Rafe. Rex is questioned by Xander. Sami and Lucas make plans. When Gwen finds out that Abby is looking into Sarah's disappearance, Gwen gets worried.
Ratings, week of 11/29: 1.18
Eileen Davidson returns as Kristen this week. Remington Hoffman returns as Shin to reshuffle some of the people in DiMera. Jay Kenneth Johnson (Philip) is gone from the show, after this character left town (after framing Brady).
Brandon Barash (Jake) proposed to his girlfriend, Isabelle Devoto. He was previously married to Kirsten Storms (ex-Belle), and they have a 7-year-old daughter, Harper, who was there for the proposal.
Allie isn't happy to learn that Chanel and Johnny got married, which greatly upsets Chanel. Allie gives some reasons as to why she's against it, but Johnny accuses her of wanting Chanel for herself. Allie denies it. Later, Allie apologizes to them at the DiMera mansion, with Tripp. They bring a bottle of Champagne, since it's New Year's Eve and want to celebrate. Chanel is happy that her friend is on her side, but things happen that will change that, surprising Chanel.
9/27 On Christmas, EJ is in jail, blamed for Sami's kidnapping. 9/28 As Kayla and Steve set up for the hospital's Christmas party, they have some romantic moments. Meanwhile, Marlena, still possessed, has fun with Sami and Lucas. 9/29 Eric visits Nicole, while Gwen plots to keep Xander away from thinking about Sarah. 9/30 Ava's eavesdropping leads to some startling news. Chad accidentally finds out the truth. 9/31 Ciara and Ben look forward to the birth of their child in 2022. Sami is consoled by Gabi.
The show is given a Thumbs Up! for ending the Brady, Chloe and Philip triangle.
2002 preview: Chanel and Johnny return from Italy, having impulsively decided to get married. They are happy and in love. Something happens that causes them to come crashing down out of their honeymooner spirit and go in different ways. Chanel turns to Allie for comfort. Johnny gets interested in Gabi. Jake and Gabi decide to use this to their advantage, since is now of age and has DiMera shares, which would aid in their takeover attempt. Abby, daughter of investigative reporters, offers to help Maggie find Sarah. Gwen thinks that Abby is only doing this to keep her and Xander apart, which causes them to clash again. Xander realizes that Gwen has been there by his side through everything, so he asks her to marry him. Everyone is thrilled to have Marlena back to normal after the exorcism, but they might not forget it so easily. She's very remorseful, but she doesn't remember everything. She apologizes to everyone and learns what she's done. Steve is hired by Brady to find Kristen. They believe she may have been involved in Philip's trying to frame him. Kayla goes with Steve to help, so they go on an adventure together. EJ keeps saying he's innocent of Sami's kidnapping, even though there is some evidence against him. Belle represents EJ, causing some problems. The whole case might by thrown when some very dramatic things happen. Chad has some important information, but he's not sure where he'll tell the secret or not. Kate learns he has the secret and might lead him to the dark side. Lani starts to forgive Paulina, who is near death. Someone from Paulina's past shows up, which might change everything. Ava tries to torture Rafe and Nicole, whom she suspects of lying to her. Ava has an obsessive past, so things might get dangerous. Rafe might figure it out too late. Brady and Chloe decide to stay friends, since Philip is gone, but they still feel a pull. Nancy comes to town with some shocking news about Craig (Chloe's dad), and she'll need support.
The actors talk about appearing on the Christmas special.
"The Bay" returns for season 7 on 12/28. An article looks at the cast, which includes Brandon Beemer (Shawn), Mary Beth Evans (Kayla), Matthew Ashford (Jack), Mike Manning (ex-Charlie), and A Martinez (Eduardo).
What Will Happen: Chad takes on a new position at DiMera Enterprises. Nicole sticks up for EJ. Brady gets good news from Belle.
SOD 12/20/21
Kate identifies Philip's leg at the hospital, making her worried about what's happened to him, but Rafe tells her that there's no evidence to arrest Brady. She confronts Brady about it and then storms out before he can respond. Brady tells Chloe that Belle found out he ordered 6 shots at the pub the night Philip went missing (which he doesn't remember). Brady is shocked but tells Chloe that no matter how drunk he's ever gotten, he would never seriously hurt someone. He asks Chloe to come with him down to the rivers, so he can try to remember what happened. He remembers something important, but then Melinda shows up, with Eli, to arrest him. Melinda still holds a grudge about him because he was with Kristen, who killed her daughter. Brady continues to plead innocent.
Ratings, week of November 15: 1.11
Lucas discovers something surprising. Johnny and Chanel come back from their trip to Italy. Marlena, possessed by the devil, finds someone else to help her out in her crimes. Belle thinks that Brady is innocent and that someone is framing him.
Eric (Greg Vaughan) returns, and he may be a priest again.
The new special "A Very Salem Christmas," begins 12/16 on Peacock. Eileen Davidson returns as Kristen. Chandler Massey (Will), Zach Tinker (Sonny) and Greg Rikaart (Leo) all return as well. Evelyn Stephenson plays Sydney, Sami and EJ's daughter.
Jen Lilley (ex-Theresa) is expecting her fourth child.
Ciara leaves Marlena and Ben at the cabin after she feels that something isn't right with Marlena. When they discover she's gone, Marlena insists they go after her. She opens the door, but John is there and confronts her. Ben steps in front of Marlena in a protective way. Marlena uses her devil powers to keep John from spilling the beans to Ben, but he lunges for her. Ben stops him with a punch, knocking him out. Then he ties him to a chair. They're about to leave again when Shawn arrives. He tells Ben that Marlena is possessed. Ben has a hard time believing it, but Marlena reveals the truth with her glowing eyes and demon voice, shocking him. She wants Ben and Ciara's baby.
12/13 Belle looks into what happened to Philip. 12/14 Nicole and Sami have a cat fight, while John confronts Marlena, who's possessed. 12/15 EJ and Sami kiss passionately. 12/16 Kate and Victor must make a difficult decision. Melinda pressures Eli and Lani, who try to keep her at bay. 12/17 We find out that the devil has more planned. Katie makes a shocking discovery. Rex tells Xander something that knocks him off balance.
Kristen masquerading as Sarah is chosen as Most Preposterous Plot; Marlena's possession is chosen as Best Use of History; Charlie's murder is chosen as Best Murder Mystery; Sami and Lucas are chosen as Best Couple; Brady, Chloe and Philip are chosen as Worst Triangle; and Paulina is chosen as Best New Character in this year's "Best and Worst of 2021."
What Will Happen: Sami has a conversation with Allie about EJ. When Susan gets worried, EJ tries to soothe her feelings. Belle and Brady suggest strongly that John should find Marlena.
SOD 11/15/21
Susan tells Ben and Ciara that someone bad is after their baby. Ciara thinks she's crazy, but Ben hears her out. Susan puts her hand on Ciara's baby. She senses evil and faints, which shakes up Ciara and Ben. Ben tells Marlena what happened. She's thrilled that Ciara is pregnant but concerned about Susan. Marlena goes to see Ciara and stops Susan from saying anything more about the evil she feels. Ciara could tell that Susan seemed to have a clue about something.
Next week: The way Marlena acts makes Steve suspicious. Julie is promised by Eli that he'll escort her to see Doug. Abe and Paulina get ready to get married. Gwen gets contact from Kristen.
Ratings, week of 10/11: 1.11.
Former Backstreet Boy A.J. McLean plays a driver on the show this week.
Nick, Deimos and Charlie have left now that Halloween has passed.
Billy Flynn (Chad) and his wife are expecting their first child.
When Brady goes to Marlena for advice about Chloe, he advises her to have sex with her on the Basic Black conference table, which surprises him. She's telling him to do what he already wants to do. Later, he fantacizes about it when Chloe asks him what he's thinking about. He tells her, so said that Rafe and Nicole just did that same thing. (Eww!) Brady is annoyed that they did that, although he can't get too mad about it, since he wants to do that as well.
11/8 Tripp and Allie can't get over what happened on Halloween. Rafe thinks about whether to tell Ava the truth. 11/9 Nicole, feeling guilty, sends Rafe back to Ava. 11/10 Chanel figures out that Paulina lied to her again. Susan finds out something horrible. 11/11 Jake takes a deal from Melinda. Philip gets very upset in a self-destructive, depressed way. 11/12 Steve tells Kayla that something isn't right about John's sudden absence. The devil thinks up a new way to mess with John and Marlena.
What Will Happen: Ava is taunted by Gabi again. Theo runs into Ben and Ciara. Brady has a sexy fantasy about Chloe. Ben tries to get help from Marlena.
Eileen Davidson (who sometimes plays Kristen/Susan/Mary/Moira) is featured in the short, one-page interview "Take Five."
SOD 11/8/21
The show has a crazy Halloween week. The devil as Marlena gets some ideas while walking through the cemetary. The show is a fun episode, but it really happens. It's not a dream, like some past Halloween episodes.
Rafe and Nicole have sex. Rafe has conflict with Ava over whether she still has mob ties (after Abe's shooting). He finds Carmine dead on the kitchen floor and phones Eli. Rafe thinks that Ava is responsible. Eli takes Ava to the station for questioning when she arrives. Nicole phones Rafe, saying she needs him. They have a talk about everything. She urges him to go back to Ava, but he's tired of denying his feelings for Nicole. They make love on the Basic Black conference table.
Ratings, week of 10/4: 1.13.
Theo learns something that surprises him. Rafe feels guilty and deals with those feelings. Ciara and Ben get another warning from Susan. Brady gets some wise advice from Marlena/the devil.
Richie Stevens (Carmine) leaves the show when Carmine is murdered.
Melissa Reeves (Jen) and husband Scott (ex-Jake) welcomed another grandson to their family 10/15.
Justin and Bonnie finally get married. Maggie marries them, and Steve and Kayla are present.
11/1 Jake and Gabi plead with Rafe about Jake's plight. 11/2 Tripp finds out that Allie might be in danger, while Rafe is stunned to find a dead body on his kitchen floor. 11/3 Allie and Tripp fight Satan. Philip is questioned by Eli. 11/4 Gwen and Jack grow closer. Chad and Abby look for answers to Gwen's secret. 11/5 Steve starts to get worried about where John has disappeared to. Melinda puts pressure on Xander. Chad and Abigail blast Gwen and her lies.
The show is given a Thumbs Down! for the Ava/Rafe/Nicole/EJ story, which has been boring and appears to be leading to Rafe and Nicole for no good reason.
November sweeps: After John wises up to Marlena's possession, the devil chains him up in the DiMera crypt. She tries to corrupt his soul by breaking him down little by little. It's "a great test of John and Marlena's love." Paulina has to decide whether to tell Abe and Lani the truth as they plan their wedding. MarDevil will be performing their ceremony. MarDevil told everyone that John was out of town a case, but it makes Steve suspicious. Kayla will help Steve find out what's going on. Ciara is pregnant, but Susan arrives to tell them that something is wrong with the baby. The question is whether they'll believe her or not. Susan goes to Marlena to tell her about it, but she can tell that something is not right with Marlena, which will put Susan in danger. Julia misses Doug, especially with the holidays coming, so she finds a way around the visitor ban. Nicole and Ava feel guilty for sleeping together, so she pushes him back to Ava, and she throws herself into a romance with EJ. They both have the secret now, which will inevitably come out. Sami manages to get a phone and call someone to tell them that she's been kidnapped. Philip can tell that Brady and Chloe are falling for each other, which only makes him more paranoid, so he gets in his own way. Kristen wants to bust out of jail, so she gets the help of two unlikely people to help her. After Abby gets the truth about Gwen's lies and exposes her, it creates problems for Gwen with Jack. She turns to Xander, but then she worries about losing him. Roman and Kate go to Abe and Paulina's wedding together, which may lead to something more between them.
Stacey Haiduk (Kristen) and other actors who play soap "villains" discuss their characters.
What Will Happen: When Ava has a crisis, Tripp helps her. Ava and Carmine have an unpleasant encounter. MarDevil continues to cause trouble in town.
SOD 11/1/21
Stacey Haiduk returns as Kristen this week. She's excited to meet Kristen's daughted and enjoyed working with the new EJ (Dan Feuerriegel), and with Stephen Nichols (playing Steve this time, not Stefano). She told Feuerriegel when she met him that she plays both his sister and his mom. She talks about how she was concerned when Eileen Davidson played Kristen again the miniseries "Beyond Salem," but they reassured her.
For James Reynolds (Abe)'s 40th anniversary on the show, they dedicated an episode to him. He is shot and sees Lexie (his dead wife), so he must decide whether to stay with her or not. The actor loved it and was touched that they would do that for him. Renee Jones was not available to reprise her role as Lexie, but they brought in an actress who resembles her.
Ratings, week of 9/27: 1.10.
Next week: Kayla is asked for help by Abby. Tripp comes to the rescue. Philip is interrogated by Eli. Rafe discoveries something that shocks him.
Theo (Cameron Johnson) comes back to town when Abe is in trouble. Finley Rose Slater plays Rachel, Kristen and Brady's daughter.
Victoria Platt (ex-Amanda) and Terrell Tilford (DA James Giddens/ Dr. Bob Carrington) are divorcing after 20 years of marriage.
Jensen Ackles (ex-Eric) appears in the movie "Rust," if they finish filming it (this is the one where Alec Baldwin accidentally shot two people, killing one of them).
Jackée Harry (Paulina) will be appearing in a new Freeform show, "Everything's Trash."
Kristen needs a place to hide, so she begs EJ to help her. He does but insists she stay hidden. She really wants to see Rachel, despite the risk. EJ is not happy about that. Kristen goes to see Rachel at John and Marlena's place. Kristen is caught by Steve and Brady, so she has to go to the Salem PD.
10/25 Marlena, possessed by the devil, is confronted by John. Abe's friends and family think back over the years. 10/26 Philip and Ava have to work on typing up a detail. Brady is confronted by Lucas about going into the Salem Inn with Chloe. 10/27 Chloe's devotion for Philip are tested. Victor is pleaded with by Jack to get Gwen and Bonnie released. 10/28 Abby and Chad attempt to have romance, which is interrupted by EJ. Chanel, Allie and Johnny use a Ouija board. 10/29 Ciara takes a test to find out if she's expecting. Johnny and Allie finds out that the devil is there for Halloween.
The show is given a Thumbs Up! for reuniting Kate and Roman.
James Reynolds (Abe) is featured in an interview, celebrating 40 years on the show.
Actors from each show answer questions about their Halloween favorites, including Raven Bowens (Chanel), Marci Miller (Abby) and Paul Telfer (Xander).
What Will Happen: Nicole says yes to EJ's dinner invitation. Brady reunites with someone he didn't expect to see. Gwen is reassured by Xander. Philip tries to make Chloe see his POV.
---
Don't forget to sign up for our weekly scoops newsletter for more news and scoops
Our other daytime pages for news, scoops, and spoilers:  AMC, ATWT, AW, B&B, GH, GH: Night Shift, GL, Loving/The City, OLTL, Passions, PC, Y&R, General Daytime.
This page is dedicated to Hilary, our beloved late volunteer, who used to update the scoop pages.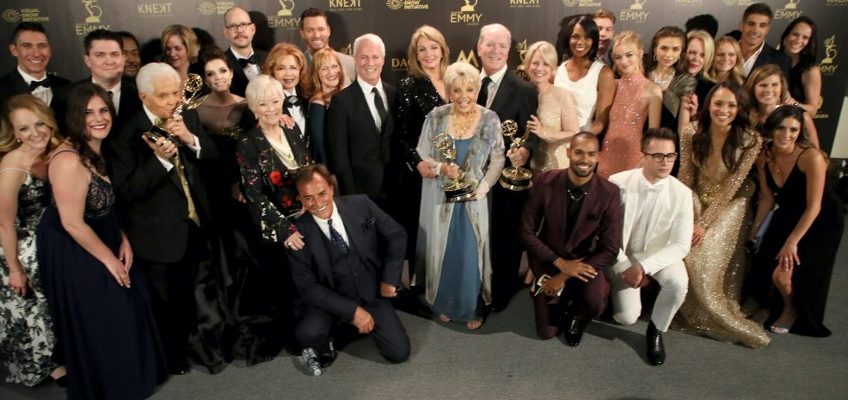 Follow Us!