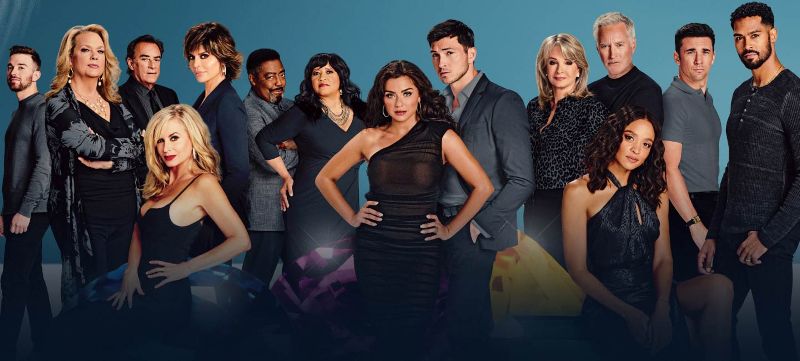 Days News and Information! SOD Scoops, & Spoilers Below
No DOOL pre-emption for Thanksgiving!
OLDER NEWS:
Happy Memorial Day! No re-runs or pre-emptions for the soaps today, Sept. 5!
Sorry for the lack of updates..we've been busy. More coming soon!
NBC is moving Days to Peacock, their streaming service, as of September 12. It will no longer be on NBC.If you have the free version of Peacock, you will have to sign up for the Premium version to watch Days after 9/12. The last episode of Days on NBC is probably Friday, 9/9. If you live outside the U.S., they haven't yet announced how you can view Days. My guess is that they'll make deals with streamers in other countries. You don't need a fancy smart TV to watch Peacock. You can watch it on your phone, tablet, computer or other device such as Firestick or Roku. The ratings for soaps have been down for a long time (due to women no longer being stuck at home) and Days has been the lowest rated for the past decade. They've been working on this move for a while now because the ratings are so low and NBC would probably have canceled them otherwise. Fans watched Beyond Salem, which tested it out for them, so now they're moving to Peacock to save the show. They would MUCH rather stay on NBC but can't support it financially any more. If fans watch on Peacock, they'll keep it around. PeacockTV's Premium service is only $4.99 per month or $49.99 per year (which is cheaper).
SID Spoilers: Rolf Experiments on Jake
DAYS OF OUR LIVES Spoilers: Lucas Remembers Abigail's Murder!
New episodes of Beyond Salem will drop daily from July 11-15 on Peacock. Daily Updates by Joseph!
DAYS OF OUR LIVES Spoilers: Lucas and Sami's Wedding Is Interrupted!
All of the soaps will air Monday, July 4th!
Congratulations to Days of Our Lives for winning the Daytime Emmy for "Outstanding Writing Team For a Daytime Drama." See the full list!
The Daytime Emmy Awards telecast will be presented live at 9 p.m. on Friday, June 24, on CBS and on Paramount+.
The show was nominated for a Daytime Emmy for: Outstanding Daytime Drama Series (as was "Beyond Salem"); Outstanding Lead Actress (Marci Miller-Abby and Arianne Zucker-Nicole); Outstanding Lead Actor (Eric Martsolf-Brady, and James Reynolds-Abe); Outstanding Supporting Actress (Stacy Haiduk-Kristen); Outstanding Younger Performer (Lindsay Arnold-Allie); Outstanding Guest Performer (Michael Lowry-Dr. Clay Snyder); Outstanding Writing Team (as was "Beyond Salem"); Outstanding Directing Team (as was "Beyond Salem"); Outstanding Casting (only for "Beyond Salem"); and Outstanding Live Sound Mixing and Editing. See the full list!
You can watch The 49th Daytime Emmys Creative Arts & Lifestyle Ceremony here! (It wasn't televised)
New "Beyond Salem" on Peacock this summer!
Eric Martsolf and others Zoom Christmas Event 12/12/21
Michael Easton (Silas, GH; ex-McBain, OLTL; ex-Caleb, PC; ex-Tanner, Days) has written the graphic novel "Credence: Lose This Skin." Check out the trailer here! Buy his novels here.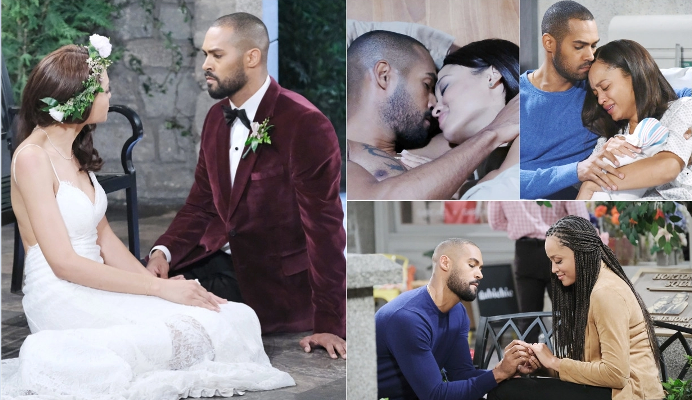 Note: Dates mentioned may not be accurate due to pre-emptions.
By Suzanne
SOD 8/1/22
Robert Scott Wilson will be playing a new character, Alexander Kiriakis, instead of Ben (who left town with Ciara). He's the son of Justin and his late wife Anjelica. He'll have a new look. His character and background are very different, and he'll be working more with the actors who play Justin, Sonny, Bonnie and Victor (his relatives).
Jake and Ava get engaged as they take their relationship more seriously and let each other in emotionally. Things may not turn out the way Jake is hoping for, however.
Early Editions: Eric is asked out by Jada. Gabi is caught fibbing by Li. Someone tries to find out who the baby Shawn's parents really are, with a DNA test. Sarah gets a visit from Chad.
Ratings, week of 6/27: 1.09.
Sonny comes home to the Kiriakis mansion to find his older brother, Alexander there, making a mess from being in the pool. Sonny has been fighting with their other brothers and is happy to see Alex. He's starting to like the idea of returning to Salem to help with the family business. Alex jokes with Bonnie when she returns home, and then he reunites with Justin. Alex wants to stay in Salem and work with Sonny at the business.
7/25 Nicole finds herself in a dangerous place. Gabi gets a request from Kristen. 7/26 Brady and Chloe are targeted by Kristen. 7/27 Orpheus runs into Justin and Steve, but things don't go well. Someone dies, shockingly, and everyone reels with the news. 7/28 Gabi suggests an allieance to someone that they didn't suspect. Ava is devastated by loss. 7/29 After the tragedy, EJ tries to take advantage of the event. Kate gets advice about Roman from Paulina. Johnny and Allie finally find out who Chanel will choose.
The show is given a Thumbs Up! for the way Salem mourned Abigail after her death.
Miranda Wilson (Megan) talks about her return to Salem in "Beyond Salem: Chapter 2." She played Stefano's daughter back in 1985 and was known then as Cheryl Ann Wilson.
Various actors share their preferences, including Billy Flynn (Chad) and Arianne Zucker (Nicole).
What Will Happen: Nicole gets comfort from Eric. Gabi is lambasted by Sonny. Brady and Chloe worry about Kristen.
Steve Burton (ex-Harris) is getting divorced from his wife, Sheree, after 23 years of marriage. She's expecting a child from someone else. They share 3 children.
SOD 7/25/22
Lucas is hypnotized by Marlena! JJ gets in his face about Abby's murder, but Lucas can't remember what happened that night because he was drinking. JJ is really upset and wants to beat Lucas up, anyway. Jennifer arrives and stops JJ from attacking him. Lucas feels bad for the pain he's causing his family. Jenn doesn't think Lucas could hurt Abby, and he is relieved to agree with her. Lucas agrees to have Marlena put him under. Hopefully, they can find some answers about what happened that night.
Early Editions: Xander gets a visit from Gwen. Ava receives a special present from Jake. Eric and Jada meet. Kristen plays games with Gabi.
Ratings, week of 6/20: 1.06.
Mark Bramhall plays Governor Mitchell. He meets with Orpheus and then decides something shocking. Elia Cantu plays Jada, starting 7/19. Richard Wharton will be playing Wilhelm Rolf starting 7/22, replacing Will Utay.
Chandler Massey (Will) has left the show again. Will leaves 7/18 after getting an offer from Hollywood.
Alison Sweeney (Sami) really loved her recent visit, even though it was Sami's 14th wedding. She would love to visit again.
Xanders insists to Sarah that they should get married now (because life is short). He tries to get her ring back from the pawn shop after she agrees to do it. Their quickie wedding is interrupted by cop Jana, who wants to question Sarah about Abby's murder. Xander gets outraged at the interruption.
7/18 Someone gives Will an offer. Lucas gets confronted by JJ. 7/19 Gwen is not thrilled to find out that Kristen will be sharing her cell. 7/20 Chanel gets a proposal from Johnny. Chad is beside himself with grief but comforted by Sonny. 7/21 Shawn is asked by Chloe to give Belle another chance. Evan and Kristen cross paths, which is lucky for her. Abe learns from Paulina that she has big plans for his future. 7/22 Shawn gets some news that shocks him. Salem gets visited by bad guys again.
The show is given a Thumbs Down! for how they've ruined Eric over the past few years.
Nadia Bjorlin (Chloe) talks about her character and how she's changed over the years.
Actors were asked to compare themselves to their characters, including Lindsay Arnold (Allie) and Dan Feuerriegel (EJ).
What Will Happen: Johnn surprises Chanel romantically. Gwen, as reported above, gets a new cellmate. Rafe hires someone new.
SOD 7/18/22
Sami and Lucas prepare to get married, even though she doesn't know that he kidnapped her last year. She still thinks EJ was behind it. She overhears Nicole and EJ having an intense conversation, which makes her curious. She doesn't know that they're talking about Belle, but she can tell that Nicole is trying to hint at something. EJ is able to keep Nicole from telling Sami what's going on. Later, Roman asks Sami if she's ready to re-marry Lucas. She loves him and is ready to commit to him, but she doesn't like being asked that question by her dad. Something may happen, of course, to interrupt the ceremony.
Early Editions: Someone new is put in Gwen's cell. Xander and Sarah look forward to their future together. EJ gets an apology from Chad. Kate gets an earful from Marlena.
Ratings, week of 6/13: 1.17.
Elia Cantu plays a new detective named Jada starting 7/19.
Heather Lindell (Jan) has left the show.
Alison Sweeney leaves July 15th from her latest visit.
Even though Rafe and Nicole are married, people keep asking Nicole if she still loves Eric. She is doing her best to keep those feelings down, so she doesn't like to be reminded. She shares a close moment with Eric, but she's decided to stick to Rafe. Nicole loves how stable Rafe is.
Sneak Preview: 7/11 Chad is grieving when he's given comfort by Kate. 7/12 Chad gets some news about Clyde from Rafe. 7/13 EJ and Belle have a hard time staying away from each other. Chad accuses someone of something, shocking them. 7/14 Lucas is questioned by Rafe. Roman learns the truth from Kate. 7/15 Shawn settles in with his new baby, Shawn Christian, with help from Kayla and Steve. EJ gets a visit from Roman, who wants to apologize.
Beyond Salem: Chapter 2 drops 7/11 and airs every day on Peacock until Friday, 7/15. Headwriter Ron Carlivati talks about what to expect.
The show is given a Thumbs Up! for Abe and Paulina's wedding.
An article with many photos looks back on the behind-the-scenes events at the Daytime Emmys last month.
What Will Happen: Shawn is helped by Aunt Kayla and Uncle Steve. When EJ and Sami have a chat, Belle overhears them. Kate accidentally tells Chad something.
SOD 7/11/22
Head Writer Ron Carlivati talks about all of the actors leaving the show lately, Lucas Adams (Tripp), Marci Miller (Abigail), Sal Stowers (Lani), Lamon Archey (Eli), Victoria Konefal (Ciara) and Robert Scott Wilson (Ben). According to him, it was just a matter of timing. Some of the actors left because their contracts ended, and they decided not to renew them. Some were on recurring status, so it was costing the network a lot of money for scheduling, so they decided that if they didn't want to be there full-time, then they should leave. They all understand completely that young actors need to try their talents elsewhere. Each actor's situation is different, though, he stresses. Although Ben and Ciara left the show, they will be seen on "Beyond Salem." He also assured us that Wilson will be back.
Chad mourns for his dead wife, Abigail. Will, Sonny, and Tony show up to support him at her funeral. Chad is in denial, though, so he doesn't want to be at the funeral or talk to his kids about what happened. He decides that until he knows who killed her, he can't deal with her death. Chad is lost with her and feels rage against her killer. Rafe makes an arrest for her murder. When Chad shows up at the police station to get answers, Rafe shares that he's arrested someone. Chad wants to make that murder pay.
Early Editions: Roman hears the truth from Kate. Chad accuses someone of something. When EJ and Nicole have a discussion, Sami overhears them. Lucas confides in Will what he's done.
Ratings, week of 6/6: 1.14.
Doug, Julie and Rafe are told by Ciara that she and Ben are sailing around the world with baby Bo (the same way Hope and Bo, and Shawn and Belle, did). Hope sent them a boat as a gift. Ciara has to say goodbye to Victor, which is very emotional for both of them. Rafe and Marlena are Bo's godparents, and they christen the baby.
7/4 Steve is asked by Jack whether he knows yet who killed Abby. 7/5 Jan holds her baby, named Shawn, for the first time. Nancy chats with Marlena about her new relationship with Clyde. 7/6 Will and Leo encounter each other. Shawn is questioned by Ciara about how he feels about Jan. 7/7 Nancy and Leo insult each other. Orpheus tries to keep Evan from doing something that he doesn't want. 7/8 Gwen gets a visit from Leo while in prison. Ben is assured by Clyde that he didn't kill Abby. EJ is warned by Marlena about his romance with Belle.
Chad's mourning for Abigail, as well as Jack and Jenn's, is this week's Editor's Choice for storyline.
Kristian Alfonso (Hope) talks about her return to film "Beyond Salem."
Lamon Archey (Eli) and Sal Stowers (Lani) are featured in an interview to discuss their exit.
What Will Happen: Ava wonders about Gwen. Nancy is questioned by Chloe about Clyde. Nancy and Leo get into it.
SOD 7/4/22
EJ and Belle have sex this week. Before they do, Sami arrives with divorce papers for EJ. EJ is affected by this, even though they've been over for awhile. It hurts him even more to learn that she's re-marrying Lucas. He tries convince her that he's sure Lucas is the one who kidnapped her, but she won't listen, so he signs the papers. Belle wonders if he's just after revenge sex now, and he wonders the same thing about her (against Shawn). They both ascertain that they've been using each other a bit, but he says that he has genuine feelings for her. She admits she does, too. She's reluctant, but they do end up going to bed.
Early Edition: Will has an unpleasant run-in with Leo. Jan gets a message from Orpheus. Marlena is asked something important by Ben. Nancy is quizzed by Rafe.
Ratings, week of 5/30: 1.11.
Orpheus, still in prison, shows up this week. Evan (Brock Kelly) also shows up. JJ (Casey Moss) returns to town because of Abby's death.
Casey Moss (JJ) got engaged to his girlfriend True O'Brien (ex-Paige). They've been together a long time.
Lamon Archey (Eli) has decided to leave the show. He last airs this week. Sal Stowers (Lani) will also leave town, July 1.
Jan is happy to be bonding with Shawn while she's carrying his baby, and she's happy to hear that he's gotten her more time out of jail, and that it's upsetting to Belle, even though she knows that she'll be going back to prison after she has the baby. She thinks they'll end up together.
6/27 John and Marlena try to comfort Chad about Abby's death. Eric is urged by Roman to let Nicole know how he feels. 6/28 Evan gets some surprising news from Orpheus. Hope gives Ciara and Ben a gift that will change their lives. 6/29 JJ and Chad grieve over Abby together. 6/30 When Melinda has a trick up her sleeve, Paulina and Abe ambush her. 7/1 When Eli tells Julie some news, she is devastated. Chanel gets a knife pulled on her by Sarah.
The show is given a Thumbs Up! for bringing back Lucas and EJ's feud.
An article reminisces about "Chabby" – the history of Chad and Abigail.
An article has stars from each show talking about their summer preferences, including Brandon Beemer (Shawn), Paul Telfer (Xander) and Lindsay Arnold (Allie).
What Will Happen: Jan and Shawn are sharing an intimate moment when Chloe and Brady walk in. Evan gets some news that startles him. Ben learns from Ciara about Hope's present.
---
Don't forget to sign up for our weekly scoops newsletter for more news and scoops
Our other daytime pages for news, scoops, and spoilers:  AMC, ATWT, AW, B&B, GH, GH: Night Shift, GL, Loving/The City, OLTL, Passions, PC, Y&R, General Daytime.
This page is dedicated to Hilary, our beloved late volunteer, who used to update the scoop pages.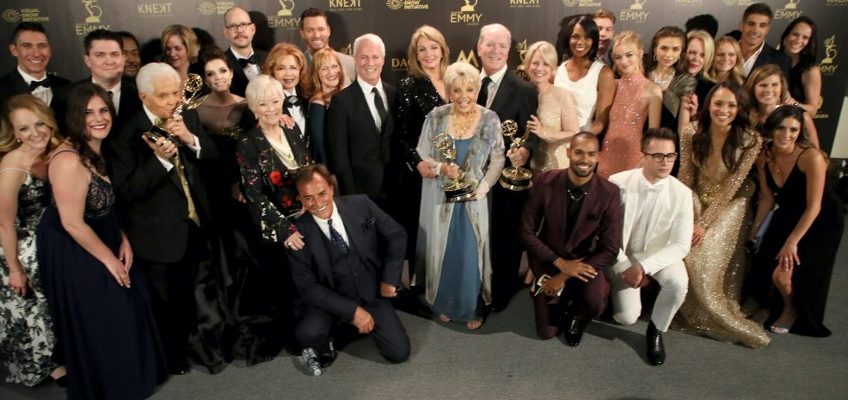 Follow Us!