Where to find your favorite "Legends" actors!
Osric Chau (Ryan) guest-stars on "The Flash" Tuesday, 11/30, reprising his role as Ryan Choi.
Falk Hentschel (Carter) stars in "Spides" on Crackle and has 2 movies coming out.
Isabella Hofmann (Clarissa) guest-stars on "S.W.A.T." Wednesday, January 27 on CBS.
Brandon Routh (ex-Ray) has a recurring role on "The Rookie" Sundays on ABC.
Neal McDonough (Damian Darkh) guest-stars on "9-1-1: Lone Star" Monday, February 21 on FOX.
Matt Letscher (ex-Eobard) was in "Narcos: Mexico" and "The Alienist: Angel of Darkness" in 2020; no word yet on whether he'll continue in either role.
Victor Garber (ex-Martin) appears in "Family Law" later this year on the CBC and has other movies coming out. He does a guest-voice on "The Simpsons" Sunday, 3/20 on FOX.
Morena Baccarin (Gideon) has 3 movies coming out and stars in "Home Invasion" on the Swedish network NENT.
Maisie Richardson-Sellers (ex-Amaya/Charlie) stars in "The Kissing Booth 3," out later this year.
Franz Drameh (Jefferson) appears in the new movie "Twist."
Arthur Darvill (ex-Rip) appears in the new series "The Sandman" on Netflix.
Adam Tsekhman (Gary) has 3 movies coming out.
Melissa Benoist (Kara) stars in "Supergirl" on The CW and appears Tuesday, 10/5 on "Jimmy Kimmel Live" on ABC.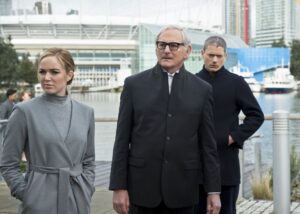 Visit all our other TV appearances pages!